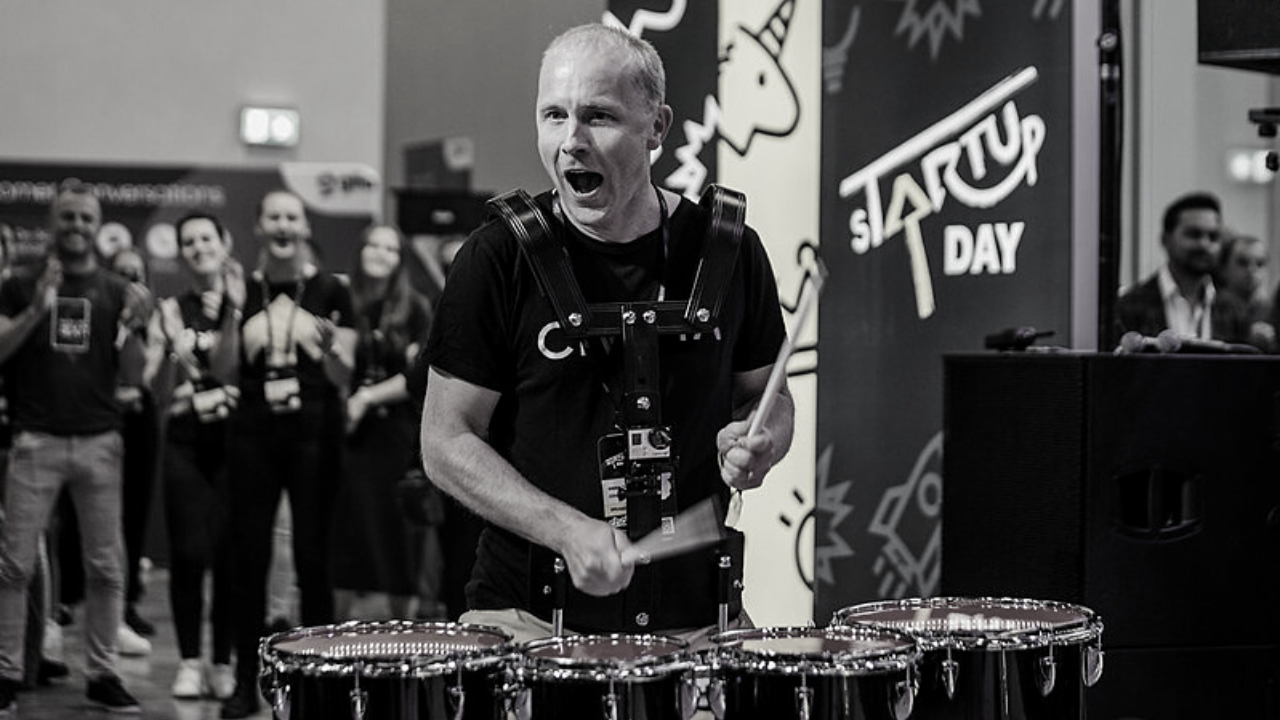 sTARTUp Day 2022 survival guide aka 10 things you NEED to know to have the time of your life
sTARTUp Day is almost here. We have compiled this short list of practical information to help you have the best festival experience. Take a couple of minutes to read it through and you'll be ready to roll!
1. Pick up your badge early
You can collect your badge at the venue on 25 and 26 August starting from 9 AM, or for speedier entry, already on 24 August at one of the six locations listed here.
Before collecting your badge, click the link in the ticket email (sent from Fienta) and fill in your name, company and position – these will be printed on your badge.
Keep your wristband and badge with you at all times during the event.
2. Be healthy and prepare for HOT weather
Please only attend the event if you are healthy and haven't had contact with someone with COVID-19. In case you are unable to attend in person, you can participate at the event online.
NB! The weather forecast predicts temperatures up to 30°C. Please take care of yourself – wear appropriate clothing and sunscreen, and get plenty of WATER to keep you hydrated during busy days. Bring a reusable water bottle that you can fill at one of our drinking water stations or with tap water.
3. Take a walk to the venue
This year, we are returning to the familiar University of Tartu Sports Centre at Ujula 4. Check out the venue map. The venue is open on 25 and 26 August from 9 AM to 6 PM.
As it's just a short walk from the city center, we recommend walking or taking an e-scooter, city bike, or bus to the venue. Courtesy of the City of Tartu, bus rides are free with the sTARTUp Day wristband during the festival days. There is a limited number of paid parking spots available at the venue.
4. Create your personalized program
We have A LOT going on during the festival. Use the filters for easier navigation in the schedule, and bookmark your favorite sessions in the Brella app. Don't forget our 30+ side events, many of which are taking place already on 24 August.
All the stage talks are live broadcast in Brella and Elisa Stage apps, where you can also rewatch them for two months. Information about the streams will be in your email shortly.
5. Find contacts via matchmaking and speed dating
Fill in your profile in Brella and let the AI magic match you with other attendees with aligned interests. Next, schedule 20-minute meetings in our matchmaking area powered by Veriff.
On both days, you can also take part in speed dating sessions aimed at connecting startups and investors based on specific topics during 3-minute 1:1 interactions.
6. Download Brella app
How many times have we already mentioned Brella? If you don't yet have the app, now is the time to download it from
Google Play
or
App Store
. To join the event in Brella, use the link received by email.
In Brella, you can find relevant contacts and arrange meetings, browse the virtual demo area, create a personalized festival schedule, watch the stage talks and do much more.


7. Enjoy food and return your dishes
You can find food and drinks for all tastes, including vegan options, at the food court located right outside the venue.
We will use only Ringo reusable cups, bowls and plates in the festival area, including at the afterparty. Please do not dispose of these lovely items in the garbage bins but return them to the collection containers. Ringo will count their stock after the festival and make us do 100 pushups for every missing item.
Free drinking water is available at sTARTUp Day for everyone (instead of bottled water). Bring your own bottle or use Ringo reusable cups for refill.
8. Bring your kids but leave pets at home
This year, we have a cool youth area powered by Wise for 14-19-year old youngsters, who can purchase a ticket at a special price with the code "YOUNGHERO22". Unfortunately, pets are not permitted at the venue, so please leave your furry friends at home.
9. Rock at sTARTUp Night
The legendary sTARTUp Night will take place in Kammivabrik (Teguri 28A) on 25 August at 8 PM. If you've been to sTARTUp Night before, you know what we're talking about. If you haven't, no worries, you will find out. We have an impressive lineup headlined by Trad.Attack!, cool bars and plenty of opportunities for networking waiting for you.
10. Enjoy yourself
The festival days are going to be packed to the brim, but we hope you'll still have some time to experience the best of Tartu. Soak in the atmosphere of the city by visiting one of its cafes or restaurants or taking a stroll by River Emajõgi, allow for chance encounters with other amazing guests, and most of all, have a good time.
And while at it, don't forget to collect memories and share them on social media, using our official hashtag #startupdayfest and tagging our account @startupdayfest.
Are you ready for an epic festival ride? We sure are. See you at sTARTUp Day!
Articles you might also like: