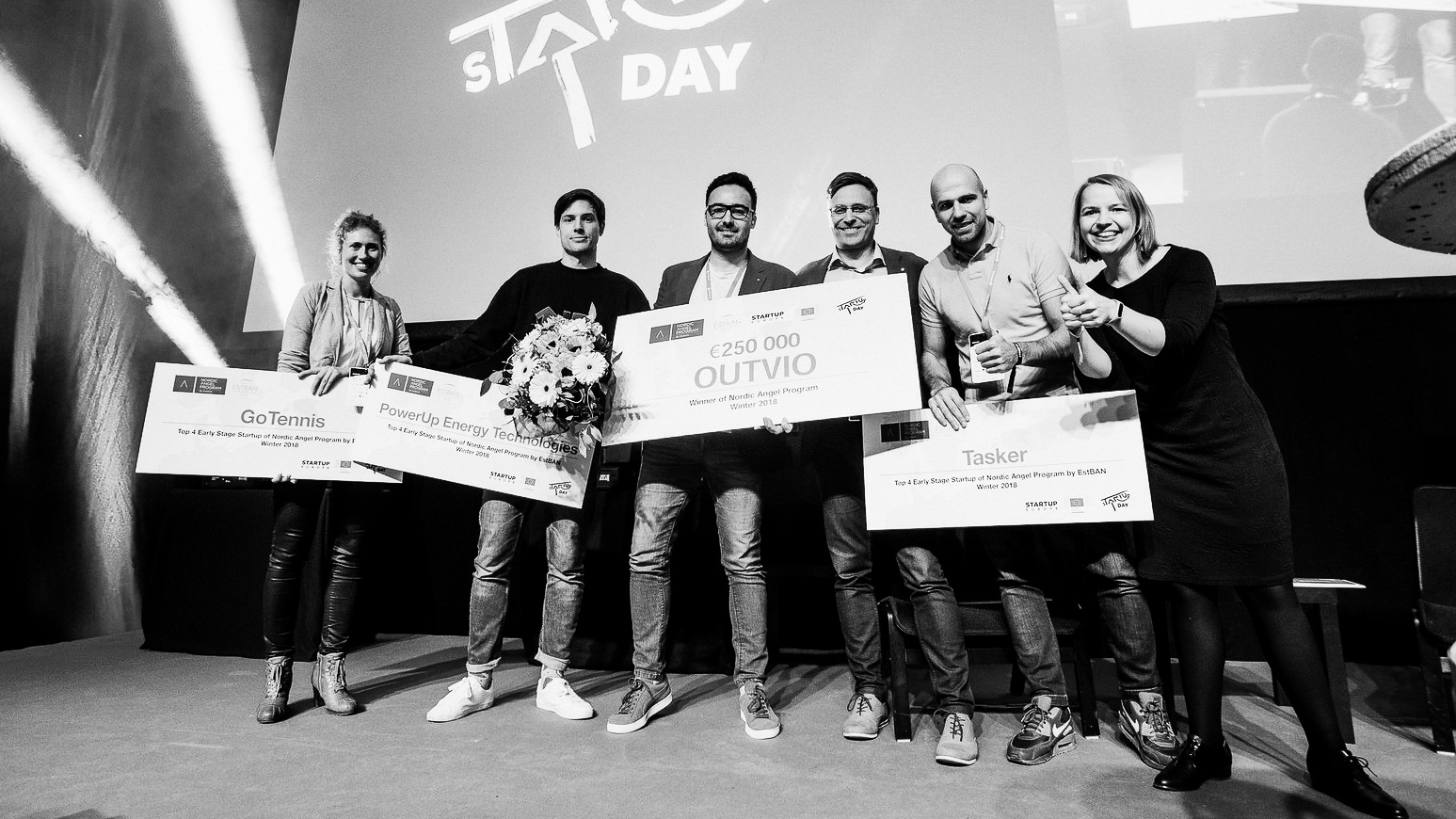 Pitching
sTARTUp Pitching is a chance to present your idea at sTARTUp Day 2020 to 4000 festival visitors: potential investors, partners, and customers; get lots of attention from the media and be listed among top startups of the region. In addition to visibility, the best teams will be awarded several prizes.
Teams who applied before 1 December also applied for the EstBAN-led syndicate of up to € 250 000. On 16th December, the first TOP 30 teams were announced. Teams who applied after 1st December can apply to other prizes but not the EstBAN-led syndicate. On 20 January, final TOP 30 teams will be chosen from ALL the teams applied.
Ϟ
€10,000 equity-free cash from Swedbank Eestis
Our partner Swedbank will give €10 000 equity-free cash to one of the teams to fund their growth.
Ϟ
EstBAN-led syndicate with up to €250,000 to invest
Together with EstBAN, we are putting together a syndicate to invest up to €250 000 to one team. The exact size of the investment is to be specified.

Ϟ
€5,000 equity-free cash from RIA.com
Estonian company RIA.com Marketplaces OÜ will donate a €5,000 cash prize to a TOP 30 startup. The company runs in Ukraine classifieds business with the leading real estate portal DOM.RIA.com and the country's largest car sales portal AUTO.RIA.com.

Ϟ

Tickets to TechCrunch Disrupt in San Francisco

Disrupt is the original tech startup conference, taking place September 14-16 in San Francisco. "An authority on game-changing technologies and revolutionary innovation, at Disrupt we've kept the old-school scrappy Silicon Valley spirit alive - we never forget where we came from," their website states. The previous participants of their Startup Battlefield Competition include Dropbox, Getaround and Fitbit.

Ϟ
Tickets to Summit Summit in Iceland from Tera Ventures
Tera will give a ticket to this year's Summit Summit, that is taking place in Iceland, Hotel Húsafell, 27-29th of March! Summit Summit mission is simple – Building relationships Out of Office and connecting world-class innovators and investors from Europe, Asia, and US ecosystems to create a long-lasting community. They have built a grassroots culture over 5 events, with more than 150 tech innovators attending, and building a curated list of nearly 1,000 community builders, founders, and investors.

Ϟ

Legal counseling worth 5000€ by Sorainen

30 hours of legal advice worth 5000€ from an award-winning international law firm
Sorainen
whose previous customers include Google, Hewlett-Packard, Microsoft, Swedbank and many others. In 2016, Sorainen was chosen to be the European Law Firm of the Year.
Ϟ
Tickets to NOAH Berlin Conference
Taking place 4–5 June,
NOAH
is highly regarded for its efficient networking among C-level executives and investors. Over 4,000 attendees will hear from over 450 speakers representing the most established and fastest-growing companies in Europe. For the first time, NOAH Conference will also host the most promising sustainable startups addressing the most challenging problems of our times.
Ϟ
$10,000 AWS service credits from Cloudvisor
Cloudvisor
is an advanced tier
AWS
partner covering the Baltic states and helping companies grow by guiding them to world public cloud No. 1. Cost optimization and security are their core areas of focus and added value. They will be offering $1,000 USD worth of free AWS service credits to all the participants and $10,000 USD worth of credits to a selected startup from the finalists.
Ϟ

sTARTUp Pitching timeline:

1st December: the first deadline for applications
16th December: the EstBAN-led syndicate nominees and the first TOP 30 teams are selected

15th January: the final deadline for applications
20th January: the final TOP 30 teams are selected among ALL the teams applied

30th January at 12:30 PM: TOP 30 pitching on the Pitching stage
31st January at 4:30 PM: TOP 7 pitching on the main stage
31st January at 5:15 PM: sTARTUp Pitching award ceremony


Ϟ

Technical details for the participants:

All the teams will have 3 minutes for the pitch and 2 minutes for the questions. The working language is English. Slides are allowed. All the TOP 30 teams will receive one free Startup ticket per team. In case of any questions, feel free to contact vaido.mikheim@startupday.ee.