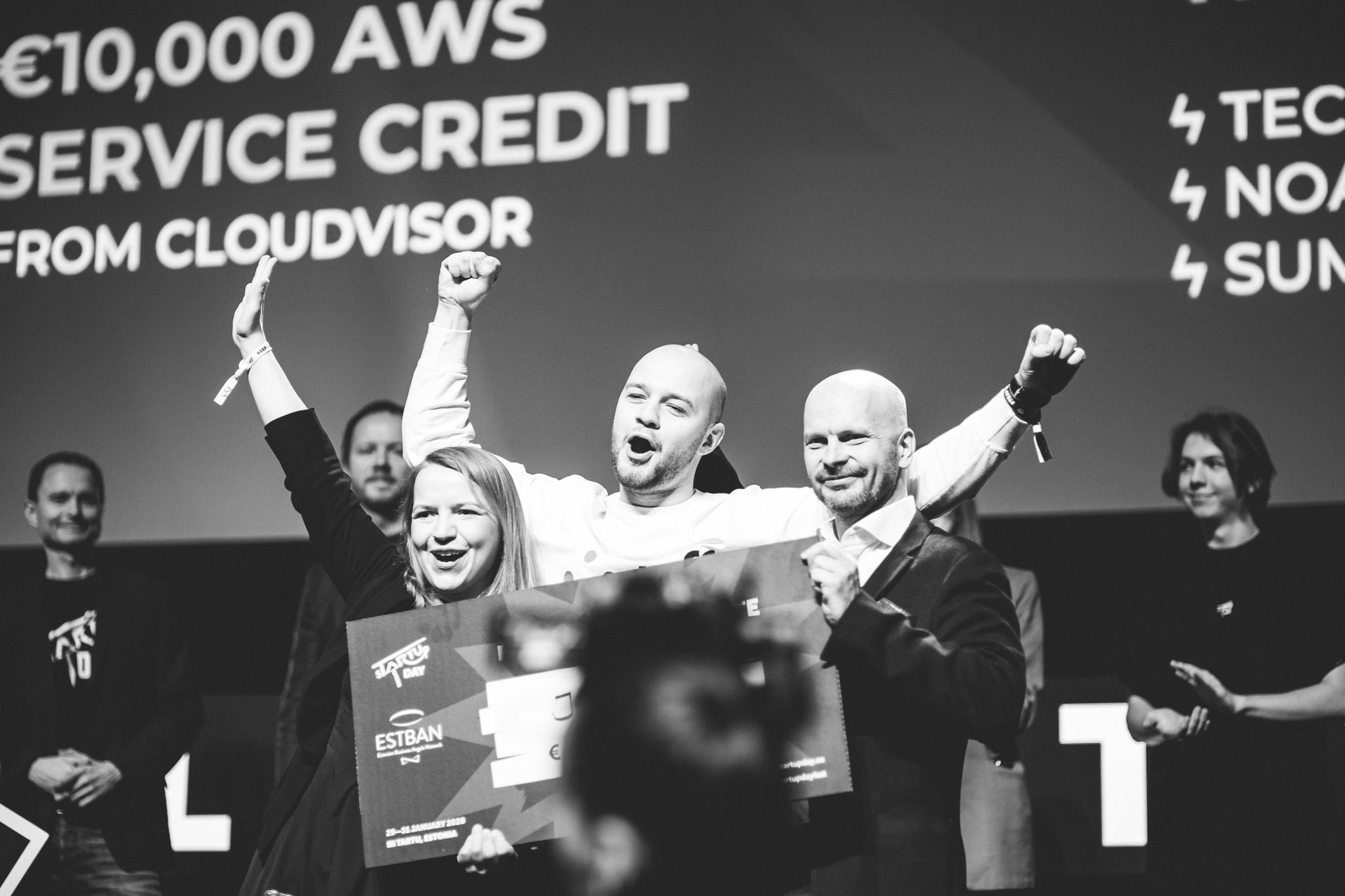 Pitching POWERED BY ESTBAN
The applications for sTARTUp Pitching Powered by EstBAN are closed.
Startups – this is your chance to shine in front of 4000 attendees from all over the world: potential investors, clients, partners and international media. That's not all! Far from it. In addition to visibility, the best startups will be listed among the best in the region and be awarded unbelievable prizes!
"A week ago I was super happy because we had recently closed our pre-seed round, and now this… This is a good example of how things in the startup world can change. It takes a day or two to really get used to this idea."
– Toms Niparts, the founder of Jeff App & sTARTUp Pitching 2020 winner

We are looking from early-stage to scale-up startups who are looking to raise funds. Preferred applicants have a strong mission and a scalable business model. Your startup should have a functioning product with traction/feedback, a strong team and be ready for an investment. If your startup is not ready for an investment, you can still apply and compete for other prizes except EstBAN and .Cocoon Ventures syndicate investments.
Pss! We want to show the world the power of
e-Residency
, so one startup with an e-resident in their team will be shortlisted in the competition.
Awards



Ϟ

Two investments of up to €200k from EstBAN-led syndicate

EstBAN
is putting together two syndicates to invest up to €200k for two teams. Last year, the award went to
Jeff App
who have skyrocketed since January and are preparing to launch in a new market soon.
Ϟ

Up to €150k investment and yearly mentoring program from .Cocoon Ventures syndicate

.Cocoon Ventures is leading a syndicate investing €100–150k to one scale-up they see would most benefit from the. Cocoon founders self-development program. The winning team founder(s) agree to join the .Cocoon program, which costs can be covered from the investment.
Ϟ

€10k equity-free cash from Swedbank
Our co-organizers Swedbank will give €10k equity-free cash to one of the teams to fund their growth. No strings attached. Use it for whatever, whenever.
Ϟ

€5k worth legal counseling by Sorainen
30 hours of legal advice worth 5000€ from an award-winning international law firm
Sorainen's
previous customers include Google, Hewlett-Packard, Microsoft, Swedbank and many others. In 2016, Sorainen was chosen to be the European Law Firm of the Year.
Ϟ
$10k AWS service credits from Cloudvisor
Cloudvisor
is an advanced tier
AWS
partner covering the Baltic states and helping companies grow by guiding them to world public cloud No. 1. Cost optimization and security are their core areas of focus and added value. They will be offering $1,000 USD worth of free AWS service credits to all the participants and $10,000 USD worth of credits to a selected startup from the finalists.
Ϟ
Mentoring sessions from Elisa
Elisa is giving away two hours of valuable mentoring for their chosen winner. You can get free advice on anything from technical questions to your business model from Elisa's experienced business managers. You can also find mutual business interests through collaboration and scale your startup through a corporate program. Team UP with Elisa UP and get fast track access to the Nordic telecom sector!
Ϟ

€

30k worth of prizes from Founderly
Founderly
is an avid supporter of startups, as they help founders get off the ground and ready to enter the startup game. The prize package includes 6 months of free Founderly membership and over $30k worth of credits from
Stripe
and
Freshworks
.
Ϟ

S2B workspace for 3 months
Tartu Science Park is giving three months hot desk membership for three people in their newly opened S2B Work Space in the Delta Business Building. The winning startup will become part of sTARTUp Tartu community and have modern and ergonomic working conditions.


Timeline
August 1:   
Deadline for applications
August 4:    TOP 40 announcement for startups

August 5:    Pitching training for TOP 40 startups by David Beckett

August 9-12:  TOP 40 pre-finals in Zoom for syndicate investments
August 26:   TOP 40 pitching at sTARTUp Day pitching stage for other prizes

August 27:   TOP 5 pitching at sTARTUp Day main stage & award ceremony
Ϟ

Technical details for TOP 40 startups:
All the teams will have 3 minutes for the pitch and 2 minutes for the questions. The working language is English. Slides are allowed. All the TOP 40 teams will receive a free Startup ticket to sTARTUp Day. All rounds can also be successfully completed online, so don't worry if you're unable to travel to Tartu.
In case of any questions, feel free to contact hannaliis.remmelg@startupday.ee