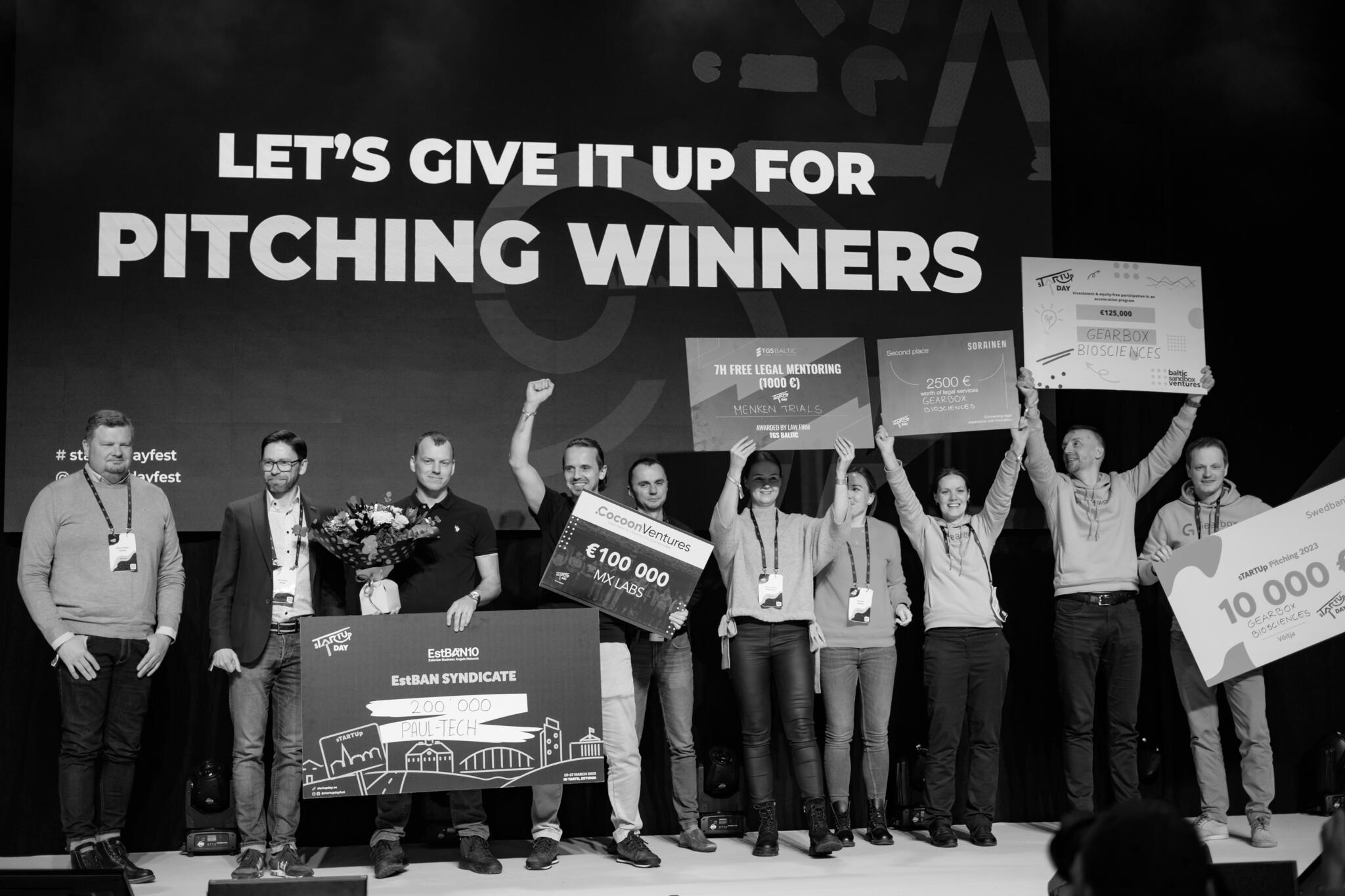 sTARTUp PITCHING
Startups – this is your chance to shine in front of over 3900+ attendees from all over the world: potential investors, clients, partners, and international media. In addition to visibility, the best startups will be listed among the best in the region and awarded unbelievable prizes.
We are looking for early-stage to scale-up startups who are looking to raise funds. Preferred applicants have a strong mission and a scalable business model. Your startup should have a functioning product with traction/feedback, a strong team, and be ready for an investment. If your startup is not ready for an investment, you can still apply and compete for other prizes.

The prizes that were given out at sTARTUp Day 2023
⚡️ Up to €200,000 EstBAN-led syndicate investment
EstBAN is putting together an angel syndicate to invest up to €200k in the most investable startup team from the sTARTUp Day 2023 deal flow. EstBAN syndicates have invested almost 3.6M € into awesome startup companies. You can find skyrocketing teams from our portfolio like VSight, Jeff App, Fractory, TranslateWise, ATOM Mobility, Adact, and numerous others.
⚡️ Up to €125,000 investment from Baltic Sandbox Ventures

Baltic Sandbox Ventures is an early-stage Deep Tech-focused investment fund and accelerator. We're offering the opportunity to receive up to a €125k investment + equity-free participation in an acceleration program to get your innovation to market. Pre-revenue is ok, pre-final-product ok, pre-traction is ok. You must have: 1) solid I.P. - whether in Performance Computing and Software to Life Sciences and Hardware, 2) venture-grade commercial application, and 3) an ambitious strategy. P.S. we also do follow-on investments ;)
⚡️ Up to €100,000 investment from .Cocoon Ventures

.Cocoon Ventures is putting together a syndicate to invest up to €100k for one team. This investment includes the price of the founder(s) ticket to join the .Cocoon Program for a year (1:1 mentoring, events, and team assessment) to support startups during rapid growth, investment round, and facing different challenges.
⚡️ €10,000 equity-free cash from Swedbank
Our partner Swedbank will give €10k equity-free cash to one of the teams to fund their growth.
⚡️ €7,500 legal support from Sorainen

7500 € worth of legal advice from an award-winning international law firm Sorainen whose previous customers include Google, Bolt, Veriff, Sunly, and Swedbank among others. In 2022, Sorainen had the highest client satisfaction among Baltic top-tier law firms and was shortlisted by Financial Times as one of the 25 most innovative law firms in Europe.


⚡️ €5 000 legal mentoring from TGS Baltic

Our partner TGS Baltic offers free legal mentoring in the amount of:
 2500 € / 17 h free legal mentoring from TGS Baltic
 1500 € / 10 h free legal mentoring from TGS Baltic

 1000 € / 7 h free legal mentoring from TGS Baltic
⚡️ Pitch training by David Beckett for Top 40 teams

David is an acclaimed keynote speaker and pitch trainer who has coached over 1800 startups to make outstanding pitches and raise over €400 million in investment – and to win over €9 Million in prize money at pitching competitions. He is also the author of the book Pitch To Win and creator of The Pitch Canvas©.

⚡️ €3,000 equity-free cash from different organizations supporting Creative Industries
The award of the Creative Industries' Pitching competition is organized by Tartu Centre for Creative Industries and several prizes will be given out to participants from different organizations supporting Creative industries. The main award, a 3,000-euro equity-free cash will be given to one of the teams to fund their growth.
⚡️ S2B Work Space for three months
Tartu Science Park is giving three months of hot desk membership for three people in their newly opened S2B Work Space in the Delta Business Building. The winning startup will become a part of the sTARTUp Tartu community and have modern and ergonomic working conditions.


Ϟ Technical details for TOP 40 startups pitching on the stage
All the teams will have 3 minutes for the pitch and 2 minutes for the questions. The working language is English. Slides are strongly recommended. All the TOP 40 teams will receive one free Startup ticket per team.


In case of any questions, feel free to contact
hannaliis.remmelg@startupday.ee
.
"A week ago I was super happy because we had recently closed our pre-seed round, and now this… This is a good example of how things in the startup world can change. It takes a day or two to really get used to this idea."
– Toms Niparts, the founder of Jeff App & sTARTUp Pitching 2020 winner