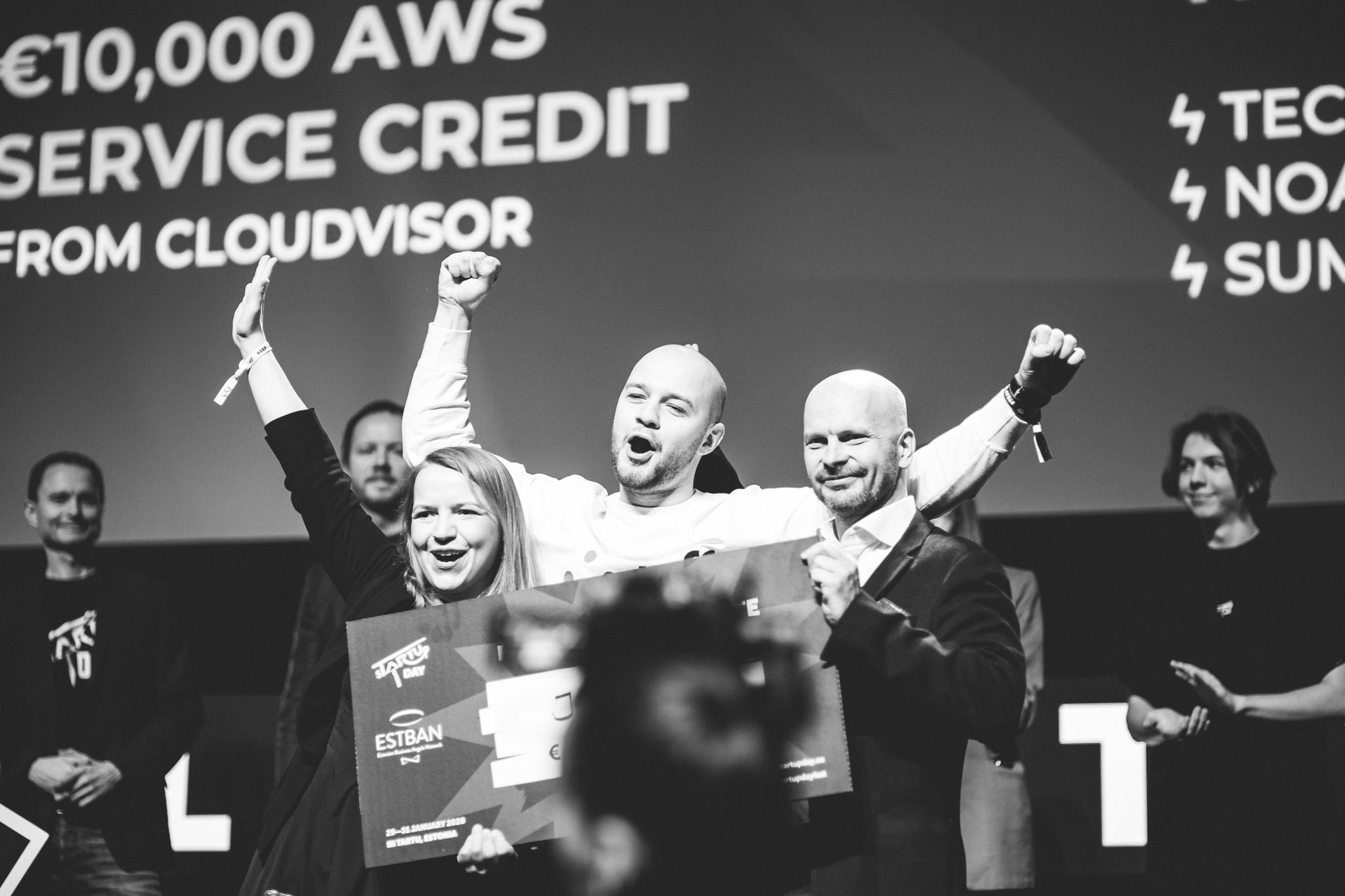 Pitching 2020
sTARTUp Pitching is the official pitching competition of sTARTUp Day! Applications for sTARTUp Pitching 2021 will open in November. Stay tuned!

In 2020, we had 271 applications, 32 of them were chosen to pitch at sTARTUp Day. Of those, the TOP 7 were invited to the finals where they got the opportunity to pitch on the main stage and compete for amazing prizes.


Jeff App
was selected as the best startup in the region!
"A week ago I was super happy because we had recently closed our pre-seed round, and now this… This is a good example of how things in the startup world can change. It takes a day or two to really get used to this idea." – Toms Niparts, the founder of Jeff Ap


sTARTUp Pitching 2020 awards and winners:



Ϟ

€10,000 equity-free cash from Swedbank
Awarded to: Jeff App

Ϟ

EstBAN-led syndicate worth €180k
Awarded to: Jeff App
Ϟ
€5,000 equity-free cash from RIA.com
Awarded to: DriveX
Estonian company RIA.com Marketplaces OÜ donated a €5k cash prize.

Ϟ

Tickets to TechCrunch Disrupt in San Francisco

Awarded to: Pulse & Fidelity
Disrupt is the original tech startup conference, taking place September 14-16 in San Francisco. "An authority on game-changing technologies and revolutionary innovation, at Disrupt we've kept the old-school scrappy Silicon Valley spirit alive - we never forget where we came from," their website states. The previous participants of their Startup Battlefield Competition include Dropbox, Getaround and Fitbit.

Ϟ
Tickets to Summit Summit in Iceland from Tera Ventures
Awarded to: Aligner
Summit Summit mission is simple – Building relationships Out of Office and connecting world-class innovators and investors from Europe, Asia, and US ecosystems to create a long-lasting community. They have built a grassroots culture over 5 events, with more than 150 tech innovators attending, and building a curated list of nearly 1,000 community builders, founders, and investors.

Ϟ

Legal counseling worth 5000€ by Sorainen

Awarded to: Jeff App, Autom8 and PayQin.
30 hours of legal advice worth 5000€ from an award-winning international law firm
Sorainen's
previous customers include Google, Hewlett-Packard, Microsoft, Swedbank and many others. In 2016, Sorainen was chosen to be the European Law Firm of the Year.
Ϟ
Tickets to NOAH Berlin Conference
Awarded to: Solfeg.io
Taking place 4–5 June,
NOAH
is highly regarded for its efficient networking among C-level executives and investors. Over 4,000 attendees will hear from over 450 speakers representing the most established and fastest-growing companies in Europe. For the first time, NOAH Conference will also host the most promising sustainable startups addressing the most challenging problems of our times.
Ϟ
$10,000 AWS service credits from Cloudvisor
Awarded to: Jeff App

Cloudvisor
is an advanced tier
AWS
partner covering the Baltic states and helping companies grow by guiding them to world public cloud No. 1. Cost optimization and security are their core areas of focus and added value. They will be offering $1,000 USD worth of free AWS service credits to all the participants and $10,000 USD worth of credits to a selected startup from the finalists.