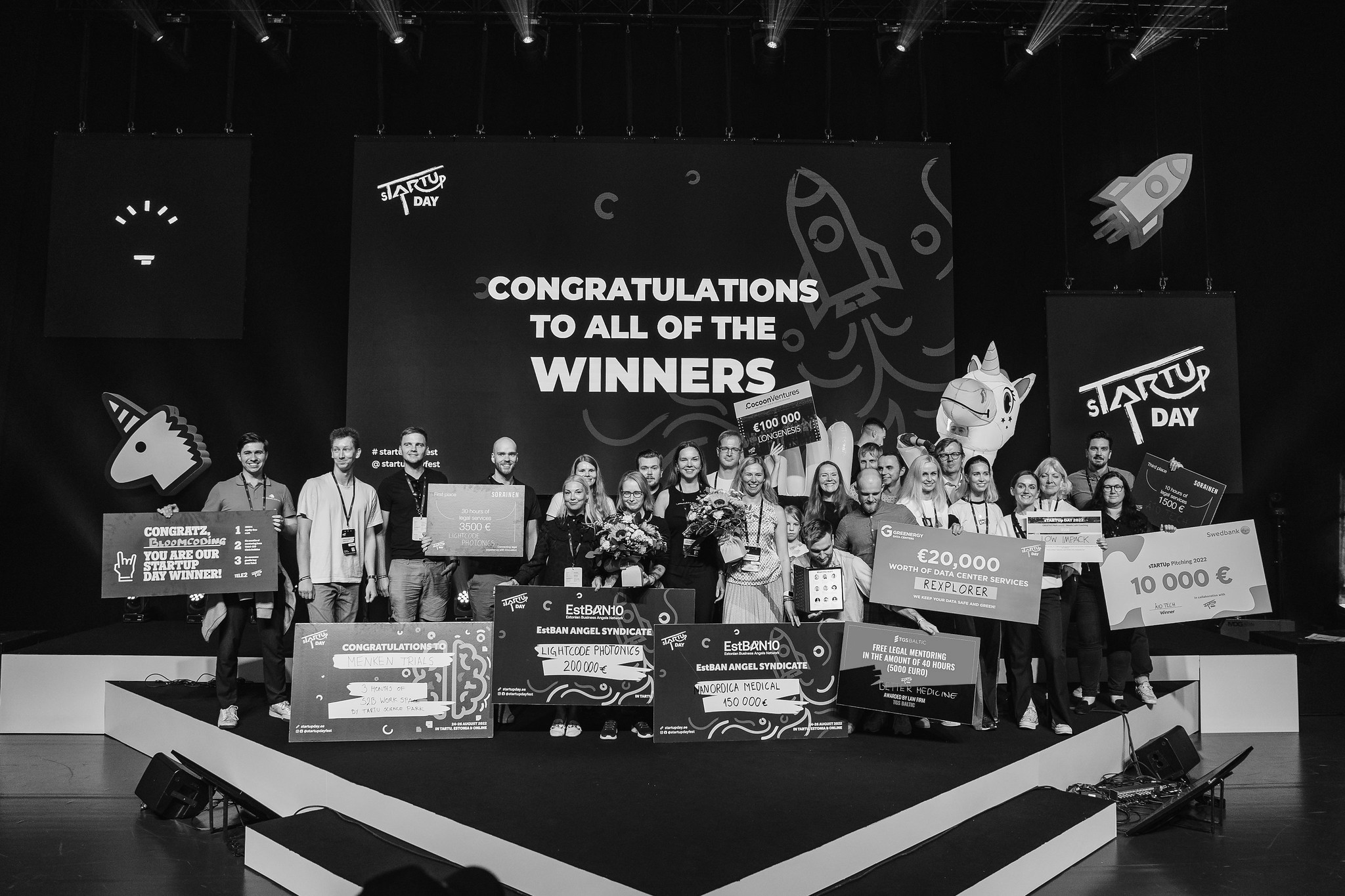 sTARTUp PITCHING
Startups – this is your chance to shine in front of over 3900+ attendees from all over the world: potential investors, clients, partners, and international media. In addition to visibility, the best startups will be listed among the best in the region and awarded unbelievable prizes.
We are looking for early-stage to scale-up startups who are looking to raise funds. Preferred applicants have a strong mission and a scalable business model. Your startup should have a functioning product with traction/feedback, a strong team, and be ready for an investment. If your startup is not ready for an investment, you can still apply and compete for other prizes.
⚡️ Up to €200,000 EstBAN-led syndicate investment
EstBAN is putting together an angel syndicate to invest up to €200k in the most investable startup team from sTARTUp Day 2023 deal flow. EstBAN syndicates have invested almost 3.6M € into awesome startup companies. You can find skyrocketing teams from our portfolio like VSight, Jeff App, Fractory, TranslateWise, ATOM Mobility, Adact, and numerous others.
⚡️ Up to €100,000 investment from .Cocoon Ventures

.Cocoon Ventures is putting together a syndicate to invest up to €100k for one team. This investment includes the price of the founder(s) ticket to join .Cocoon Program for a year (1:1 mentoring, events, and team assessment) to support startups during rapid growth, investment round, and facing different challenges.


⚡️ €10,000 equity-free cash from Swedbank
Our partner Swedbank will give €10k equity-free cash to one of the teams to fund their growth.

⚡️More awards will be announced soon⚡️







Timeline



| | |
| --- | --- |
| 4 November 2022 | Applications open |
| 5 February 2023 | Deadline for applications |
| 6-9 February 2023 | Valuation of the startups |
| 10 February 2023 | Announcing publicly Top 40 teams who will pitch at sTARTUp Day |
| 13-16 February 2023 | TOP 40 pre-finals in Zoom |
| 23 February 2023 | Pitching training TOP 40 |
| 16 March 2023 | TOP 40 pitching at sTARTUp Day pitching stage |
| 17 March 2023 | TOP 5 pitching at sTARTUp Day & award ceremony. |
Ϟ
Technical details for TOP 40 startups pitching on the stage
All the teams will have 3 minutes for the pitch and 2 minutes for the questions. The working language is English. Slides are strongly recommended. All the TOP 40 teams will receive one free Startup ticket per team.


In case of any questions, feel free to contact
hannaliis.remmelg@startupday.ee
.
"A week ago I was super happy because we had recently closed our pre-seed round, and now this… This is a good example of how things in the startup world can change. It takes a day or two to really get used to this idea."
– Toms Niparts, the founder of Jeff App & sTARTUp Pitching 2020 winner