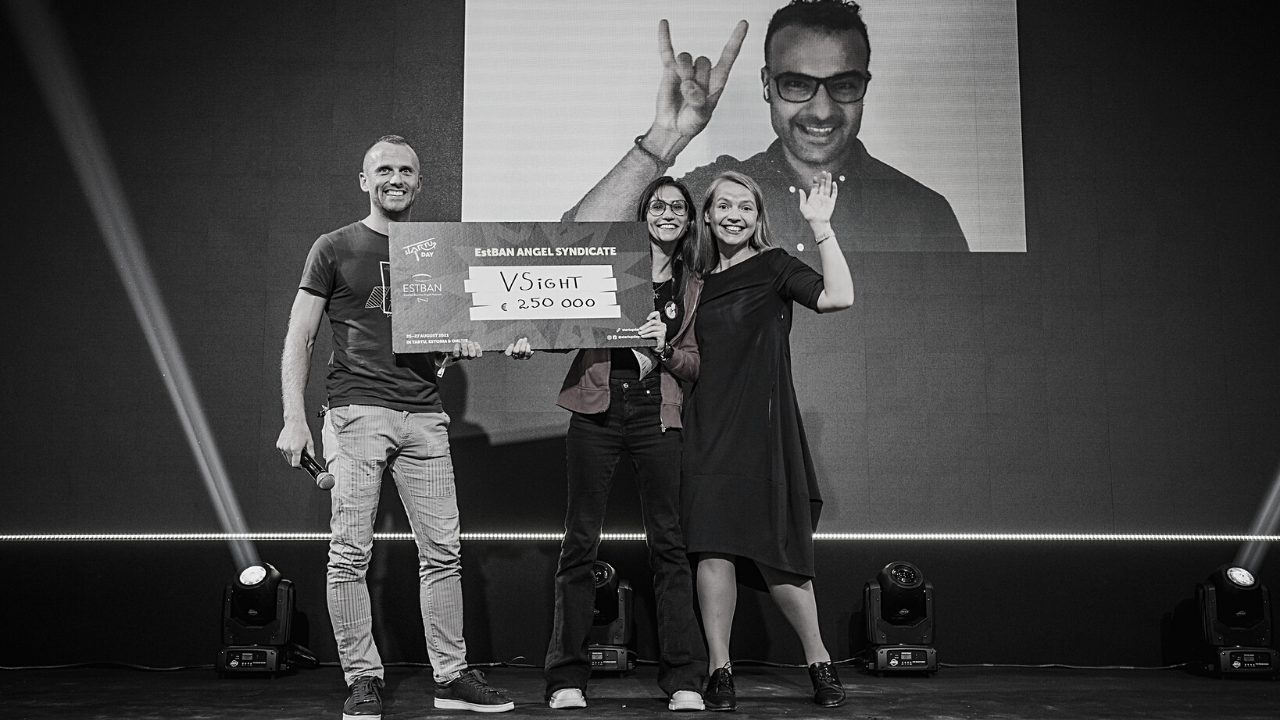 Time to join sTARTUp Day 2022 pitching contest with a prize pool of over €350k
We are calling all startups to apply for the sTARTUp Pitching competition. This is your chance to shine on the stage in front of 3000 startup-minded visitors and compete for prizes worth over 350,000 euros.
The pitching competition has been part and parcel of the sTARTUp Day festival since its inception, with its scale and prize pool growing together with the festival. In 2021, the contest attracted a record number of 330 applicants from 51 countries!
What's in the store for the participants? Money, glory, and last but not least, the possibility to experience first-hand the most startup-up minded business festival over three days full of inspiration and practical insight. Here are some good reasons to join in the game.
A prize pool of over €350k from our partners
Estonian Business Angels Network (EstBAN) is putting together an angel syndicate to invest up to €200k in the most investable startup team from sTARTUp Day 2022 deal flow. EstBAN syndicates have invested almost €2.7M into awesome startup companies; from their portfolio you can find skyrocketing teams like VSight, Jeff App, Fractory, TranslateWise, ATOM Mobility, Adact and numerous others.
.Cocoon Ventures will award one startup with a syndicate investment of up to €100k. Cocoon Ventures, which grew out of Contriber Ventures in 2020, invests in outstanding founders interested in self-hacking and looking at entrepreneurship as a way for self-development.
In addition, Swedbank will give €10k equity-free cash to one of the teams to fund their growth. Additional prizes are provided by Sorainen, Cloudvisor, Tera Ventures, Tartu Science Park, and others ‒ see the full list here.
But that's not all!
The Top 40 startups can showcase their startup to 3000+ participants of the festival. Connect to potential investors, customers, partners, employees, and fans during the event and make the best use of the networking opportunities provided!
Top 40 startups receive one free startup ticket to the festival. All applicants can purchase tickets on discount terms.
How does it work?
Submit your application online. You can complete the application process in 15 minutes here. You can save the application at any moment during the process and continue later. The deadline is 2 January 2022. We advise you not to leave the application at the last minute - you can edit your existing profile any time before the deadline.

Show your best in the online pre-finals. The Top 40 teams picked by the jury will pitch online on 10-13 January. This is a great chance to get visibility for your startup and practice before stepping on the festival stage.

Conquer the sTARTUp Day 2022 stage. The Top 40 teams will pitch their idea on the festival pitching stage on the first festival day. The Top 5 teams will get to pitch again in the finale of the festival after which the winners will be announced.
Who should apply?
The competition is open to startups globally. We are looking for early-stage to scale-up startups who are looking to raise funds. Preferred applicants have a strong mission and a scalable business model. Your startup should have a functioning product with some traction, a strong team, and be ready for an investment.
Anu Oks, Managing Director of EstBAN: "We see that startups have adjusted to the post-Covid-19 economic situation. We are receiving an increasing number of new deals. Our role at EstBAN is to carry out a thorough analysis and identify the best investment opportunities for investors.
The main criteria we look at are results ‒ like sales and product-market fit.
In addition to that, we assess scalability, that is, whether the team and business model has the ambition to go global. It's also good if the startup has a diverse and international team. This is the formula of an outstanding startup that makes angel investors' eyes light up."
Aleksander Tõnnisson, investor and lead partner at .Cocoon Ventures. "Our main goal is to support startup founders who are interested in self-development. Therefore our investment includes both financial investment and participation in a year-long self-development and mentorship program .Cocoon."
Do you need to attend the festival in person?
We encourage you to participate at the festival in person to get the full benefit from the event but understand that traveling restrictions may apply, so joining via the web is possible. In fact, it is no obstacle to winning the competition as our last year's winner VSight showed!
Read more about sTARTUp Pitching here.
Articles you might also like: