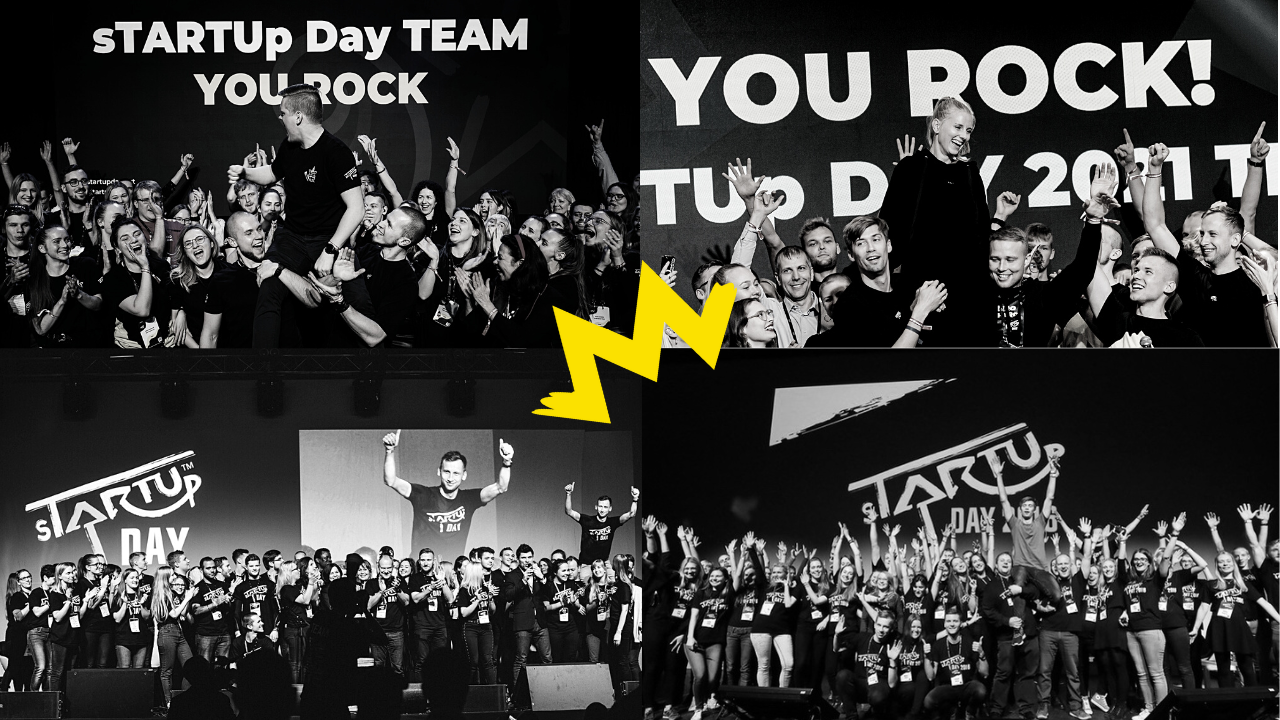 Are you the new head organizer of sTARTUp Day?
sTARTUp Day, the biggest business festival in the Baltics, is looking for a new Head Organizer to take the lead of sTARTUp Day 2025. Are you up for the challenge? Applications close on 30 September.
Since the festival's beginning, sTARTUp Day has been led by four amazing head organizers:
⚡️ 2016 – Lauri Sokk
⚡️ 2017 & 2019 – Ermo Tikk (we skipped 2018 as the event moved from December to January)
⚡️ 2020 & 2021 – Marili Vihmann
⚡️ 2022, 2023 and upcoming 2024 – Mart Lättekivi
Now our community is looking for the fifth-ever Head Organizer to take the lead of the sTARTUp Day 2025 festival on January 29-31, 2025.
What is the life of the Head Organizer like?
sTARTUp Day Head organizer Mart Lättekivi comments:
"After joining the sTARTUp Day team in 2018 as a volunteer lead, I cherished the dream of stepping into the Head Organizer's shoes one day. Having been in the role for the past two and a half years now, I can honestly say it might be one of the best jobs in the world.
On the one hand, it's a job with a strong mission – to help the startup ecosystem in Tartu, Estonia and the whole Baltic region to grow and thrive. On the other hand, it's a job that comes with great freedom to choose your team, your strategy and working hours, and work towards your goals the way you see fit. And personally, it has been a long self-development journey.
It's a job where you have to be more every day and embrace the change outside and within.
One thing is for sure: as the Head Organizer of the sTARTUp Day festival, no day is like another. You are responsible for very diverse tasks from budget planning to team formation to overseeing hands-on event production. Every day, you get to meet and work with amazing community members while learning a ton about yourself, other people and, of course, the startup world.


It's a job that gets noticed and opens a lot of doors. And it's impossible to put into words the huge sense of accomplishment once another festival gets wrapped up!


Yet, since its inception, it's been part of the festival's DNA that the Head Organizer's role should be a rotating one. This is the secret sauce that keeps sTARTUp Day constantly evolving and full of energy – and gives bright people the opportunity to jump on board and contribute their fresh ideas to put Tartu on the map as a startup city.
I know many of you reading this post have what it takes to take the sTARTUp Day festival to new levels. So don't miss this chance and apply before 30 September!"
Want to know more? Find all the info and how to proceed in the job description.
Articles you might also like: