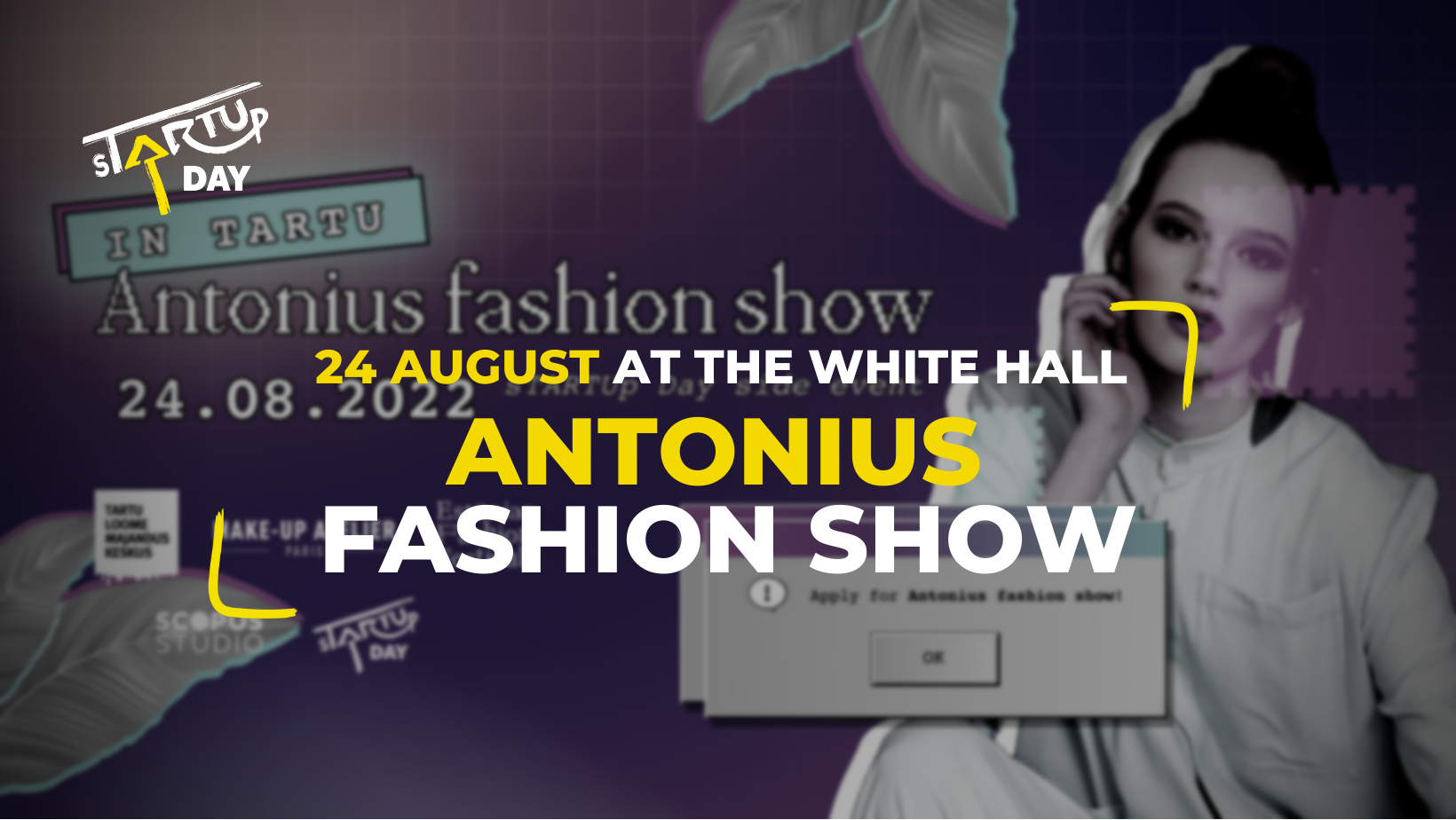 Antonius 2022 Showcases Sustainable Everyday Fashion and Forward-Looking Digital Fashion
For the first time in sTARTUp Day history, we have a fashion show on our side events program! Antonius fashion show, part of the Estonian Fashion Festival 2022 program, will take place on 24 August and reveal exciting developments in the fashion world.
Focusing on practical everyday fashion, Antonius will introduce industry startups and, for the first time, also digital fashion solutions. The icing on the cake will be a fashion show in the grand White hall of the University of Tartu Museum, decorated only for the occasion in Vaporwave style, where nine emerging fashion designers will show their newest collections.
The biggest goals of Antonius, celebrating its 10th anniversary this year, are promoting sustainability and introducing emerging designers at the big stage.
In cooperation with technical partner Scopus Studio, digital fashion as a new art direction will be introduced to both designers and the general public. On the day of the event, international fashion start-ups will present their innovative products and services in the demo area; moreover, a panel discussion on digital fashion will also take place.

According to the founder of Scopus Studio Kirke Leinatamm, the mission of the partnership is to encourage emerging designers to use more digital tools that reduce the fashion industry's environmental footprint and help improve sales results. For Scopus Studio, innovation is the priority. "Through digital fashion, we direct clothing brands towards better and more innovative business models and strategies," adds the company's artistic director Anas Agag.
In addition to the selected fashion designs, the newest collection from Design Hata, a Tallinn-based concept store representing Ukrainian fashion designers, will be introduced on the stage.
The artistic theme of Antonius 2022 is "Vaporwave Aesthetics", created by the street artist Sirla. Begun in early 2010, vaporwave aesthetics is considered a micro-movement connecting electronic music, visual art and internet memes. The theme hints at the fashion sector falling behind the possibilities of the digital era and the new opportunities of 3D digital fashion.
Antonius 2022 is directed by Marianne Kütt and styled by Triinu Pungits. At the fashion show, (young) designers selected through a contest will show their work, including wearable everyday fashion, accessories and a digital fashion collection. Represented designers are: Maria Petraityte (Lithuania), REDIS Disain, By Kaire Avi, Franz Raver, COLLAB4MOOD (OMOM / Fibami / Lõųm / Paul Berg), Viktorija Kuliavaite (Lithuania), Otto Antson (with a digital fashion collection "Glitch"), Anu Sirkas and design duo Merily Mikiver & Marion Mölder.

A design from Otto Antson's digital fashion collection "Glitch"
sTARTUp Day side event: Antonius – 24 August 2022
15.00 – 18.30 DEMO AREA for digital fashion startups
15.00 – 20.00 POP-UP SHOP Design Hata Concept Store (By Vitalia Sass)
15.00 – 15.45 SEMINAR "Boosting your brand's story with digital fashion" (Hosted by Kirke Leinatamm from Scopus Studio)
15.45 – 17.00 Networking
17.00 –18.00 PANEL DISCUSSION "Unlocking new business opportunities" (Hosted by Kirke Leinatamm from Scopus Studio)
19.00 – 19.45 ANTONIUS fashion show
19.45 – 20.00 Design Hata Concept Store fashion show
20.30 – 20.45 Award Ceremony of the ANTONIUS fashion show
20.00 – 22.00 Networking
Venue: Tartu University Museum's White Hall. Lossi 25, 51003 Tartu.
Tickets for the fashion show (15 EUR) can be bought through Fienta. Admission is free for sTARTUp Day ticket holders.

Antonius 2022 is part of the Estonian Fashion Festival program initiated by the NGO Estonian Fashion Festival. Estonian Fashion Festival was created in 2018 and brought under one umbrella three fashion shows: Mood-Performance-Dance by Pallas University of Applied Sciences, OmaMood by Viljandi Culture Academy and Antonius fashion show.
Antonius show was initiated and is supported by Tartu Centre for Creative Industries, one of the co-organizers of the sTARTUp Day festival. The head organizer of Antonius 2022 is Liis Tiisvelt.

Read more about Antonius Fashion Show. Check out all the side events of the sTARTUp Day 2022.
Articles you might also like: