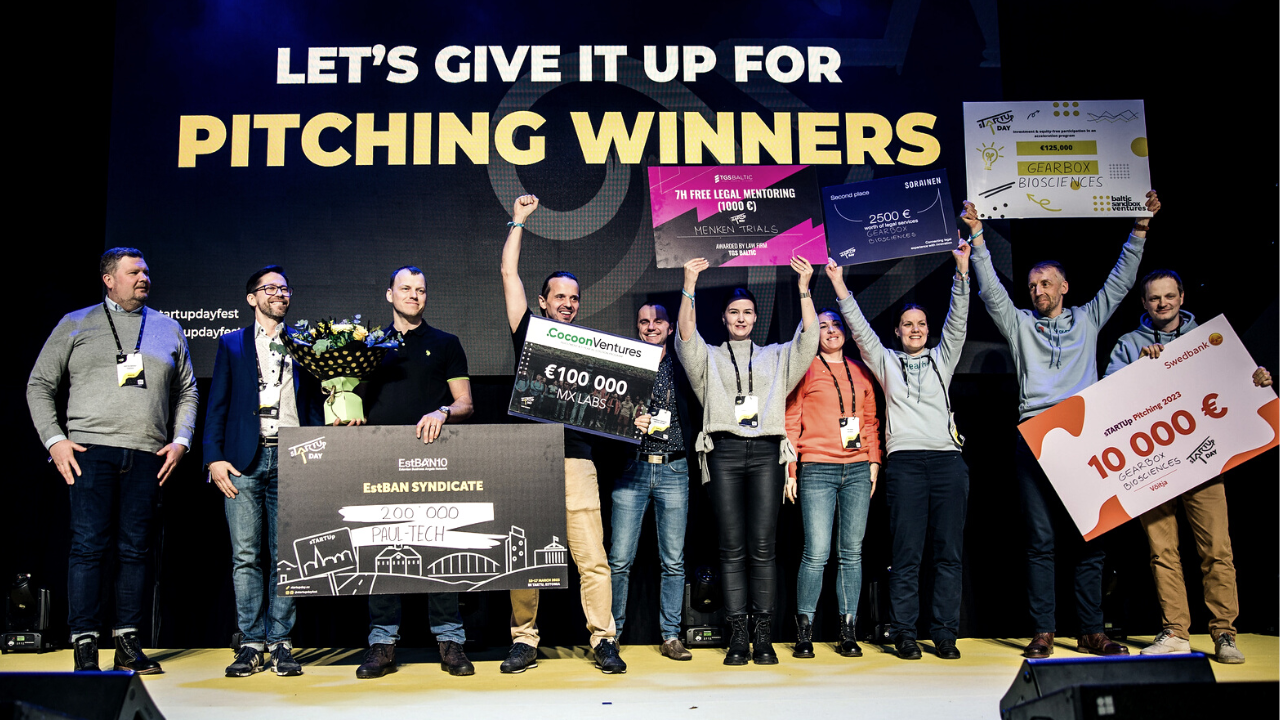 sTARTUp Pitching 2024 competition comes again with a prize pool of over €300k
Early-stage startups can now apply for the sTARTUp Pitching 2024 contest to compete for syndicate investments by EstBAN, .Contriber Ventures and prizes by other partners. Applications close on December 17.
If you're on the hunt for funds and have a strong mission coupled with a scalable business model, this is your chance to shine in front of the 4000 attendees of the most startup-minded business festival and vie for a prize pool of over 300k. Last year, over 330 teams from all over the world entered the race.


What's at stake?
Ϟ
Estonian Business Angels Network
(EstBAN) is putting together an angel syndicate to invest up to €200k
in the most investable startup team from the sTARTUp Day 2023 deal flow.
The syndicate will be led by an EstBAN member, active angel investor in the community.

Anu Oks, Managing Director of EstBAN
: "We've been doing this for a few years now with a startup mindset, not knowing exactly what's at the end of the rainbow. However the partnership with Estonian flagship events has proven to be an efficient way to support the growth of new technologically advanced companies and show the unity of our startup ecosystem. In our constant quest for innovation, we remain hopeful yet discerning,
always on the lookout for groundbreaking solutions with the potential to redefine our future."

Ϟ
.Contriber Ventures
will award one startup with a syndicate investment of up to €100k. .
Contriber Ventures invests in outstanding founders interested in self-growth and looking at entrepreneurship as a way for self-development.
Aleksander Tõnnisson, investor and lead partner at .Contriber Ventures
:
"Our main goal is to support startup founders who are interested in getting to know their true self, work on their shortcomings to become better leaders, and being the change they want to see in others and the world around them. Our investment includes both financial investment and participation in a year-long self-development and leadership program .Contriber School."
Ϟ In addition, Swedbank will give €10k equity-free cash to one of the teams to fund their growth.

Additional prizes will be provided by our partner organizations.


What's next?
Here are the important steps and dates to keep in mind:
1. Submit your application online. You can complete the application in 15 minutes
here
.

You can save the application at any moment during the process and continue later. The deadline is December 17, 2023. (We advise you not to leave the application at the last minute – start now, and you can update your profile any time before the deadline.)
2. The TOP 40 teams will be announced on December 20, 2023.
3. Conquer the sTARTUp Day 2024 stage on January 25–26, 2024. The Top 40 teams will pitch their idea on the festival pitching stage on the first festival day. The Top 5 teams will get to pitch again in the finale of the festival, after which all winners will be announced.
Are you ready for a challenge that will lift your startup to the next heights?

Read more about
sTARTUp Pitching
.
Articles you might also like: