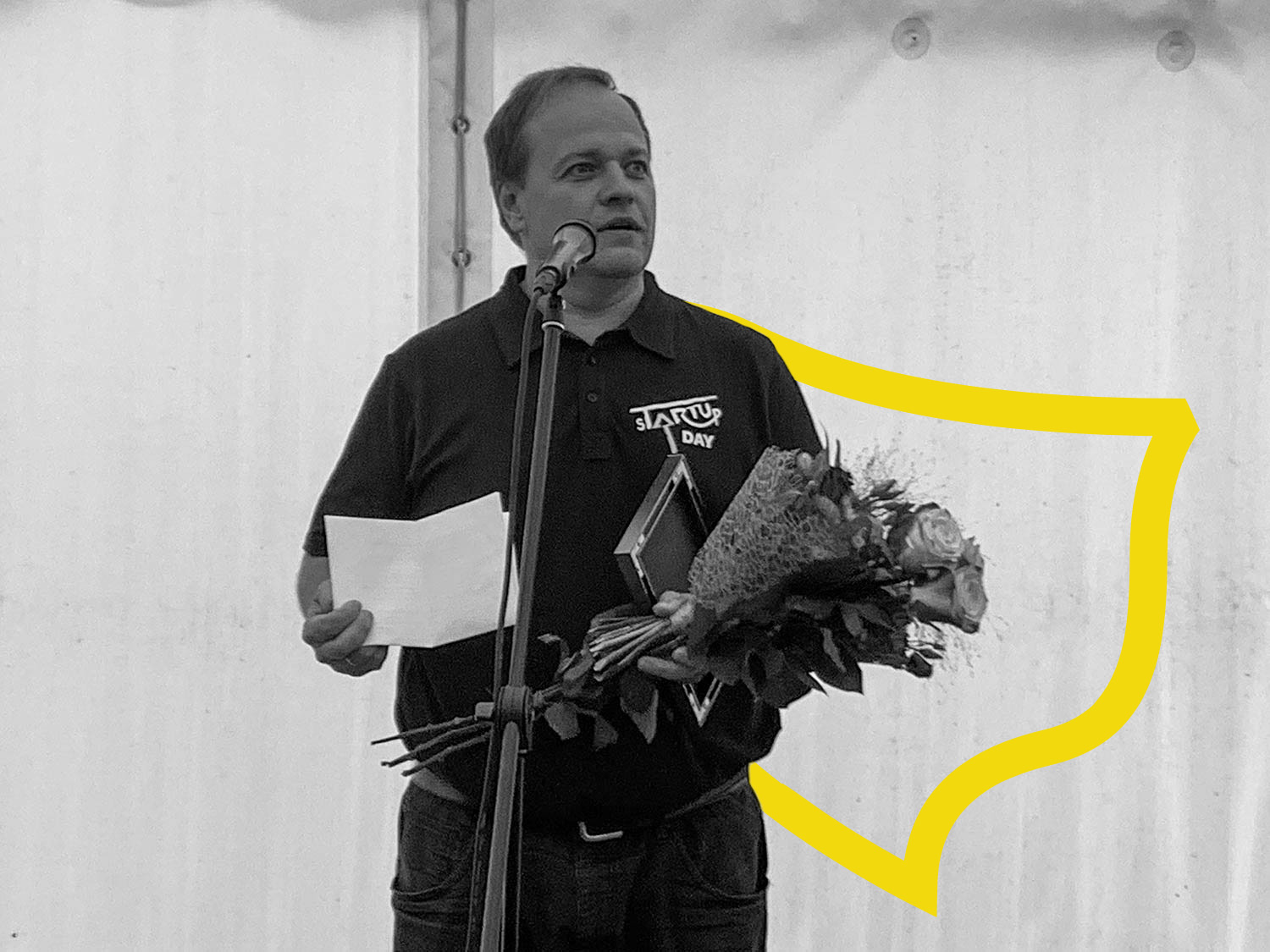 sTARTUp Day idea founder Andres Kuusik leaves footprints to Tartu Pioneers' Alley
This year Andres Kuusik, sTARTUp Day idea founder, was added to Tartu Pioneers' Alley. The purpose of the alley is to recognize the people associated with Tartu who have made a significant contribution to the development of the city.
"This recognition gives me mixed feelings – on one hand, it is a great honor to be captured forever with such a respectable company. On the other hand, there are so many great people in Tartu who would deserve it more than I do," said Andres Kuusik about the recognition he received. "But if I look at the bigger picture, sTARTUp Day has had a big impact on Tartu. Thanks to this festival people outside of Tartu know that a lot is happening around here. I am very happy that people have noticed it and I believe that people who voted can be happy because they voted for the right thing."
The most awesome business festival in Baltics – sTARTUp Day started in 2016 as an idea to incorporate different business events organized in Tartu. "What makes sTARTUp Day special is the fact that it is organized by youth and community in Tartu," said Andres Kuusik. "This means that people are organizing it with a lot of excitement and joy and you can definitely feel it at the festival. For me, these are both important keywords. I believe that the Tartu business community collaboration and the joy of organizing together are very unique in the world and this makes Tartu the best place in the world to start with entrepreneurship!" praises Kuusik the cooperation capacity of various organizations in Tartu.
When in 2016 the festival was launched, no one thought it would turn into a major international event that is remarkably unique.
Andres Kuusik is working at the University of Tartu as a Head of Marketing Chair. "Youth participation has a special significance to me as a teacher. sTARTUp Day is like a big, hands-on learning platform. Every year, a large number of young people gain a lot of practical experience. Dozens of young people work daily in the core team and hundreds of volunteer help with the event. All of them are getting a huge developing experience," said Kuusik about what is the most important part for him about the festival.
Marili Vihmann, the head organizer of sTARTUp Day, says that this is great recognition for the festival, especially for the founder of the idea – Andres Kuusik. "When in 2016 the festival was launched, no one thought it would turn into a major international event that is remarkably unique. Now sTARTUp Day gets to leave its footprints to the alley and we can proudly be the pioneers of the business world."
In addition to Andres Kuusik, the Vanemuine Theater represented by Kristiina Alliksaar and Undel Kokk, head of school and choir, left their footprints on the Tartu Pioneers' Alley. The footprints are made of bronze by sculptor Bruno Kadak.
Articles you might also like: