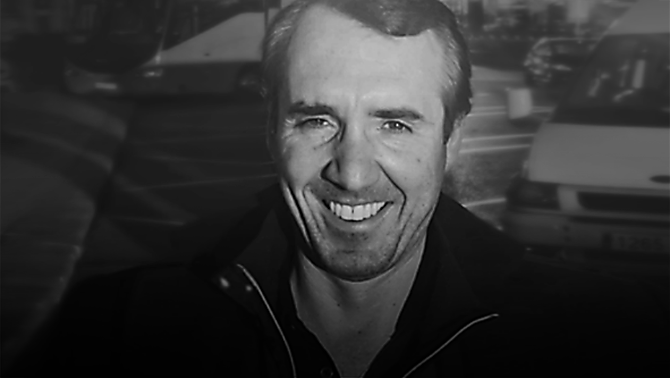 Ex-Google Play marketing manager Patrick Mork: "Only the paranoid survive."
Patrick Mork is a highly respected marketing expert with over 25 years of experience of which 18 years in technology field. Patrick led the process of founding the Google Play brand – he was the Global marketing director of Google Play while the product was launched. He also led the marketing strategy which helped the company to grow its business from $ 700 million to $ 2.5 billion.
As Patrick is the speaker at sTARTUp Day 2019, we asked him which are startups' biggest marketing mistakes, what they should focus on while planning their marketing strategies and which are the greatest marketing campaigns he has ever seen. Patrick also outlines the marketing trends of 2019, which any respectable marketing professional should be aware of.
You have been working with a number of startups as well as in a couple of big corporations. What are the main differences in terms of marketing?
The biggest differences are really around size and scale. In large companies like Google or Pepsi, you have larger marketing teams where teams for a single product, like Google play, can easily reach up to 30-50 people globally doing everything from product marketing to social media, user acquisition, branding, content marketing, and retention. In larger organizations, you also have significantly larger budgets which enables you to expand the marketing mix and add more expensive and sophisticated marketing channels like TV advertising, outdoor and large online sponsorships.
What are the common marketing mistakes that startups tend to make?
The biggest mistake I see is the failure to properly segment your market, pick a target and really tailor your message properly to that specific audience. Most startups think that they should go as broadly as possible to reach more users, but the reality, particularly in very competitive markets, is that the more competitive the market, the more you have to focus on the right user with the right message. For example, if you're a new beer, you shouldn't target all beer users but maybe target a certain kind of beer drinker who has a specific need that isn't being met. The more you target properly, the more effective your marketing budget will be and the higher the level of conversion.
What are the pros and cons of launching a new product under a big corporation (like you did for Google Play) over launching a product independently? Would you recommend launching a product independently or rather under a big corporation?
The pros are:
More people and resources

Bigger budgets

Better analytics and tools

More data

More room for error (a single mistake won't kill you)

Better, more defined processes

More support from third parties like agencies and PR teams
The cons:
More bureaucracy

Need for approvals from superiors / other parts of the business

Slower time to market

Less ownership
Authenticity will be the key. People are fed up with fake news and the bickering of politicians and celebs who can't say the truth.


Most of the traditional online marketing channels are oversaturated with ads and branded content. What are some the most brilliant out of the box marketing or growth hacks you've heard of?
One of the most creative, I've ever seen was the
ALS Ice Bucket challenge
. ALS is a disease called Motor Neuron disease and the challenge consisted in either donating money to the ALS Association or dumping a bucket of cold ice water on one's own head (this could be done by the person themselves or a third party).
The ALS Challenge was started in 2014 and quickly went viral as famous people all over the world participated and dumped buckets of ice cold water to raise awareness for the cause. The challenge was taken by famous people such as former US President George W. Bush, Bill Clinton as well as famous actors and sports celebrities. It was so successful that to date, over 2.4 million videos exist on Facebook with people tagged doing the Ice Bucket Challenge. The best part about the challenge was that it cost nearly nothing to launch and every participant had to challenge someone they knew to contribute to the ALS or take the challenge. I took the challenge personally and also challenged a number of people including my own father, who took the challenge.
Another campaign that was inexpensive and awesome was the
Will it
Blend
campaign
developed by the guys at Blendtec. They had developed what they believed was the world's strongest blender. So how could they prove it and create marketing buzz, well by using their blenders to blend seemingly impossible to destroy objects. They did everything gems to iPhones and their videos have been seen by over 50M people. Their video where they blended an iPad had over 18M views and YouTube channel has over 800,000 subscribers. Truly fun, educational and highly viral content.
Startups often focus on lean marketing, funnel optimization and calculating ROI for every single channel. However, the world's top companies often owe their success to good branding. Where is the balance – which one is more important for a startup?
You need both. The challenge for most startups, aside from what I mentioned above, is that many of them have a poor story and fail to inspire people about "why" they do what they do. Fundamentally, consumers don't really care what you do and how you do it as long as you solve their needs. They care 'why' you do it.
Startups need to take the time to properly develop their brands and articulate their stories in ways that are powerful, visual and emotional. One easy way to do this is to use Professor Jonah Berger's STEPPS framework. In his book, Contagious, he lays out what this framework is and how any company, regardless of size, can find new and interesting ways to create marketing campaigns that can cut through the noise and create impact with consumers.
In today's' world where the average consumer sees over 10,000 brands every day, you need to do something that educates, entertains or inspires (preferably all three) and use channels that make it easy to communicate your message in a way that's simple, visual and easy to share. If you can combine that with a metrics-driven approach you massively increase your chance for success.
I want to work with people who are inspired by a cause that's bigger than themselves and who want to make a difference, not just make money.
Which has been the most challenging marketing project so far and why? What did you learn?
Probably my work with GetJar, one of the world's first app stores back in 2008. We were competing against an Apple, Nokia and later Google to help developers distribute mobile applications around the world to consumers. Some big learnings as you raised over $35M but ultimately were not successful:
1. You can't put makeup on a pig. No matter how good your marketing is, if your product isn't really that good and doesn't deliver on your promise you won't be successful.
2. You don't always have to have absolutely the best product. As a matter of fact, perceptions can become reality. if you have great marketing and are effective in getting your message out quickly and with great frequency, you can create the perception that your product is superior even when it might only be "as good" as the competition.
3. Never believe your own bullshit. Sometimes very successful founders start to think they're too smart to fail. They stop listening to those around them, don't ask for help or advice and underestimate the competition. Only the paranoid survive. Always surround yourself by people who are willing to challenge you and think differently.
4. You have to be willing to abandon your core business and pivot if the market changes on you. In 2010, we were being outgunned by Google and Apple. We had an opportunity to pivot our business but we chose to continue on our path, although I left the company a year later to join Google, the company failed to pivot and eventually ran out of money and had to be sold. Never become so wedded to a business that you're unwilling or able to change. Always contemplate on how others could change or destroy your business and make the tough changes on your own terms before someone does it on theirs. Nokia is a great example of what happens when you fail to heed the warning that change is coming.


How do you choose projects to work on? Which stage, how do you evaluate the startup before starting working with one?
I look for people who are trying to change the world and whose work inspires me. I look for people whose products are truly great and disruptive and who want to take on the status quo. I enjoy working with people who want to do something because others tell them it can't be done.
Usually, I work with companies that have some degree of commercial traction and a proven / product or business model. Where I can offer the most help is in scaling and helping founder's get to the next level.
I look for exceptional founders who are smart, hungry, hard-working, self-aware but also kind and good human beings. I want to work with people who are inspired by a cause that's bigger than themselves and who want to make a difference, not just make money.
Lastly, I'm a sucker for startups that have a great story or the potential for a great story. I'm not in it for the money or the tech or something that's just cool. I enjoy working with folks who are doing something that creates a powerful story that will inspire others to do something great in turn.
In today's' world where the average consumer sees over 10,000 brands every day, you need to do something that educates, entertains or inspires
What are the trends that every marketing professional should look into in 2019?
Quality content in the right place – content will continue to be key and is still one of the cheapest ways for startups to build awareness, education and get SEO visibility. But there will be far too much content out there, so focusing on the right audience with the right content strategy and being consistent will be critical to success.
Podcasts, though big in the US, remain underused in many parts of the world and are easy to create and easy for users to consume. They are a great way to educate, share stories, inspire and connect with consumers.
A video, particularly in vertical format, generated by non-celebrity influencers who can tell a great story about why your product helped them and why they care, will help you connect with consumers in a way which is visual and more authentic
Authenticity will be the key. People are fed up with fake news and the bickering of politicians and celebs who can't say the truth. Developing powerful, viral campaigns that speak to what people care about and are authentic will be essential to connecting with consumers
The impact of AI and ML becomes larger on marketing. Artificial intelligence coupled with machine learning will make marketing even smarter and take us closer to a world where we offer the right consumers the right message at the right time. Retailers should be able to start predicting which items to suggest to us based on our frequency of purchasing and advertisers should start to have a deeper understanding of which kind of ads never to show us given information they have about us. From this point of view, Facebook and Google will continue to strengthen their hold on digital advertising
Voice and visual search will continue to boom. the proliferation of assistant-type devices like Google mini and Alexa Echo will further drive voice search. Marketers will need to understand how they can tap into this growing market
I enjoy working with folks who are doing something that creates a powerful story that will inspire others to do something great in turn.
What have you heard about Estonia? Is there anything you are specifically looking forward to?
That Estonia is considered by some as the Silicon Valley of Europe with the highest ratio of startups per person in Europe. I'm looking forward to meeting some of them there.
At sTARTUp Day 2019, Patrick Mork will speak about using the power of storytelling to launch brands such as Google Play and Pepsi Max.
Articles you might also like: