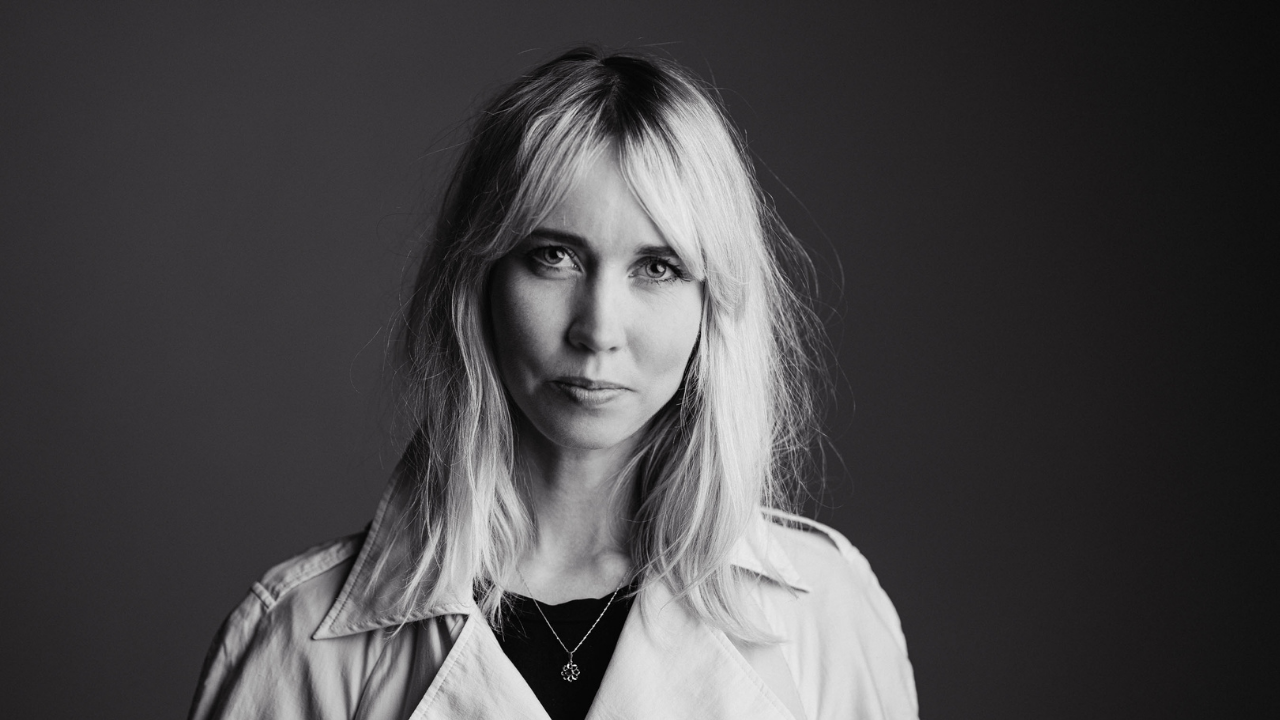 Designer Liis Tiisvelt from iLLIMOR loves making sustainable apparel for startups
Liis Tiisvelt is a designer and founder of the clothing brand
iLLIMOR
, which is characterized by sustainability – all clothes are produced in Estonia using sustainable materials. Although the brand also offers a collection for private customers, the focus is increasingly on creating sustainable corporate wear, with many clients coming from the technology sector.
If you come to the next sTARTUp Day business festival, you will surely see the cool sweatshirts and t-shirts designed by Liis for this year's festival – and can pick up one for yourself. Read our interview with Liis about fashion, life, and entrepreneurship.
This interview was written by Alice Veedla, member of the sTARTUp Day team.


How did you get into fashion design?
I can't pinpoint what that first click was, but fashion design has interested me since high school. I organized fashion shows with my classmate and got my first experience of sewing clothes and assembling a collection at the age of 16.


I was pretty active in the arts – I was in the school theatre group, did show dancing, and studied violin in the music school. We performed a lot, and the performance costumes were very special ‒ I liked visually striking clothes. After high school, I wasn't sure what to study, and since fashion design was the only field that really fascinated me, I decided to take up fashion design studies at Euro University.


I didn't finish the four-year fashion design program because, at some point, I developed a strong urge to travel and leave Estonia.
I wanted to meet new people and live in a different cultural setting.
I lived for a while in Sardinia, Italy, after which life took me to England. After working in London for a year, I started thinking again about my unfinished fashion studies in Estonia. My heart didn't give me peace, so I decided to give myself a second chance and began studying at the London College of Fashion.


The program was called fashion portfolio, and it was basically an introduction to fashion. It was an eye-opening experience as it was a one-year curriculum that was more of a preparatory program for a university degree. At the same time, I was still a full-time student; I had lectures five days a week and evenings worked to fund my studies.


After graduating, I stayed in London for an internship, which included participating in London Fashion Week. There, I realized that the profession of a fashion designer is exclusive, extravagant, and socially cool.


Why didn't you continue in fashion in London?
I passed the entrance exams to a good university in London, however, not to the one that was my first preference. I also got a little tired of London.


However, upon returning to Estonia in 2011, the contrast was great – everything seemed so dull and grey here compared to London's eclectic fashion scene. Although I had returned home with the plan to create my own brand, the inspiration disappeared in Estonia. There was a paradox – I felt I wanted to create my brand, but I wasn't yet the person I thought a designer was supposed to be.
I was disappointed in myself and moved to France for three years instead. I wasn't directly involved with fashion there, but the thought didn't leave me. I felt I wanted to go back to fashion one day. So back in Estonia again, I decided to continue my fashion studies for the third time. And this time, not in design.

Namely, in the meantime, the world had changed – the environment and sustainability had become more topical issues, and this got me interested.
I was looking for study options and found the specialty of resource management in the textile and clothing industry at TTK University of Applied Sciences, focused on the supply chain, production strategies, and the origin of textile materials. My thesis, which I wrote about material development at Gelatex Technologies, was selected as the best thesis in higher education institutions in Estonia in 2020. I am currently a Master's student in wood, plastics, and textile technology at TalTech, where I am studying materials technology in depth.


Are you sustainable in what you do?
In general, the word "sustainability" is everywhere today. Everyone says they are sustainable and green, but it might just be a trendy word. Sustainability consists of many different components, and the material is only one aspect of this large supply chain.


Currently, I use primarily sustainable materials in my collections, such as upcycled fabrics (production leftovers from other brands), and Oeko-tex certified Tencel™, which consists of cellulose-based eucalyptus wood fiber. By the way, the Tencel™ fabric that I use is manufactured in Estonia. I also manufacture all my collections in Estonia and, when possible, source all other materials from the domestic market.


As part of my master's studies, I am researching and developing a new packaging material from recycled textile fibers that could be used for packaging iLLIMOR products and much more widely. My goal is to make iLLIMOR a circular economy company.

What challenges did you encounter when starting your own business?
In hindsight, I didn't really know what entrepreneurship entailed when I started. Although I had previously worked as a project manager in the clothing industry, where I managed and organized production for the client, I had to start again from scratch with my brand.
Everyone knows that you need designs, patterns, materials and sales channels to produce clothing, but the most challenging part was managing everything alone and being financially sustainable in my activities.


I'm not a startup in the sense that I have only financed my activities myself so far and invested all the proceeds back into the company in the first year. But I like that most of my business clients are startups or have started as startups!
I also had no direct experience in marketing and sales. So I didn't realize how hard it would be to succeed in today's highly competitive design market. It has been difficult to stand out from the beginning and it is still. It's a big challenge to reach the right customer who values high-quality and sustainable fabrics and domestic production. Most of the textile industry is, after all, still located in Asia.


What motivates you when you have difficult moments?
When there are challenging moments and the work grows over my head, I always try to look at the bigger picture and think about what is the worst thing that could happen. So I will go into detail until I can calm myself down because nothing terrible will happen should the original plans fail. Life won't end!


What achievements are you most proud of?
Of my awesome customers and our collaboration projects. I started in the B2C business, but I was contacted by Liviko AS one day. They were looking for sustainable clothing for their new brand with a zero-waste concept – Crafter's, and were my first business clients.
After that came Garage48. Garage48 wanted very original clothes, not just sweatshirts with a logo. I made them a special collection and it was a very successful project, after which I realized that perhaps startup apparel was my niche.


Startups want to improve the world through innovation. So I thought since I had an innovative material like Tencel™ that, due to its structure and properties, is an excellent alternative to cotton, why not offer it to other awesome innovative companies? After all, the demand for corporate wear is high; startups have sprung up like mushrooms in recent years. So I started to focus on it more consciously and look for clients.
I enjoy a lot working with startups because they actively contribute to the design process, which is very exciting. Also, all items are made on order, so nothing ends up in the warehouse.
Of course, if you're in a vibrant startup world yourself, you have a thousand things to take care of – growing your business, finding investors or sponsors, getting noticed with the right message. You may not even think about clothing, but it's actually a visual marketing tool that moves around and stands out when you wear it. I want to do my part so that startups could shine in their eco-friendly sweatshirts with original design, exactly the way they want to.


What questions should people ask themselves to find their calling?
I think people should want to look into themselves more. For example, walking in nature is inspiring and helps me get away from problems or look at them in a new environment. I realized my dream through a very long, even too long, journey. Maybe I didn't ask myself: what would happen if I took the first steps towards my dream already TODAY? Would that make me happy?

Paradoxically, in some ways, I was afraid of fulfilling my dreams. I thought that would end the challenges.
But I enjoyed challenges, especially when I was living abroad. Today I see that one does not exclude the other, and fortunately, challenges never end. I am a typical Estonian in this sense - moving through difficulties towards happiness!
What we want to do in life can change over time. I cannot say with 100% determination that I am doing today what I was born to do or that I have been somehow "enlightened" and am on the right track.


As time goes on, I start to see my goals and what I really want more clearly. The people I work with also help me get on the path I want to get to, which is very inspiring.


Do you have any suggestions for a starting entrepreneur?
The help of people with a similar mindset is very important, as often entrepreneurs start alone and have no one to discuss their ideas with.


Before I started my brand, I entered the Tartu Centre for Creative Industries incubation program, where I found valuable business mentors. Once a month, there's a mentoring session with professionals from different disciplines, depending on what kind of help I need at the moment. For example, it could be sales, marketing, brand positioning or export. I have received many valuable recommendations and contacts from Tartu Centre for Creative Industries, which has led to new clients.
Check out iLLIMOR's sustainable apparel for companies on their website.

Read also: Ann Runnel: "We all need to wear clothes, so let's do it sustainably!"
Articles you might also like: