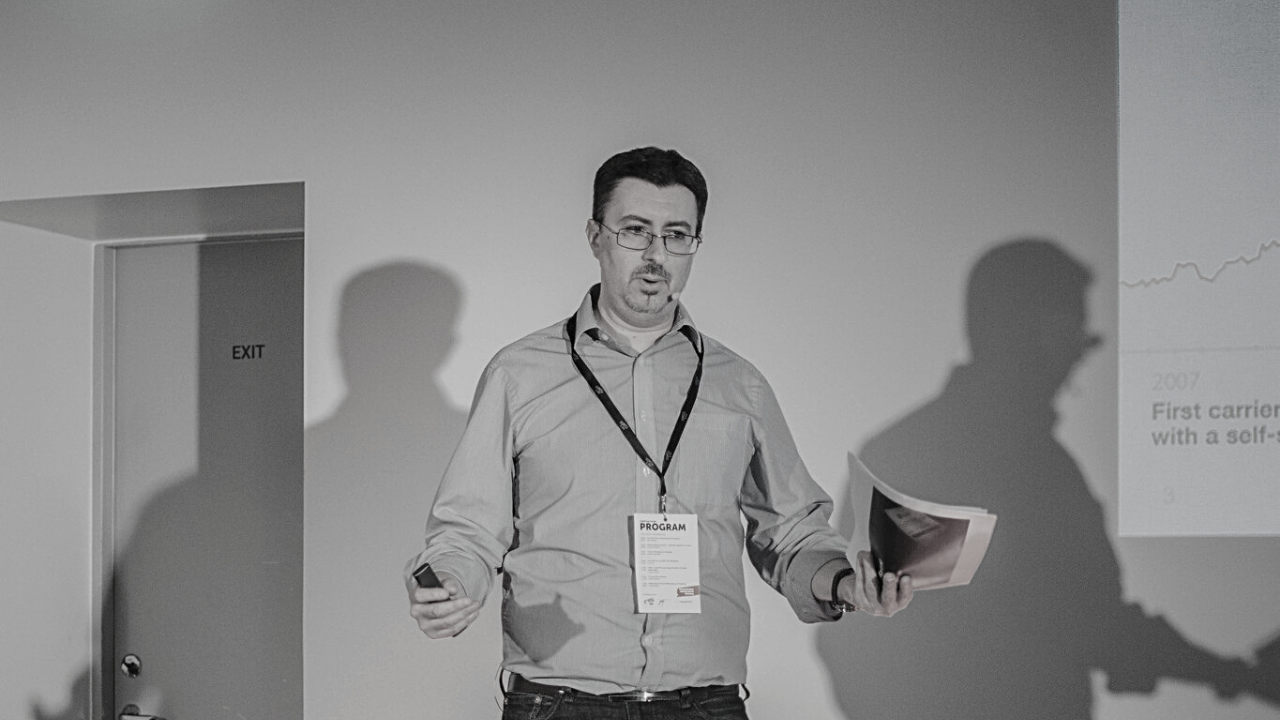 Andrea Boetti: "Make it or break it!"
Andrea Boetti, Director of Strategic Partnerships at
Fortumo
, helps digital merchants, publishers and app stores build out their monetization and user acquisition strategies – he has brought on board customers, including Spotify, Amazon and Epic Games. On October 28, he spoke about how to nail big contracts at sTARTUp Sales & Marketing.
This interview was conducted by Jaanika Niinepuu, a member of the sTARTUp Day Marketing & PR team.


To sum up your presentation – what are the three most important things that can help you nail big contracts while being an underdog?
You should be sure about what you want to achieve and be persistent – sometimes it helps. Also, you have to be clear about the strategy and know what kind of tactics and actions you are going to use to seal certain contracts.
What are the biggest mistakes people make when trying to land big clients?
Probably the biggest mistake is to give up too early. For example, with Spotify, it took 3–4 years, so if we had given up after 2 years, we wouldn't be here where we are today. The second thing perhaps is being afraid of larger companies, thinking that they are going to be something unreachable.
In reality, fundamentally, they are business people and product owners as we are. There shouldn't be a fear of different levels.
Situations can be different. There are some cases, targets and times where it makes sense to move on. At the same time, there are certain targets where nevertheless it makes sense to continue as certain contracts and customers can change the life of the company, so: make it or break it!
Have you had any regrets considering giving up too early?
Definitely some cases – not following up sufficiently, creating the needed value, not being regular enough. So, definitely, yes. Unfortunately, you don't win every account but it is useful for the future to understand the reason why you lost it.
What are your favorite success stories from working at Fortumo?
There are two different types. The accounts that the team has been closing with my support, and also some accounts that I have managed directly from the beginning. Both are actually something I am very happy about.
What have been the biggest challenges for you working at Fortumo?
Well, sometimes to adjust to the fact that certain B2B sales cycles, especially with larger companies, are very long. As I mentioned before: some sales cycles can be 3–4 years. Some other cases can easily take 12–18 months before seeing the business results of the work you have been putting together so long. You need to have patience and be ready for the fact that these are not quick-deal sales. Even with an agreement with Amazon or Google, it can take months or years – just the legal part!
What kind of projects is Fortumo working on right now?
A lot of things. During the last years, we have moved from being a mono-product to a multiple products company, and now there are different ways how we can help our partners. There are a lot of projects that are connected to our biggest customers and their growth. We are expanding in certain segments, we now have a bigger team and presence in Southeast Asia. It is a region that in the last 4–5 years has been growing the most for us, we have now offices in Indonesia, Singapore, India and Vietnam.
We see a lot of growth in the Middle East as well. So, we have projects that go with a regional perspective – investing more in certain regions and expanding there. In terms of product, our company became a part of a bigger group just 5 months ago, at the same time, we already started working on growing our proposition. We are addressing new markets that now have additional products we can propose.
You are helping digital merchants, publishers and app stores. How do you find your clients?
Just to give a simple example. If someone in Estonia goes to Google Play Store and wants to buy some apps, the payment is actually passing through us and then added to the phone bill. If someone wants to watch Go3 or pay for Spotify, the service can be paid through the phone. These are some examples of how we work.
How do we find customers? We look for them mostly. We define which companies we want to work with, and then we start systematically trying to get in touch with them and find contacts. Before there was also an element of industry events, obviously there are no events right now and everything is done from distance. But there is no big difference from an outcome perspective.
In your presentation at sTARTUp Talks Sales & Marketing, you spoke about the fact that you don't always reach out to the head of the organization first, that you are trying to speak with other people from companies to understand their mindset, targets and values.
We are doing it in layers. We have certain parallel activities where we want to understand what our client's company thinks, we are doing it maybe with more operational people. But then we reach out and we try to talk as well with decision makers – people who can make decisions to move forward. So there are multiple ways when approaching a company. Amazon, for example, has 300,000 – 400,000 employees, so clearly, you have to find the time to make sure who the decision makers and stakeholders are.
You had a big change this summer: Fortumo was sold to Boku. How did this merge change the growth in new customers? Is establishing new partnerships any different?
It has been changing in a positive way because
Boku
and Fortumo have been two companies operating in the same market in similar ways. Interestingly we have been operating in a more similar way than we were thinking – when we were competing against each other. For example, each one is stronger in certain regions and countries: Boku in Western Europe, Fortumo in Asia. Now we can provide more customers with a unified proposition.
So we have more to provide to our customers. I honestly see it from a market approach – to our customer, Fortumo + Boku can provide bigger value.
We have been in the market for 13 years, we built a brand and reputation – this might be one of the several reasons why the biggest company in our industry is buying us. Also because we have been able to build up brand trust in the market. At the same time, I have to say that our sales teams, marketing teams, product teams, engineering teams, everybody in this organization have been working extremely hard to make sure that the companies know our whereabouts and that we exist. The acquisition happened because there was a certain awareness of the value that Fortumo was going to bring.
Author: Sigrid Mölder


Imagine that I am your dream client. What would your sales pitch be?
Probably, I would ask a lot of questions to understand what would be valuable. Yes, there would be a sales pitch, but not a generic one. Everyone is valuing different things and there are different problems they want to solve. Generally, even in the first call, preliminary discussion and so on, there is a basic sales intro: what is Fortumo, what is Fortumo doing, and references. But everything is adjusted and specific to the situation. The team would be asking questions in terms of needs, values, targets and so on. We are not doing direct sales to consumers with a standardized product. We want to create value for companies. I know that people would like to have simple solutions, but there is a bit more work behind it, and we really want to provide something that is fitting the need.
In your opinion: what kind of new solutions users are waiting for right now speaking of digital merchants and app stores?
We can say we have two layers of customers. We have our own customers – companies that are providing services, companies like Netflix, Apple and Google. But in turn, they have their consumer customers who also interact with Fortumo's products.
Up until a few years ago, those consumers only interacted with us through our payment solutions – carrier billing. Today, we are a multi-product company and we provide our merchants also with bundling.
Bundling means selling third-party services as part of the telco's package. Carrier billing is meant to increase our merchants' revenue, while bundling is meant to increase their user base. And we are doing the same thing with bundling as we are with carrier billing – making the solution easier to launch globally with many telcos at once through Fortumo.
What would be the next innovation in digital monetization systems?
Speaking of trends, I can see, though not in Europe, that there is a strong movement towards digital wallets – in China, nobody is paying with a credit card, everybody is paying with a QR-code wallet. It is the same in Indonesia, the Philippines and the Middle East. I wouldn't generalize it, but I can see it as a growing trend that people are paying with digital wallets in certain regions.
sTARTUp Sales&Marketing is the official side-event of sTARTUp Day 2021. The event was organized by sTARTUp Day, grit. and Messente. The next event will take place on December 2. Join us at sTARTUp Self-development – a journey unlocking success from within.
Articles you might also like: