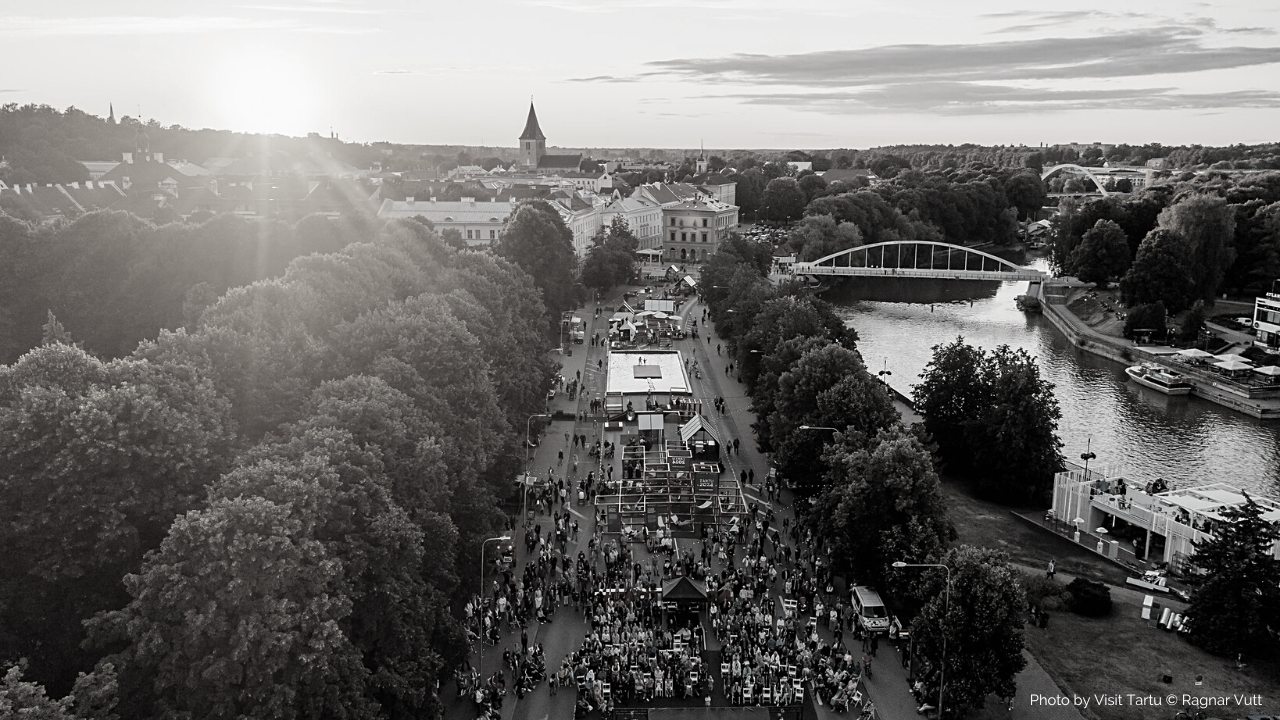 10 places to visit in Tartu
Although the best time to visit Tartu is during the sTARTUp Day festival, a trip to the smart city of Tartu is always a good idea. Our team put together a list of our ten favorite spots in the town well worth a visit during your next stay.
1. Toome Hill
Tartu is a great place for walking, and the scenic Toomemägi, with its tall trees, romantic Cathedral ruins and bridges, is a favorite place for that end. Quiet in every season, it's the perfect place for some soul searching and reflection, so you can breathe in the wisdom of Tartu and recharge with the energy of beautiful city nature.
2. The Botanical Gardens
Nestled by the river Emajõgi, the Botanical Gardens is a well-kempt lovely garden that you can explore on your own or while conversing with a friend or significant other. There is no admission fee, and in the summer period, the garden is open until late evening.
Eesti Rahva Muuseum or ERM holds a special place in our hearts. The very first sTARTUp Day festival took place in the then brand-new ERM building back in 2016, and we returned to the venue for the 2021 festival. Definitely worth a visit, whether you are a history buff, a fan of modern architecture, or an art lover (the temporary exhibition hall often hosts excellent art exhibitions).

NB. Did you know that Digit, the leading software development conference in Estonia, will take place in ERM on 21 September 2023? Find more info at https://digit.dev/

Estonian National Museum. Photo by Visit Tartu © Kiur Kaasik
4. Tartu's saunas and spas
The idea for the sTARTUp Day festival was born in a sauna. The widest choice of saunas (13) in Tartu is offered by V Spa, while Aura Centre comes in second. Come to think of all the great ideas born in the relaxing atmosphere of a sauna, maybe we should sneak in some spa fun into the next sTARTUp Day program? Come to think of it, maybe we will…
5. Science Centre Ahhaa
Located just a stone's throw from V Spa and Aura Centre, Science Center Ahhaa has been another favorite destination for both kids and grownups since 2011. The top floor houses a planetarium, where according to our Head of Program Artur if you are lucky, you might even get a hold of the control stick during one of the less crowded hours and roam around in the cosmos on your own!
6. Climb the church towers
If you want to take in Tartu from a bird's eye view, you can do it in the spire of the medieval St. John's Church (but first, you must climb the 135 stairs that lead to the spire). Alternatively, you can visit the spires of Tartu Cathedral on Toome Hill from May to September for a lovely view of Tartu and its surroundings.
Despite its name, the vast library premises are also accessible to visitors from outside academia who want to browse its huge selection of books and get a motivation and productivity boost from the academic spirit of the place.
Located in an old military base inside the city, the park is known for its mid- and short-range holes and a unique atmosphere. Leave behind your everyday concerns throwing discs on the 18-hole course stretching across 1541 meters. And while at it, keep your eyes out for sTARTUp Day Head Organizer Mart.
9. Delta stairs
The impressive Delta Centre of the University of Tartu by River Emajõgi is home to economics and IT students and their creative brainpower. The wooden terrace extending into the river is a popular chillout and meeting place. Bustling with life from the first glimpse of sunrays until sunset in summer, you can enjoy the beauty of nature and architecture and perhaps even meet the famous spirit of Tartu here.


University of Tartu Delta Building. Photo by Visit Tartu © Mana Kaasik
10. Seasonal events
There's a lot going on in Tartu, so don't forget to check out the events happening in town during your stay. In the summertime, Tartu hosts a different festival almost every week, while from December to mid-January, the Town Hall Square transforms into a Christmas wonderland where you can skate, drink glögg and catch up with friends.
For startup-minded people, there are plenty of reasons to meet in Tartu throughout the year, including the conferences organized by the sTARTUp Day team:

-the software development conference Digit on 21 September 2023
-the most startup-minded business festival sTARTUp Day on 24-26 January 2024
-the product, UX design and front-end conference Refresh in 2024.
Articles you might also like: