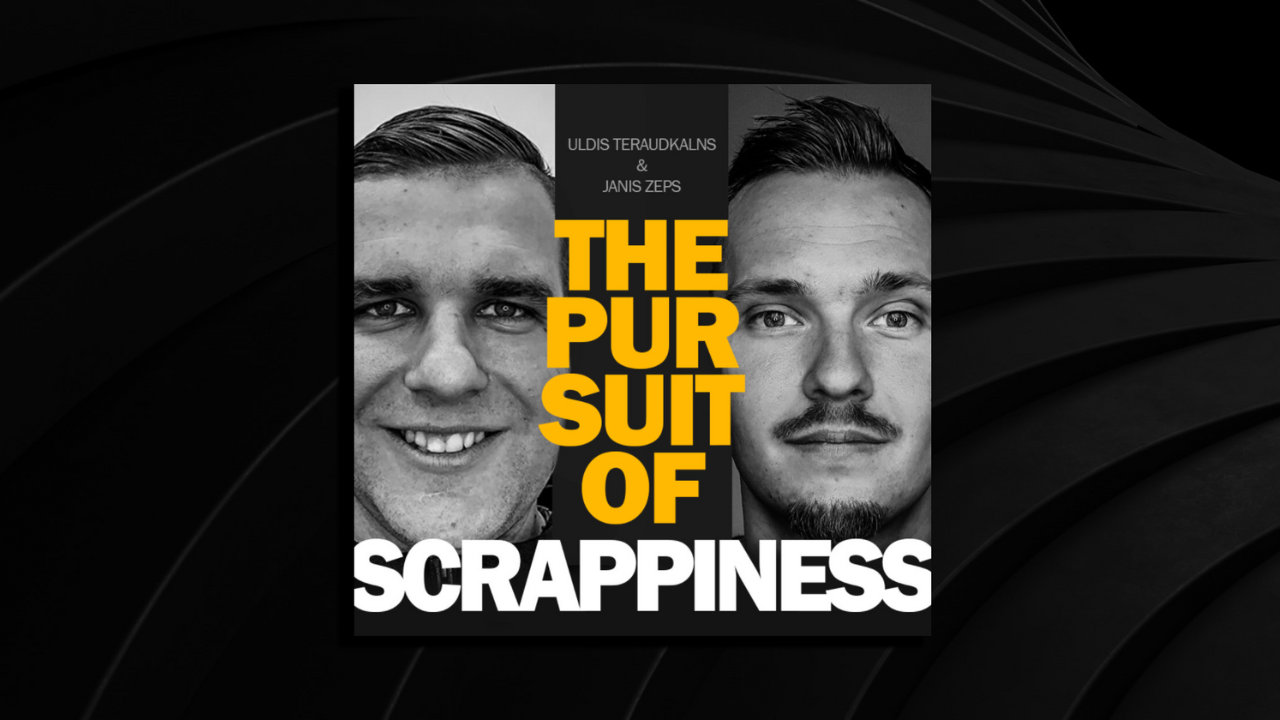 The Pursuit of Scrappiness: Merging the Baltic startup bubbles
Janis Zeps and Uldis Teraudkalns are co-hosts of
The Pursuit of Scrappiness
, the popular English-language startup podcast dedicated to actionable and scrappy insights from founders and investors mainly from the Baltics. We asked them about their mission and what they have picked up from their 100+ conversations with some of the most successful entrepreneurs in our region.
Over the past two seasons, the Pursuit of Scrappiness has recorded several episodes with sTARTUP Day festival speakers. Find the full list at the end of the article.
How did you come up with the idea for the Pursuit of Scrappiness?
Uldis: The idea came to us in the 'fabulous' times of COVID. We have a friends chat group with former Stockholm School of Economics in Riga graduates, now entrepreneurs, where we discussed how there's no unified Baltic startup content, only local press.
We saw a niche to provide English-language content on the whole Baltic region. It also seemed like an interesting professional hobby, a tool to get to know interesting people and build our own profile.
Janis: You can, of course, consume global content, say, listen to Joe Rogan and Elon Musk, but we felt having those same conversations with successful entrepreneurs from the Baltics would be way more relatable and inspiring as role models.
Why did you choose the Baltic focus?
Uldis: We decided to record in English, so the Baltics seemed like a natural market. It also comes from our network – the first guests on the show were our friends from university times. Maybe if we didn't have this kind of Baltic "upbringing" from SSE Riga, we wouldn't have such a Baltic perspective.
Janis: I've been living in Germany for the past five years and see that people from other countries view the three Baltic states as one region together. We share a similar setup. We are a bit different from Scandinavia, definitely different from Western Europe but also from other Eastern European countries.


What is it that sets our region apart?
Janis: For instance, the way we use technology – adoption has been super fast here. But also the scrappiness that is core to the way we do things here – doing more with less.
A company from a Baltic country can sometimes go the same way or further with a 10-million investment than a similar startup with a 100-million investment in the US.
So the mission of The Pursuit of Scrappiness is to connect the Baltic startup community?
Janis: We are trying to bridge the gap between our local bubbles. In a way, it's also what startup events like sTARTUp Day, Latitude59 and TechChill are doing by bringing together people from all three countries.
At the same time, our content is universal. And last season, about half of our guests have actually come from outside Baltics.
We would definitely hope to see more Baltic startup podcasts and also some print media because it would be interesting to follow what is happening in the other countries and learn about the market opportunities.
Uldis: If you think about it, in a way, this is the only industry we can really share compared to, say, waste management or banking, which are very local. Perhaps it would be different if we had a more integrated stock market. But in the startup industry, people are already hiring across the Baltics, co-founding companies, angel investing etc. So there is already this interest.
Which lessons from your 120+ guests have impacted you personally the most?
Uldis: Rather than some specific practices, it's mostly about the general mindset that you can do it, which is also something we'd like to instill in our listeners. Because these guys and girls, very much like you and me, are doing international business out there. They don't hold back; they don't back down; they persevere.
It inspires me to think that I can build something great or that if I turn a page, I will have all these opportunities.
My suggestion to any young person who doesn't know what to do in life would be to go work for a startup because it's incomparable to any other kind of business job.
Secondly, if you have an idea and strong progress, there's never been so much money available in the Baltics. As a result of the conversations, I have a lot of confidence in what people from this region can achieve.
Janis: Another angle we try to give these conversations is tangible advice. Not just inspirational phrases like "Follow your dreams" but "How did you start?" How do you make sales? What are the things that work for you? How do you hire people?
A lot of the questions revolve around this concept of scrappiness, as every one of our guests has something to share on this. The show is not a promotional platform; we don't go into details about the guests' businesses. Instead, we talk about their experience and what they have learned from it.


What do you do when you are not recording The Pursuit of Scrappiness?
Uldis: I run a financial services company Nexpay, which provides banking and payment services for underbanked online companies, enabling them to provide services to their customers. Over the past five years, we have grown into a 50-person team operating out of Riga, where I am based, and Vilnius.


Most of my free time goes to my family and two kids. However, one thing that I would like to dedicate more time to is singing in a choir. This summer, I will participate in the Latvian Song and Dance Festival, taking place every five years, as I've already done three or four times.
Janis: I do consulting work in marketing technology and customer relationship management. I help clients, mostly larger companies, to grow their customer lifetime value, generate more sales with available data etc. Before that, I worked for nine years, building the loyalty business for AirBaltic.
As to hobbies, I'm a runner and read a lot. I also treat podcasting more as a hobby than a work. I'd say it's a newfound hobby for both of us in recent years.
How long will the show go on?
Uldis: Like with most things in life, it's hard to say. But we have no plans of stopping anytime soon.
Janis: What has helped us get where we are is sticking to the schedule of releasing a new episode each week. Initially, we also considered publishing whenever we could. However, I'm sure this would have led us to publish three or four times less.
Discipline beats motivation every day of the year – this is something I've learned both from our podcast and also life in general.
⚡️ ⚡️ ⚡️

Check out The Pursuit of Scrappiness special episodes with sTARTUp Day speakers:
⚡️ Ep 82 & 83: Jevgeni Kabanov – Pt.1 What it takes to build a great team, building a world-class product & importance of taking breaks
Pt.2 Preventing burnout, productivity hacks, importance of family & efficiency vs growth
⚡️ Ep 84 & 85: Sten Tamkivi – Pt.1 Creating GDP-level impact with startups, Web3 & evolving angle investing
Pt.2 - Sten's time at Andreessen Horowitz and Stanford, taking paternity leave & prioritising family
⚡️ Ep 107: Remo Ojaste – Extreme ownership and other leadership lessons from the military + how to build discipline and be prepared for unexpected situations in work & life
⚡️ Ep 108: Hedi Mardisoo & Kalle Palling – Gig economy opportunities, finding the right co-founder and unlocking productivity via time blocking and sports
⚡️ Ep 113: Peter Sandberg – All you need to know about secondary investments in startups + global banking confidence & treasury management during turbulent times
⚡️ Ep 114: Jay Johnson – Dealing with difficult people, strong organisational culture in the remote work era, signs of toxic environment & principles for building trust
Articles you might also like: