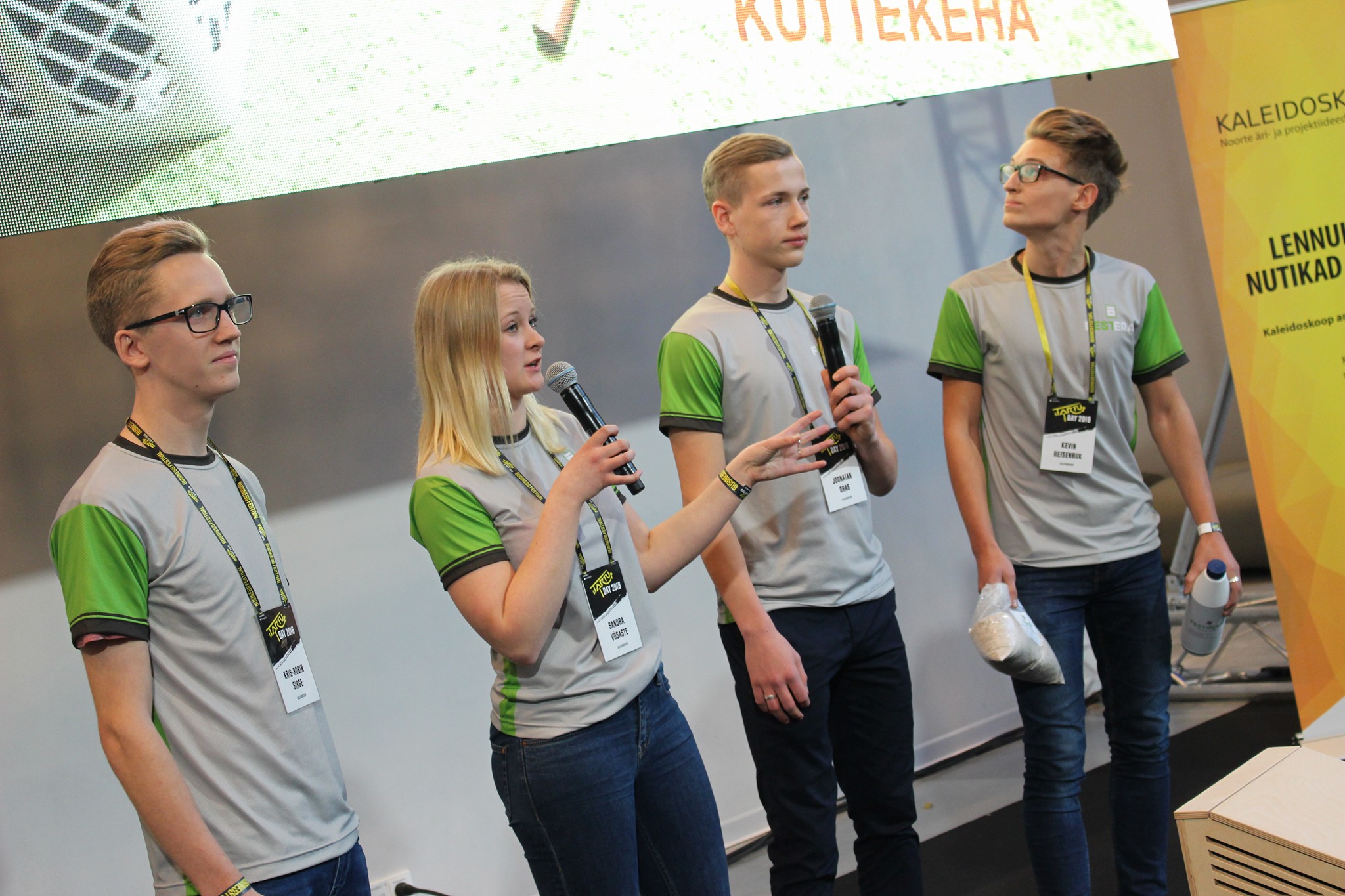 The Coolest Stage at sTARTUp Day 2017 - the UT IdeaLab Pitching Stage
The IdeaLab of the University of Tartu, which has 1 of the 4 sTARTUp Day 2017 stages, will host a series of pitching competitions. On the UT IdeaLab stage, we will see and hear first-class business idea pitches by students and by the best startups from Estonia, the Baltic States and the Nordic region, science-based spin-off companies and teams from pre-incubation programs. The best teams will be awarded prizes and financing.
We are excited to bring you the many pitching rounds and to give you an opportunity to hear and witness revolutionary, innovative, amazing ideas. Also, winners from several competitions will get the opportunity to pitch on our main stage - the Starlight stage!


Kaleidoskoop finals
Kaleidoskoop is the biggest student business ideas competition in South-Estonia. At sTARTUp Day, 10 teams who have made it to the finals will step on the stage and present their business or project ideas to the panel of judges. The best teams will receive awards - tickets to European Innovation Academy - world's largest extreme entrepreneurship program in Portugal, pitch at Polar Bear Pitching in ice cold water in Oulu and a financial award from the City of Tartu!


Prototron

Prototron encourages smart and entrepreneurial people to make their ideas into prototypes and prototypes into real businesses. Prototron 2017 Autumn round's 10 best teams - digitizing solutions and tech-startups - are on the stage. The best teams will receive up to 10,000€ for financing, 6 months of Science Park Tehnopol incubator services, Hedman Lift legal aid and fast-pass to Seed Forum Tallinn.

Starter
STARTER is a business development program designed by 8 universities. In STARTER Finals, the six best STARTER program student teams from all over Estonia present will their business ideas and the best team of STARTER 2017 will be selected. STARTER is financed by European Social Fund.


Startup Wise Guys
Startup Wise Guys is for early-stage B2B startups with some traction, kick-ass team, and the right mindset. In addition to 20.000€ investment, startups will get 3 months intensive mentoring to find the perfect product-market fit and prepare for fundraising. Europe's Leading B2B startup accelerator is bringing the current batch of 11 startup teams to pitch on sTARTUp Day pitching stage.


sTARTUp pitching
The 10 best startups from Estonia, Baltics and the Nordics will get a chance to pitch on the stage at the biggest business festival in the Baltics – in front of investors, entrepreneurs, potential partners and national media. APPLY HERE until the 20th November 2017! This is your chance - use it wisely!


EstLat-Accelerate
The EstLat-Accelerate project is realized by three Estonian and two Latvian partners:
Baltic Innovation Agency – project management, overall coordination, monitoring and analysis

TechHub Riga – coordinating the pre-acceleration programs and communication

University of Tartu – carrying out the mentoring programs in Estonia

Garage48 – organizing ideation workshops and hackathons in Estonia and Latvia

Latvian Startup Association – carrying out the mentoring programs in Latvia
The best Estonian and Latvian teams from EstLat-Accelerate pre-accelerator programme will pitch their products and services.


EST-FIN pitch match
For the first time ever, an international friendly match between Finnish and Estonian science-based spin-off companies is organized. Four research companies from each country will be presented. The trophies are given in the following categories: new promising innovations, new entrants in the research industry, market tigers and flagships. University of Tartu, Tartu Science Park from Estonia and University of Turku with Turku Science Park will create a joint demo area of two countries and bring together a panel under the Entrepreneurial University slogan. Synergy on a completely new level of internationalization!


.Cocoon
.Cocoon is a pre-incubation program powered by sTARTUp HUB for incorporating startups. At sTARTUp Day 2017 we will see 8 teams who participated in the three months long program and were provided with a workspace and mentoring. These teams include Cody, Festera (the winner of Kaleidoskoop last year) and other awesome teams. They have turned their idea into a reality and now they are here to pitch until they make it.


Articles you might also like: