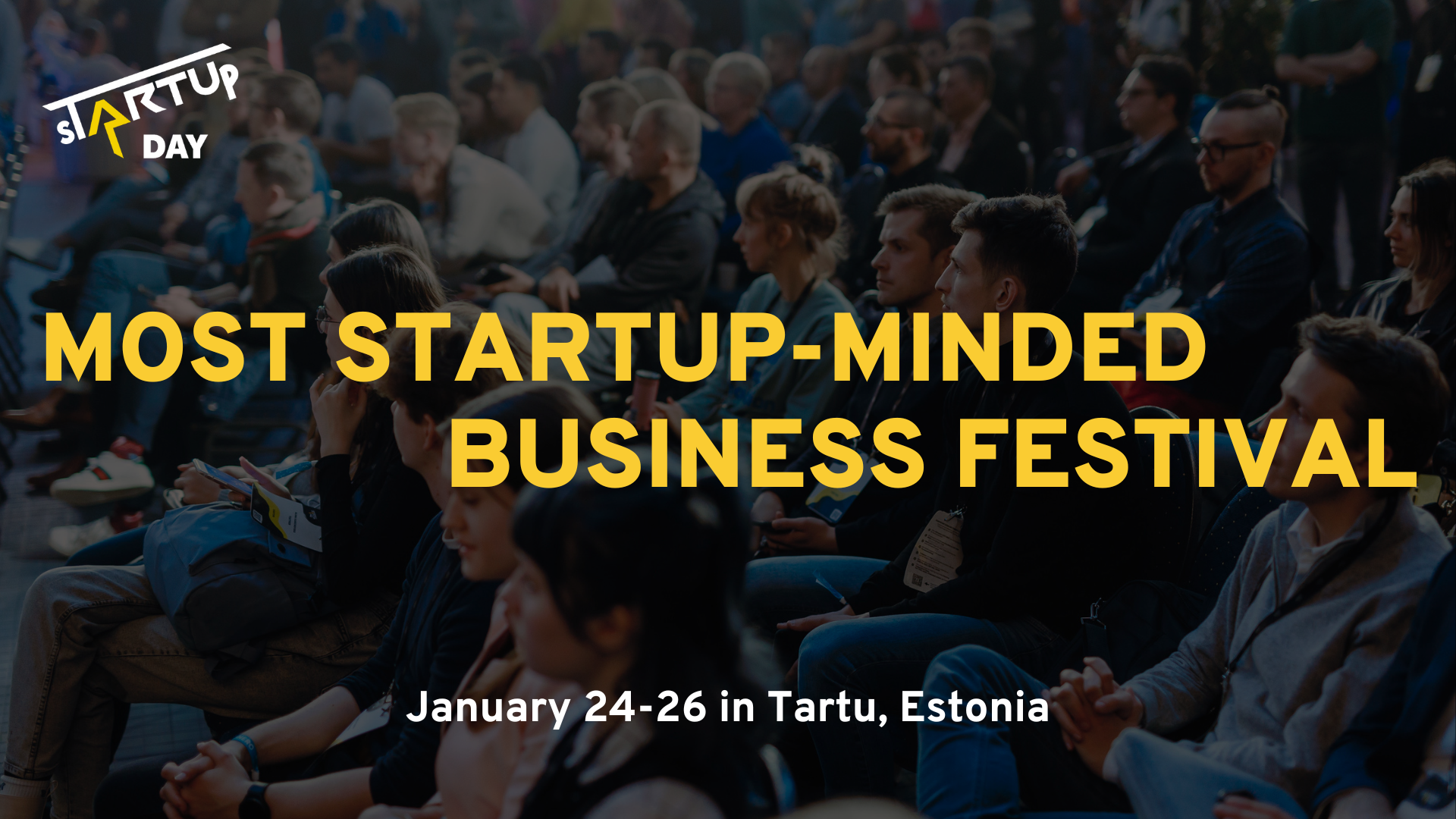 sTARTUp Day has grown up: our new visual identity
Did you notice our website looks a bit different lately? Ahead of sTARTUp Day 2024, we have refreshed our visual identity to reflect the changes that have taken place over the past eight years since the festival was first launched.
Mart Lättekivi, Head Organizer of sTARTUp Day 2024:
When sTARTUp Day first came into being eight years ago, it was underpinned by the enthusiasm of the local community and the youthful spirit of students, who largely formed the organizing team.
While the boldness and enthusiasm are still there, a lot has changed since then. Today, the sTARTUp Day festival gathers nearly 4000 talented professionals, entrepreneurs and investors in Tartu each year. Along the way, we have realized that our city is not big enough to organize the event only for seed-stage startups, so our mission has always been broader.


While we seek to support startups in every way we can, we want to be a meeting place for all startup-minded organizations and individuals making their first steps toward becoming entrepreneurs.
The festival and the team have grown considerably in size, but even more importantly, we have become more mature and professional each year. In simple words, sTARTUp Day has grown up – and it's time our brand reflects it!


Teele Tilts, Head of Marketing at sTARTUp Day 2024:
After the 2023 festival, we decided it was time to refresh our visual identity (CVI). We did not seek a complete, 180-degree change because the sTARTUp Day brand had already proven itself over time, and the yellow-black combo immediately brought the sTARTUp Day festival to people's minds.
Yet we could not continue the same way as the black and white pics didn't catch attention anymore, especially on social media feeds.
The edgy and youthful elements we once had didn't align with our brand anymore, which had matured from adolescence to young adulthood over the years. So, it was time for a change.

Six months later, I can say the task of visual rebranding proved a far more arduous task than I initially thought (and now I understand why major companies spend millions and years changing their brand color three shades lighter). Big thanks to our designer Helen Cornelia Kuklane and web developer Karl Kuusik, who contributed countless hours to the project!
Yet the hard work paid off, and I am very happy with the result.


Our new CVI embraces simplicity and freshness while still maintaining a youthful and ambitious vibe.
You can find our
CVI
and
logos
here.

PS. Did you know that marketing and brand development are also one of the focus topics of sTARTUp Day 2024 stage program? Sign up to our
newsletter
and be the first to receive news and offers.
Articles you might also like: