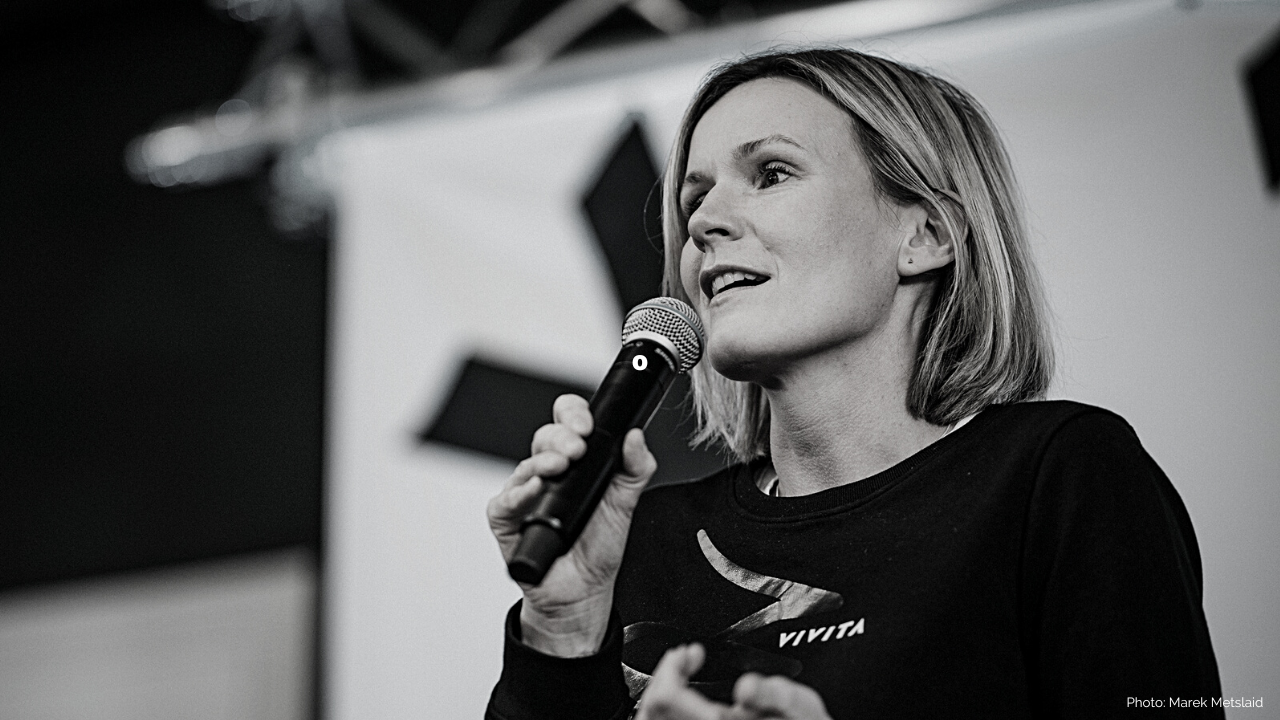 Mari-Liis Lind from VIVITA: "Kids must be given the opportunity to bring their awesome ideas to life."
Mari-Liis Lind is an innovator and community builder who has been involved in running several tech initiatives and conferences in Estonia. Today, she is focused on nurturing children's creativity both as a parent and as a Co-Founde
r and CEO of
VIVITA
Crea
tivity Accelerator for Children. She will explore the topic of empowering the future generation at the sTARTUp Day 2023 stage on 16 March.
The interview was written by Kai Ly Kröönström, a member of the sTARTUp Day communications and marketing team.

Your talk at sTARTUp Day is titled "Return of Investment on Investing in Kids." Could you give us a little preview of what you'll be talking about?
I'll be speaking together with Taizo Son, a serial entrepreneur and co-founder of VIVITA. Taizo has had previous contact with the Estonian startup community as an investor in a number of local startups. The focus of our talk will be on children. In particular, how investing in children in any form will give excellent results in the future.
We will also talk about how organizations can benefit from involving children into their design, innovation and decision-making processes. Furthermore, we will dive into which useful skills we should advance so that kids would be better prepared for the future.
(UPDATE: Unfortunately, Taizo Son has had to cancel his participation at sTARTUp Day 2023, and Mari-Liis will be instead sharing the stage with Ede Schank-Tamkivi and young entrepreneurs from VIVITA.)
You are the co-founder and CEO of VIVITA Estonia and VIVITA International. What exactly is VIVITA?
VIVITA is an international creativity accelerator for children and young people, where we help to turn their awesome ideas into reality. Our headquarters are located in Tallinn, Estonia. In addition, we currently operate in 12 different locations around the world, and about 10,000 children are involved in our activities globally.


What we do is cultivate courage and inventiveness in children. We allow kids to take the leadership role in their activities while our team is in a supportive role, helping the kids out with technical skills that allow them to turn their ideas into reality. It's a very simple formula: we give young people the mindset, skillset, and toolset to grow into future initiators, founders and innovators.

In general, entrepreneurship studies only begin at the upper secondary school or university level, while we want to make it available already at the elementary school level.



How are your activities structured?
Our work rests on three pillars. Firstly, we support innovations created by children. In other words, kids come to VIVITA with their original idea, and we provide them with mentors who help them implement their ideas. The final product can be a physical, digital, or social project. Our goal at VIVITA is to allow children to pick up the skills, mindset and tools that help them to get from a vague idea to a tangible prototype or solution.
The second pillar is innovations with kids – we operate as a design and innovation consultancy together with kids. We have developed a playful and child-friendly methodology that allows youngsters to contribute their ideas to developing products and services in any field. That allows children to gain professional experience early on, which will be a great advantage in the future. We have cooperated with large companies, startups and local municipalities.
Our third activity pillar is development of technology that helps children innovate. Our product portfolio includes a number of software and hardware solutions that make it easier for children to use complex technology, which in turn helps them innovate more easily. For example, one of our tools is a modular electronics kit that allows quick prototyping of various machines.
To a large extent, VIVITA is a social enterprise. Our invention labs, or VIVISTOPs, are free-of-charge for all children. We believe that curiosity-triggering extracurricular activities should be accessible to all young people. In addition to generating our own revenue, we are currently getting also some financial support from VIVITA's parent company Mistletoe, a family office and impact investor based in Japan.
What is your broader mission with VIVITA?
The broader mission of our activities is to involve children in shaping future society. We want to give kids more freedom of choice and the opportunity to create something creative and innovative by themselves. In Estonia, we have a well-known saying: "A child speaks when a chicken pees." Such thinking must stop because children have a huge untapped potential in the form of creativity and curiosity.
Often the older people get, the more they tend to get stuck in "in-the-box" thinking. As a result, things that at first glance seem impossible are often not tested because the courage to make mistakes and the desire to discover have been lost. Our mission is to give every child the opportunity to bring their awesome ideas to life and shape their future!
Can you give examples of interesting inventions created by children at VIVITA?
There have been so many interesting projects. For example, a math task machine built by a 9-year-old boy in Estonia that gives out candy if a task is solved correctly. The child observed that some kids were unmotivated to learn math and decided to create something innovative to solve the problem. Or a financial literacy app for teenagers built by a 13-year-old or a buddy bench to be used in schools to reduce exclusion.
If you could change one thing in the world in your field of activity, what would it be?
We want this type of non-formal education that VIVITA provides in cooperation with children to become more widespread in society and also to become a part of the education system. The learning process should not be so strictly framed – it does not make learning interesting for children and hinders their acquisition of knowledge.
There has to be more space for curiosity, creativity and invention because children learn best by experimenting and inventing solutions by themselves.
In my vision, schools of the future are centers of curiosity where children don't lose their joy of learning and where they want to go every day.
Which are your recommendations to parents who want to support their kids' development?
I recommend that parents think more broadly about what skills and mindsets will be useful to their children in the future. Children could also have more freedom and choice when it comes to choosing hobbies, as the child is still searching for and discovering his passions. Children should be encouraged from an early age to be active thinkers, debaters and inventors. Curiosity is the quality that helps to solve problems in the world and come up with solutions!
Mari-Liis Lind will speak about empowering the future generation on Day 1 of the sTARTUp Day business festival on 16 March.
Check out the full festival program.
Articles you might also like: