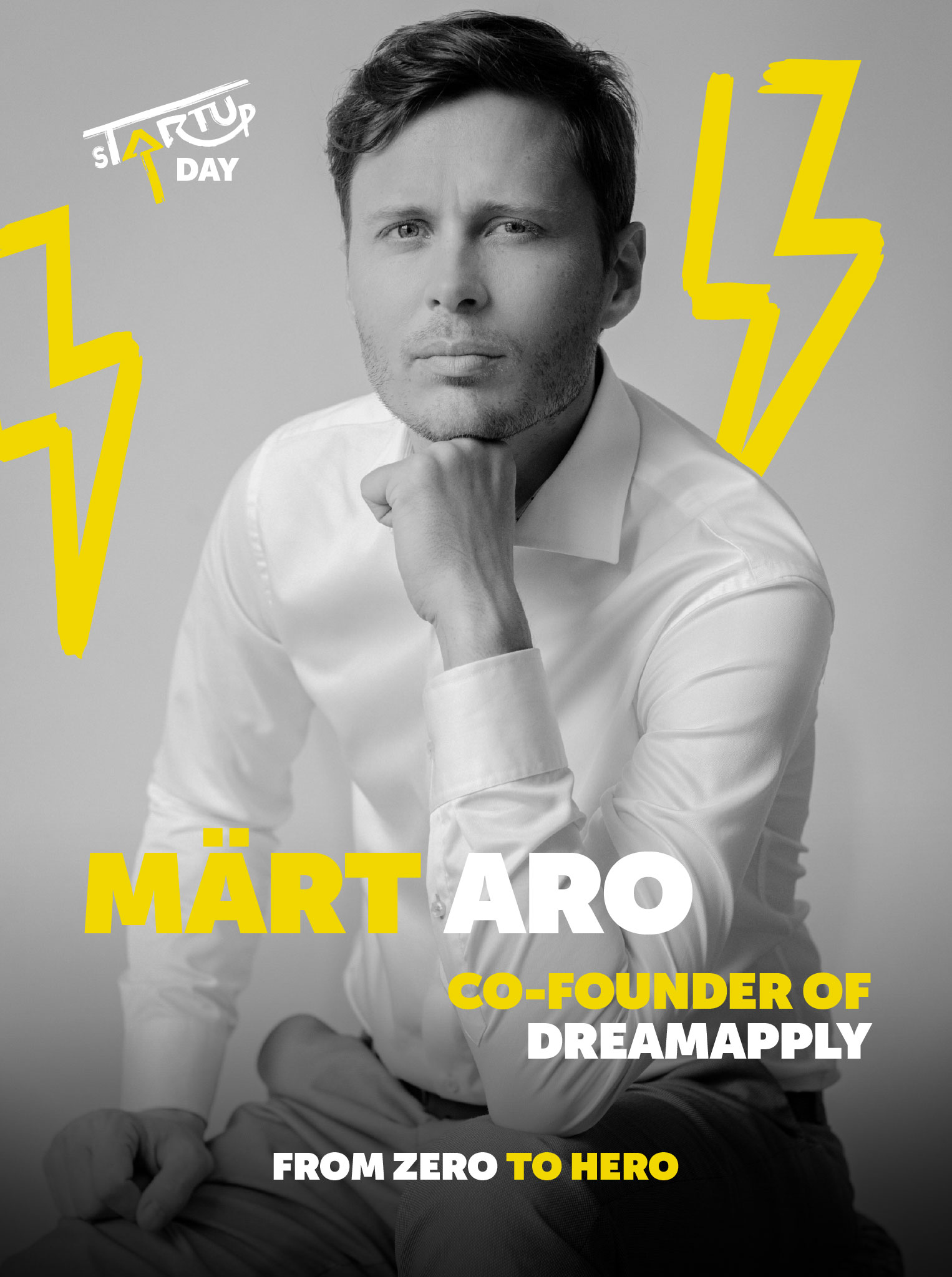 Hero of the Week: Märt Aro, Co-Founder of DreamApply: "You Can Be Stupid, But Be Stubborn."
Märt Aro has taken a mission upon himself – to develop the field of education by the educational software DreamApply which co-founder he is. He has a dream to enable access to high-quality education to everybody globally.
"The reason for this is that it seems to be the most important issue to work on besides climate change because only through better preparation of people we can hope to achieve a better society for everybody," he explains. To make this happen, he has established with his colleagues four businesses in the education sector and also several NGO's since 2003.
DreamApply is a great example of the businesses as it helps to solve a very concrete problem, namely help countries or universities to set up a modern student admissions management system with a fraction of the cost and time.
For example, the Estonian national international student admission system which some say is the most gorgeous and student-friendly national admission system in the world is running on DreamApply.com platform. Also Hungarian national scholarship system. At the moment DreamApply platform is implemented by more than 200 universities from 30+ countries, making it the market leader in its niche in Europe.

Besides that DreamApply proves that we are able to build sustainable solutions for supporting the improvement of the education sector. And since December 2017 I have been working full time to help governments to use this knowledge in improving the access and quality of education and learning experience.
My belief in working with people is that people should always do what they want to do.
What has helped you to get there where you are now?
Thinking of this question, firstly I am very thankful to my super great team and the people that have been willing to help and are helping to move things forward. Also, I am grateful to the customers' thanks to whose contribution we are able to make things happen. You are the best!


But from a wider perspective, it is very hard to say precisely what are the key factors to achieve success. My grandmother used to say "you can be stupid, but be stubborn". This guidance has helped me in many situations. Personally, I have always felt that academically I am rather average. At the same time, I have liked to improve the learning experience for others since primary school and felt joy when I was able to achieve that. And of course, it has always been lovely to meet young people who have benefitted from the work that we have done and thanked us for it.


Looking back, there have been hard times as well. But I believe the focus on the mission has always helped to stay on track. And knowing that you have to make the decision to continue doing what you are doing, there is nobody else to make it for you.
I believe the simple things in life are important to be happy.
I am inspired by...
What is the most challenging thing of being the leader?
I do not feel that I am a leader. I just try to support people if I can. I have always believed in people. My belief in working with people is that people should always do what they want to do. So I have always tried to get to know what motivates people and help them to achieve their goals.
How to maintain motivation and be happy when doing your job?
I believe the simple things in life are important to be happy. One method that I use to lead my life – I like to ask myself once in a while, what kind of feelings I would like to have in my life and also what kind of feelings I do not want to have in my life. And then try to make more of what helps me to feel the feelings that I like. For quite a few years now the favorite feeling to have in my life has been thankfulness. It is important to recognize once in a while the good things that we have in life, family, friends, the things we have been blessed with and our beautiful Estonia.


Motivation wise – I like to work for the mission so I am usually feeling motivated. I like to work a lot. Once in a while I get tired, then it is time to rest a little. Looking back, sometimes you need to use pure stubbornness to push through. I admire people who just manage to get things to happen in a magical way where the things just seem to come into their lives. I am this kind of person who needs to work to achieve something.


What makes you excited about the future?
During the past year, I have met so many people working wholeheartedly to make the learning experience better for everyone. There are very many ideas, concepts but also concrete solutions for making learning fun. They just don't make it to kids hands often. Because of what I have seen I believe that already in a decade we will teach our kids in a very different way than we do today. Learning will become a lot more engaging and fun for everybody. So I am excited to make my contribution and see how it will all come together.
Hero of the Week is a column focused on inspirational entrepreneurial people around us – their journeys, success stories and lessons learned from failures; goals, inspiration and everything in between. Get inspired and be the Hero of your own life!
Articles you might also like: