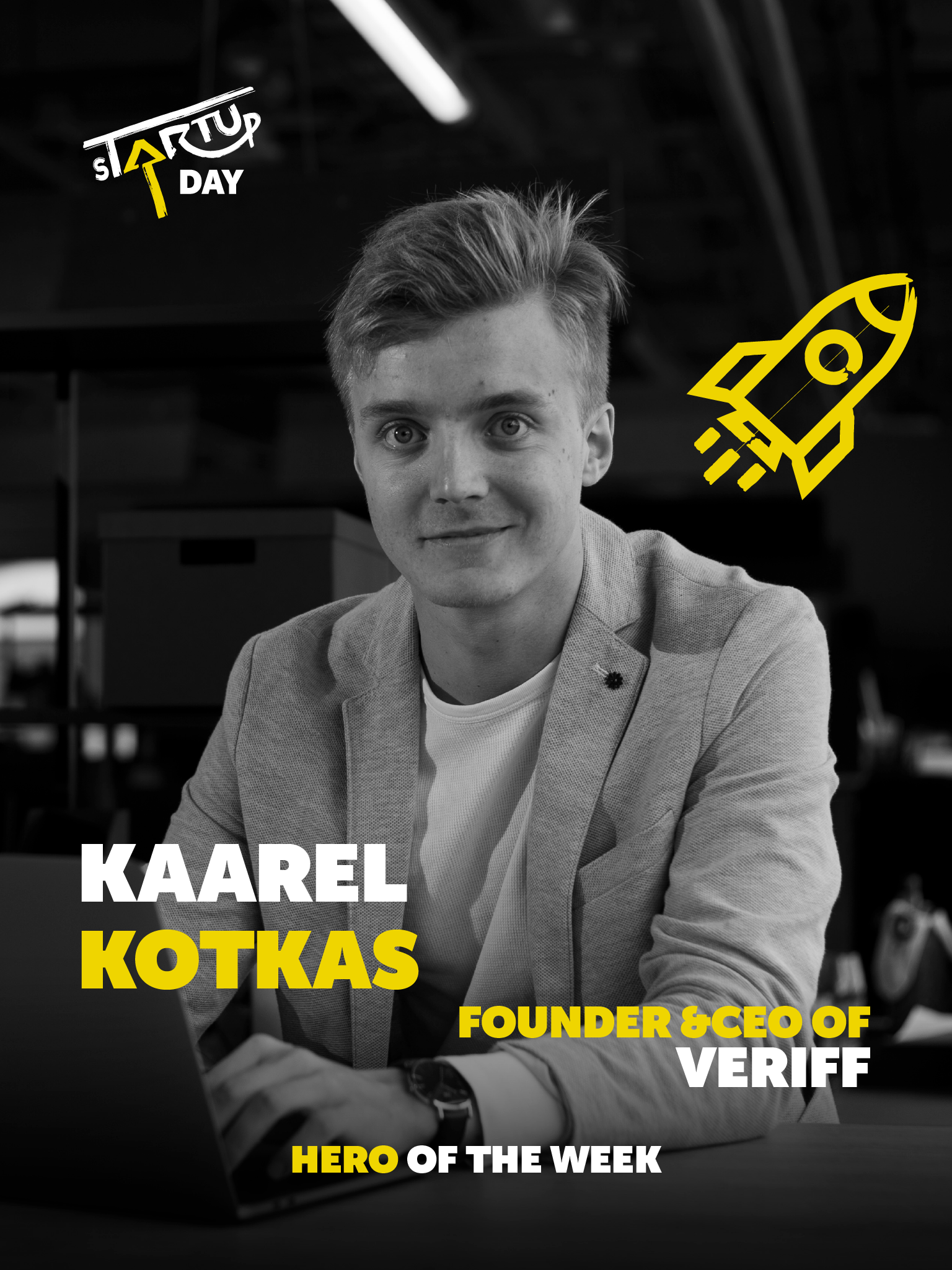 Kaarel Kotkas, CEO & Founder of Veriff: "We Are Creating Trust in a World That is Otherwise Considered Anonymous."
Kaarel Kotkas might be young but definitely not inexperienced. His company
Veriff
has completed the Y Combinator program, which is one of the best-known accelerator programs in the world.
Veriff
is creating a new way of online identification. Through face-document verification programs, people can identify themselves without leaving their home or office. Their clients include companies like LHV bank and TF Bank. "We are creating trust in a world that is otherwise considered anonymous. A famous cartoon from New York Times'
"On the Internet, nobody knows you're a dog"
is not true anymore," Kaarel explains.
As his daily job, Kaarel's main focus is to motivate his team and communicate with people. He feels happy when he can talk and meet new interesting people. Kaarel sees working at a startup as an adventure that brings challenges and teachable moments every day and offers a possibility to develop in many ways.
I have only one truth - the result depends on the energy you put into the project.
How did you start with
Veriff
? Was it rather easy or difficult? What were the main obstacles?
Like in most cases the reason Veriff was born was life itself. In my final year of high school, I was contacted by Transferwise to test the identification protocols used in their systems. I saw that the market needed a new method of identity verification and creating my own company was a logical step to take.
You need luck in life but more than that, you need to work hard. The same goes for Veriff but I and my team have always had a lot of faith in our product. Nothing comes easy. Instead of giving up and walking away we worked hard and have been able to have a lot of victories.
Why is now the time for
Veriff
to exist?
The new norm is that goods and services are moving to online platforms. We rent cars from online platforms, order medicine and use the app on our phone to call a taxi anywhere in the world. If we want to make some extra money we can even rent out our apartment online.
The other side of the coin is the rising rate of cybercrime. In a
report published by the FBI in 2017
, the estimated damage from cybercrime reached 1.4 billion US dollars. Veriff helps companies to differentiate the good from the bad and allow honest people to use their services.
You need luck in life but more than that you need to work hard.

What are your three truths?
I have only one truth – the result depends on the energy you put into the project.


What is the most challenging thing of being the leader?
I enjoy the environment I work in. As a CEO, I must have a strategic mindset but as my specialty is my passion, I tend to get too caught up on everyday issues.


I am inspired by...
My biggest inspiration is the rush of adrenaline I get each Monday morning when I go to the office. Life in a startup is an adventure! I am inspired by the people I work with and the people I meet with through my work.


What makes you excited about the future?
I am most excited about the sheer amount of possibilities that we have. There are so many interesting projects, clients and people to meet in the world. If you are doing the right thing your life will only get better.
Kaarel Kotkas will be on the stage of sTARTUp Day 2019 speaking about fundraising along with Kristel Kruustük and other iconic Estonian startup founders.

Hero of the Week is a column focused on inspirational entrepreneurial people around us – their journeys, success stories and lessons learned from failures; goals, inspiration and everything in between. Get inspired and be the Hero of your own life!
Articles you might also like: