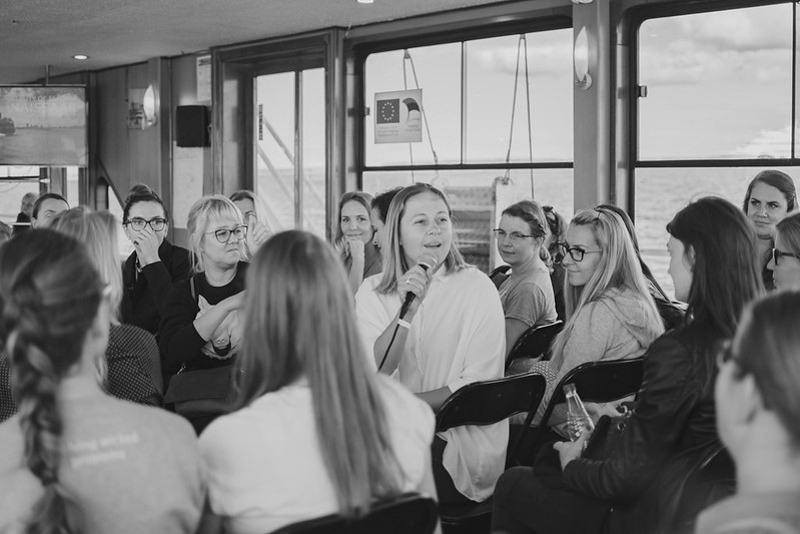 Female Founders: Don't be Afraid to Believe in Yourself
On August 26, Female Founders Meetup brought together 75 female entrepreneurs at Naissaar – the women's island. Karen K. Burns and Hedi Mardisoo took the stage to share their founder stories.

Karen K. Burns
is the co-founder and CEO of
Visory
. She grew up in the Estonian countryside and had always dreamed of working in Hollywood. Following her dreams, Karen moved to Glasgow to study Film & TV at university until she discovered that Scotland wasn't the right place from where to move on to Hollywood and she finished her studies in London.
Having worked with a lot of cameras in her career, she realized that no human being can ever gather all the data from millions upon millions of captures taken. This led to her founding Visory – a SaaS platform that uses cognitive AI to turn cameras into predictive sensors.
Hedi Mardisoo
is the co-founder and CEO of
Cachet
– an innovative insurance provider for the gig-economy lifestyle. When normally one of the founders of a startup is very skilled technically and the other focuses on the business side, the task division between founders at Cachet was rather untraditional. Hedi focuses on raising money and product development whereas her co-founder Kalle Palling handles partnerships and business development.
Hedi is really interested in data, industry-disrupting technology and social psychology. She has more than 15 years of experience working at various corporations, including in banks and the IT sector. Hedi met her co-founder Kalle a couple of years ago and they quickly started brainstorming business ideas. That's how Cachet was born, which by the way just raised a €1.1 million seed round.
What advice would you give to your younger self who is just starting her career?
Karen K. Burns: One of the best advice that I have recently gotten, comes from my husband who told me not to be afraid of being confident, to not doubt myself and to never let anyone's arrogance or bad attitude upset me. There are far more incompetent people out there at executive positions than we ever imagine. Taking all of this into consideration, it is important to keep your feet on the ground. This is what I would say to my younger self who worried too much about having to tick every box.
Hedi Mardisoo: Know where you want to end up, keep your eyes on your long-term plans and gather experience. Do all of this at your own pace, as long as you're going in the right direction. Also, don't make any discounts on the people in your team as you will be spending a large part of your day with them. The team, the values and the humor have to be compatible with yours and they have to encourage you.
What has been the biggest career-related obstacle you've had to conquer so far?
Karen: The biggest career-related obstacles have been around the countries where I have lived and worked. They have had a lot to do with the work environment, so my obstacles have also been in constant change. For example, I worked at the Abu Dhabi film commission where my job was to sell the Emirates as a filming destination. That was the most sexist work environment I've ever experienced.
One of the obstacles in Estonia is that the entrepreneurial environment doesn't take having kids into consideration. In Tallinn, the government doesn't allow mothers to do any work with a newborn, not even minimal consultations. There is no kindergarten availability, not enough daycare centers and kids get a lot of homework, which is a lot of extra strain on both the child and parents.
Hedi: My biggest obstacle so far has been to see how people you admire a lot professionally lose their values because of environmental influence. I would say it has also been one of the best lessons in my life.
What is the secret to success?
Karen: I am a firm believer in the term "grit" or in other words, consistency. Patience, consistency, quick adaptability and the capacity to learn are the requirements for success.
Hedi: The secret to success is openness, courage and doing the things you genuinely believe in. Also, don't be rude. You never know who might help you in the future. If you burn bridges, they won't have any reason to lend you a helping hand.
How important is it to have a support network to be a successful entrepreneur?
Karen: Very important. It cannot be overemphasized. The first investors, customers, encouragers, employers, supporters, advertisers are all part of the support network and successful entrepreneurs us their network sustainably.
Hedi: We all have 24 hours in a day. Even those who don't seem to. It is extremely important to have a strong support network to help you keep a balance between work, private life and rest. Entrepreneurship shouldn't be a sprint, but a marathon. That is why balance is key.
Would you recommend taking part in the next Female Founders Meetup?
Karen: Being a female founder has a unique set of challenges like work-life balance on top of the regular entrepreneurial struggles. Unfortunately, many women still do the majority of household jobs. The topics are also health-related, and female-male segregation between different economic fields in Estonia, as well as not having a good existing network. All of these topics are covered at Female Founders Meetups and addressed while building up this very much needed support network for founders.
Hedi: I haven't gotten so many strong, thorough questions from an audience at any event in a long time. You learn a lot from the people you network with and you can really expand your network at the Female Founders Meetup.
See you at the next Female Founders Meetup on 15 & 16 October!
–
Female Founders Meetup was organized by sTARTUp Day, Estonian Founders Society, Startup Estonia and SmartCap. This event was financed by the European Regional
Development Fund according to the program Startup Estonia (EU50651).
Articles you might also like: