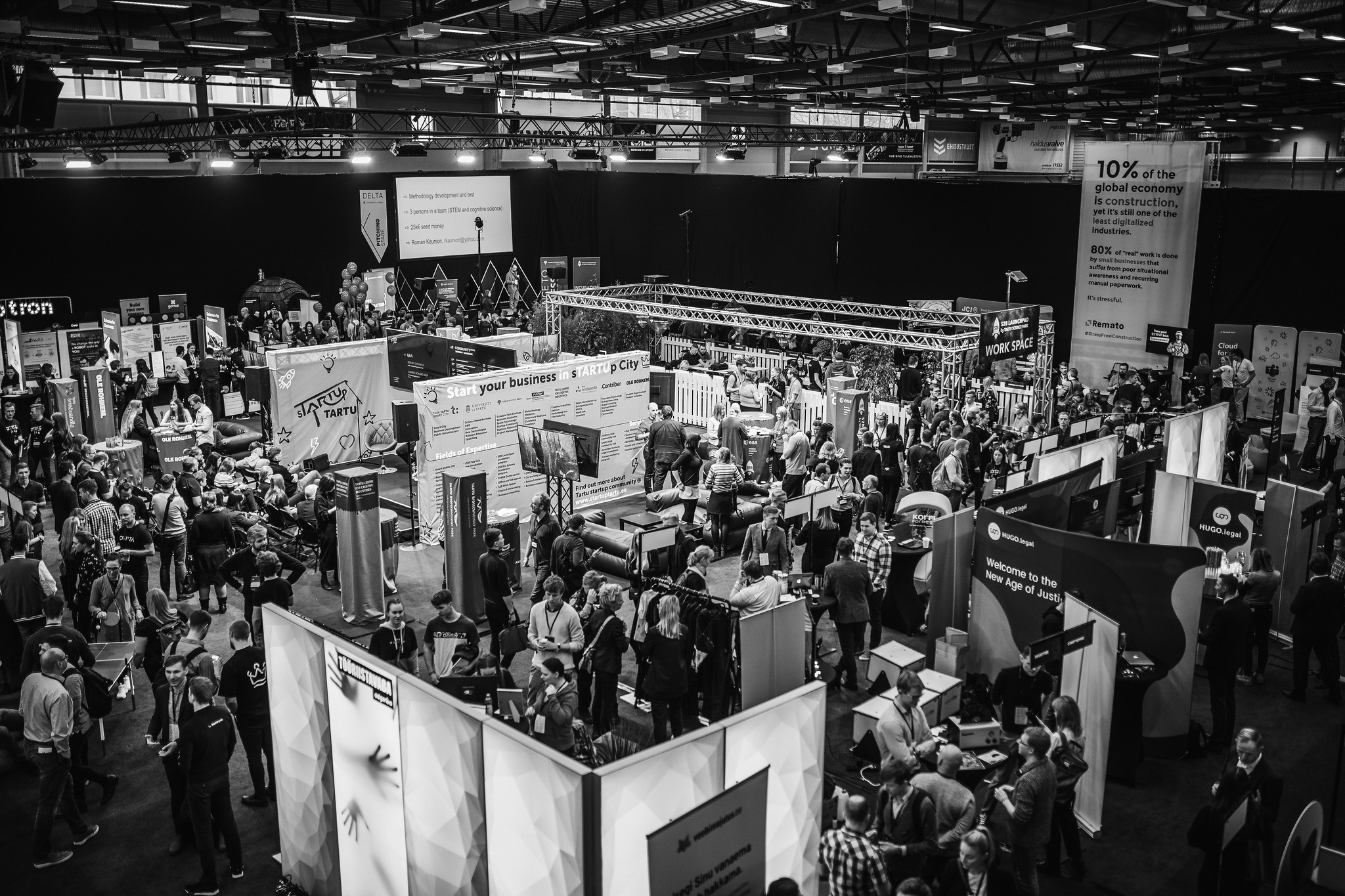 10+1 tested tips how to attract more visitors to your demo booth
This year's sTARTUp Day will have the biggest
demo area
in the history of the festival. How to make your booth attract visitors and stand out not just at ours but at any business festival out there? Here are some thoughts we gathered from the exhibitors at the recent Digit festival.
1. Be welcoming
Nothing works better than a welcoming attitude! Smile, say hello and notice when someone stops at your booth or looks your way. Signaling with your body language that visitors are welcome at your booth is the surest way of starting conversations with attendees.
2. Involve various colleagues
Be ready to answer questions about different aspects of your company. Some attendees might be interested in career options, others might probe about your newest service or partnership possibilities. Have people from various departments be present, even if only for a part of the event, so you can refer visitors to a colleague who can answer their more specific questions.


3. Take advantage of the location
While the location of your booth area matters, it works in different ways. Surely, at a busy intersection, more people will pass by your booth, but queues may form easily and encourage people to move on. At the same time, if you are located in a less busy area, you can create a relaxed atmosphere that invites people to linger longer in your booth.


4. Make it attractive
The bigger the event, the more thought you have to put into the design of your booth to make it stand out among dozens of others. Dress your booth up with some colors and cozy and cool details, like plants, lights and other visual elements that will just compel everyone to stop by and never want to leave.


5. Give them food
Now this one never gets old. Yet, while free snacks and drinks are the surest way to attract people to your booth, remember to also think about how you will get them involved in a conversation about your business. Also, check with the organizers about their policy ‒ for example, at sTARTUp Day, all exhibitors have to follow our sustainability guidelines to minimize waste.


6. Play the long game
Attending fairs and festivals is all about creating visibility and building recognition for your company. So, rather than expect immediate results like someone handing in their CV, view it as one of the (first) touchpoints with your company that will pave the way for more contacts in the future.
7. Go interactive
Great conversation (and free coffee) are awesome, but it's even better if you can offer also something interactive at your booth. Perhaps you can demonstrate how your product works ‒ or make a short quiz accessible with a QR code that explains the problem your company solves. With the younger crowd, games from table football to video games are a sure winner.
8. Bring some merch
This may sound like a cliche, but don't forget to bring along something with your logo on it that people can pick up as a souvenir. One of the unexpected hits at past conferences has been socks with clever slogans :) But the usual array of reflectors, pencils, USB sticks and stickers work well, too. Always think sustainable ‒ in fact, at sTARTUp Day festival, we don't allow merch that will be discarded after a single use. Oh, and did we mention socks?
9. Give out prizes
Now, the free merch doesn't have to be completely free ‒ you could also award it as prizes for performing a task, like taking part in a competition or a raffle. (For example, at Digit, we had a hugely successful game where participants had to visit different booths and collect stamps to win cool prizes from the companies.)


10. Invite to connect
Invite your visitors to stay in touch ‒ visit you at future events, follow your company on social media or connect on Linkedin with the purpose of continuing your conversation in the future.
11. Extend your reach
Don't forget to also venture out and make contact with people outside your booth, whether while queueing for the lunch or attending a seminar on a topic of your interest.


Grab your spot at the largest-ever demo area in the history of sTARTUp Day here!
Articles you might also like: