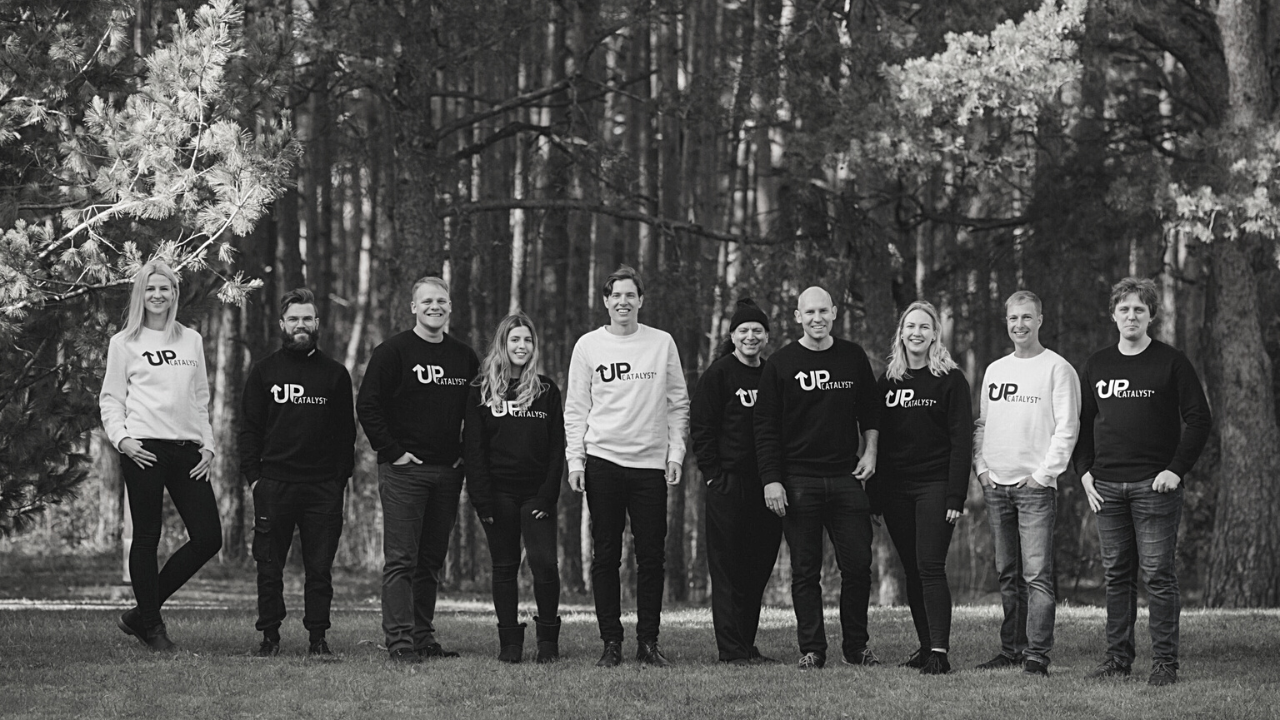 The University of Tartu spin-off company UP Catalyst makes the battery industry greener
It is estimated that by 2030 around half of the new cars sold are electric. The shift to electric vehicles requires a more sustainable approach to battery production than conventional lithium-ion battery manufacturing which still heavily relies on mining natural resources. The Estonian startup UP Catalyst is working to revolutionize the battery industry ‒ they take industrial waste CO2 and turn it into sustainable carbon materials and graphite for the green energy storage industry.
The team has just completed a pre-seed round of €500k, shortly after snapping up a €1.59 mln grant from EIT RawMaterials. Read more about UP Catalyst's mission, reducing our carbon footprint and the challenges of turning science into business from our interview with Teele Niidas, CMO of UP Catalyst.


What does UP Catalyst do and who are your clients?
UP Catalyst is an Estonian technology startup that aims to revolutionize the global electric car battery market. We produce sustainable carbon nanomaterials and graphite out of CO2 for the batteries while securing the raw material supply chain in Europe by giving the unwanted waste product a green purpose.

Our main clients are battery and supercapacitor manufacturers who look towards sustainable production methods while wishing to increase their battery properties like energy density, charge rate and a lifetime of the battery. As the EU regulations aim at minimizing the carbon footprint of manufacturers there is a clear trend toward environmentally friendly solutions.
How is your technology saving the world? What is its potential impact for the planet?
UP Catalyst solution is an alternative to the overexploitation of natural resources, mining and environmental pollution. It has been estimated by the International Energy Agency (IEA) that over 145 million electric cars drive the global streets by 2030. This means that if the total electric vehicle fleet adopts sustainable graphite in their battery composition we could possibly save the world from 50M tons of CO2 - the equivalent of the annual CO2 emissions of Finland.

This is due to our carbon-negative technology, which consumes 3.7 tons of CO2 per every ton of material produced.
As a comparison, conventional methods emit 5 tons of CO2 per graphite ton produced and 2000 tons of CO2 per every ton of carbon nanomaterials produced by the environmentally harmful chemical vapor deposition (CVD) method.


UP Catalyst is also in the process of developing the first scalable technology in the world to produce sustainable carbon from CO2 thus providing the heavy industry emitters a strong alternative for investment and eliminating their emissions on site. This would have a huge impact in contributing to the net-zero target.


How did you come up with your technology? What made you realize the feasibility of the solution?
Our idea grew out of the pain we had as researchers – most of the carbon nanomaterials on the market are produced by employing expensive and/or environmentally harmful methods. This has a major negative impact on the environment, as they are either mined from fossil resources or synthesized via the energy-dense CVD method.

The electrolysis technology we use has been known since the 1960s but has seen very little work done on it until very recently.
The founders of UP Catalyst have been working on the technology – tested, analyzed and further improved it – and have successfully transferred a research project into a commercially viable process.
Close cooperation with world-renowned research institutes, including the University of Tartu, among many others, has proven extremely valuable in testing the products and achieving great results in market validation. We already have proven traction in the EV battery market and the demand for sustainable products is already exceeding the supply.


What are the next steps for UP Catalyst?
We just secured our first investment round which allows us to scale up the technology from kg-scale to ton-scale production and provide the material to customers in much larger volumes.
We are aiming to partner up with industrial CO2 emitters for large-scale production. The feasibility of such a model has been confirmed with prospective energy production companies and we have reached several preliminary agreements.
Our aim is to start growing the awesome UP Catalyst team, getting more brainpower on board and achieving the ambitious revenue goals we have set for the upcoming years.


One of the co-founders, Dr. Sander Ratso participated in the University of Tartu
spin-off program
with UP Catalyst idea. How did it benefit your progress?
We have had many great opportunities thanks to the cooperation with the University of Tartu. We were part of the Nordic Pitch Match SCIENCE TO BUSINESS pitch track at sTARTUp Day 2021 and due to successful pitching received a spot at the StageTwo event in Berlin where we had the opportunity to broaden the industry network and gain some valuable contacts with whom we are still in contact today.
The University of Tartu has secured us opportunities to polish our pitch at various pitching matches and events, e.g. Pitching Hero which was organized by Tartu Science Park. Furthermore, due to an established academic network that the University of Tartu has, UP Catalyst has received many valuable contacts from world-renowned research institutes such as the University of Cologne, which provided us with mentors and a great academic network.


Is it harder for a deep tech startup to take off than an IT startup? Which support have you received from the Estonian startup ecosystem?
Definitely! One of our main obstacles has been the constant comparison with IT and/or SaaS companies that have played an integral role in paving the way towards Estonian startup success.

Our technology is much more capital intensive than that of an average IT startup. Thus the risks are higher and the results will become validated in a much longer timeframe.
Therefore raising money is more complicated as testing and validating the technology needs much more patience and years of continuous investment. Ideally, we prefer investors who have some industry knowledge or international deep tech network and those are much harder to find than an average IT/SaaS investor.

However, we are clearly sensing a clear shift within the Estonian startup ecosystem towards deep tech/clean tech startup support – both in terms of investment interest and increased field-specific knowledge. This truly is an emerging market and it is great to be a part of it. There is a lot of support in sharing contacts and helping green (double meaning intended) startups to find their way and make the most out of their innovative ideas.


For further discussion on science to business and the future of energy and mobility, join us on Day 1 of sTARTUp Day 2022 on 25 August.
Articles you might also like: