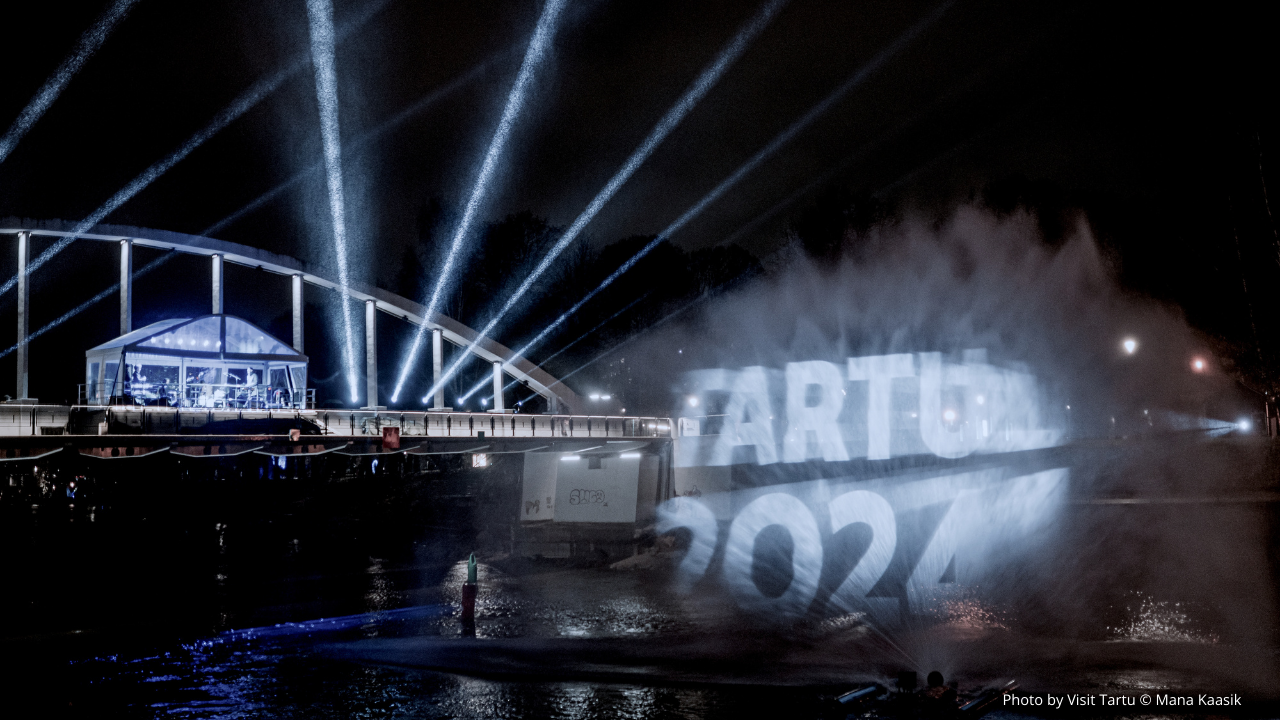 sTARTUp Day joins forces with Tartu 2024
Tartu together with Southern Estonia is the European Capital of Culture in 2024. We're excited to announce Tartu 2024 as one of the Co-Organizers of sTARTUp Day 2024.
The European Capital of Culture tradition goes back to 1985. Each year, at least two cities in Europe are designated with the title by the choice of an international jury. The title year is the culmination of a combined program consisting of cultural, artistic, educational, and entrepreneurial activities that have been planned for at least four years.

The Tartu 2024 European Capital of Culture year will be filled with remarkable cultural experiences, all under the artistic concept of "Arts of Survival". The full program will be revealed on October 19, 2023.

The opening ceremony of the title year will take place at 7 p.m. on January 26, 2024, shortly after the curtain drops on the sTARTUp Day festival, while the celebrations are scheduled throughout the day.

Arts of Survival on the sTARTUp Day stage
However, you can already experience the European Capital of Culture vibes at the sTARTUp Day festival, as we'll be adding a dedicated Tartu 2024 track to this year's stage program.

The artistic concept of Tartu 2024 is "Arts of Survival" – the knowledge, skills, and values that will help us lead a good life in the future. This is also the theme uniting the speakers taking the stage in the Tartu 2024 program track on the first festival day on January 25.

Get ready to be inspired by speakers bridging the worlds of innovation and culture, including:

Ϟ Kunnar Karu, Tartu 2024 Ambassador who summited Mt Everest earlier this year, will explore the parallels between the challenges of mountaineering and entrepreneurship.

Ϟ Kristjan Korjus, tech enthusiast, Co-Founder, and CTO of Pactum AI, will lead a thought-provoking discussion on AI.

Ϟ Katrin Tiidenberg, Professor at Tallinn University, whose research portfolio includes pioneering work on social media and the very first Estonian doctoral thesis on selfies.

Ϟ Jaak Tomberg, Associate Professor at the University of Tartu and the organizer of the Literary Festival Prima Vista 2024 "Futures Better and Worse", will cast a light on how science fiction of the past decades has become today's reality.

Celebrating entrepreneurship and culture
It has always been part of our mission to showcase Tartu's strong and supportive business ecosystem to guests from Estonia and abroad. The unique opportunity to hold sTARTUp Day in the opening week of Tartu 2024 European Capital of Culture makes us prepared to host a record number of international delegations at the festival.

We hope you will join us for a unique celebration of entrepreneurship and culture on January 24–26, 2024, in Tartu!

Find out more about Tartu 2024: https://tartu2024.ee/

PS. Over the next few weeks, we'll announce a competition in which the winner will have a very special sTARTUp Day 2024 experience. Stay tuned to our news by signing up to our newsletter!
Articles you might also like: