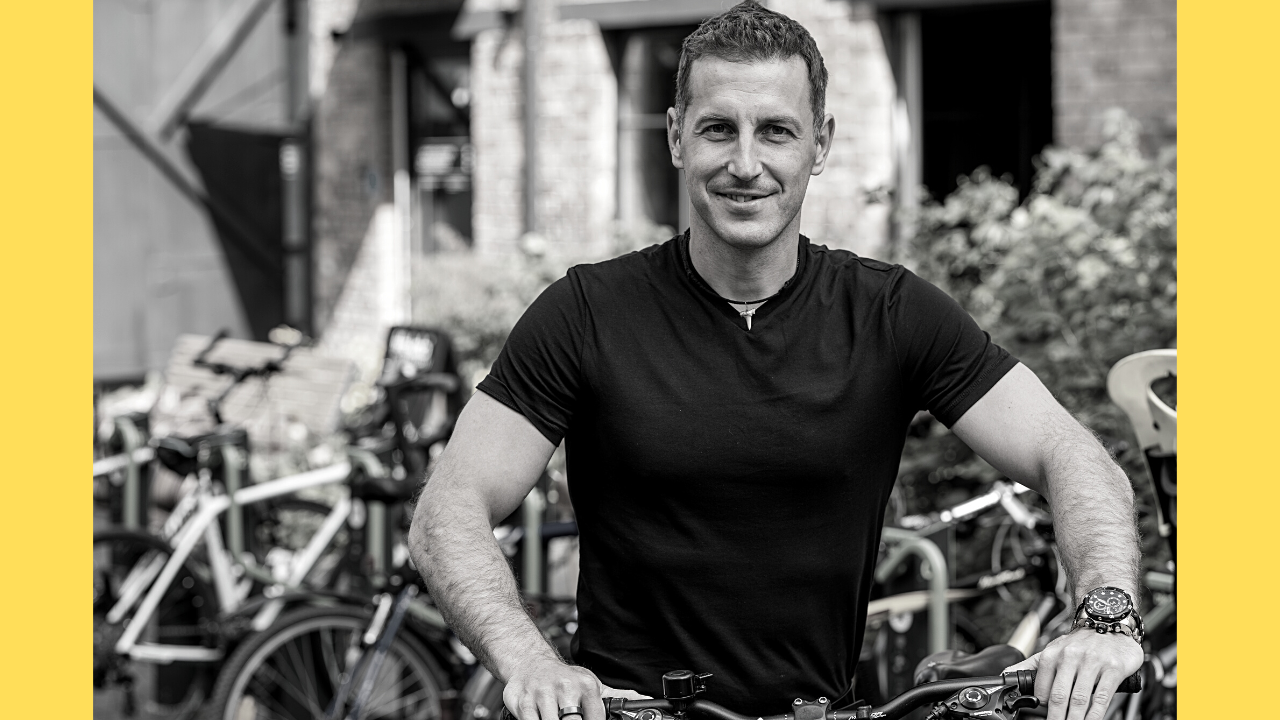 Kristjan Lind – the Estonian Young Entrepreneur of 2022!
Kristjan Lind is the CEO and co-founder of Bikeep, the leading smart commercial scooter and bike parking and charging provider. Today, Kristjan was awarded the title of the Estonian Young Entrepreneur of the Year! We talked to him about his journey to entrepreneurship, Bikeep's plans for the future and much more.
Founded in 2013, Bikeep provides smart solutions for parking and charging personal bikes, e-bikes and scooters. The company sells its solutions to municipalities, transportation hubs and real estate developers, who make them available to users, in the majority of cases completely free of charge.


The Tallinn-based team has 26 members. Bikeep's services are used by more than one million users in 20+ countries, the largest markets being the US, New Zealand, Canada, the UK and Australia.
Kristjan, how did you first become involved with Bikeep?
Bikeep's journey started in 2013 with the Ajujaht competition. I joined the team shortly after that in a marketing role. In 2015, the team split into two, and part of the team went on to develop the parking app Barking (now Snabb), which raised its first investment back then. Someone had to take the lead of Bikeep, so I took up the challenge.


You are an engineer by education. Did you become an entrepreneur by chance or was it always your goal?
To be honest, I cannot imagine doing anything else today. And looking back, I don't see that things could have turned out any other way. When I took up mechanical engineering studies at Tallinn University of Technology, several friends asked me why I did not choose business studies, as I'd been involved in all kinds of projects from an early age. I said, "Don't worry, I'll get there one day."

I chose engineering because I was fascinated by the words of my good friend who said: "An engineer is the one who, when he doesn't know how, figures it out."
That was precisely the kind of thinking I wanted to acquire! I realized that the whole mindset taught in engineering is super cool. At my father's advice, I chose mechanical engineering, while many of my friends went to study civil engineering.


Could you share some of the lessons that you have learned as an entrepreneur?
Entrepreneurship is all about learning and gaining experience. I love doing stuff and learning on my own. We live in a world where it's so easy to learn – even the lectures of Stanford University are now available on Youtube.


Perhaps when I was younger, resources and goals were not always aligned. We had a bike and a car and wanted to go to Mars without considering the laws of physics. I've definitely learned to plan the journey better. Another thing I've noticed is that the bigger we grow as a company, the fewer things we start doing. The focus sharpens. It's a well-known truth, but unfortunately, we still need to learn it first-hand.


Has Bikeep's journey gone straight uphill or have you had moments where you thought nothing would come of it after all?
The sector we operate in is characterized by slow decision-making. Cities are shaped slowly, which we did not realize fully in the beginning. The processes are slow but extremely certain.
Today, we see that bike and pedestrian friendliness is the direction that cities want to take. It's like a snowball that has gained momentum.

So we've surely had challenging moments, but perhaps because of my character, I've been always determined to push to the end. I already promised our first angel investor that I would push to the end – that if someone initiates shutting down the business, it's not going to be me. There have been moments where I've had to remind myself of that promise. Yet things have always worked out.


What motivates and keeps you going?
First, we know that we are building a great service that the world needs. Cycling is such a positive thing that doesn't have any negative aspects. It's good for physical health, it's good for cities. It increases business, as in fact, cyclists visit stores significantly more often, especially small businesses. It requires fewer city resources, it pollutes less, it kills less.


Secondly, one of my big goals is to build a global technology company out of Estonia. I am really happy that we can offer people interesting and cool jobs and bring foreign taxpayers' money to Tallinn. By the end of the day, we feel that we are doing good for the world and doing good for Estonia. So, that's what keeps us going – our purpose and progress toward our goals.


What is the secret sauce that has allowed Bikeep to be successful in international markets from the US to Australia?
I think the number one thing that helps us succeed in today's world is our trustworthiness and customer success stories. We have been doing our thing for so long that we have good technology and an understanding of customers. Cities, on the other hand, need trustworthiness because the planning processes are lengthy and the stakes are high.


Secondly, our technology is superior to that of our competitors. Quite often we are able to replace alternative solutions, although we are a little more expensive. Cities understand that it's wise to invest a little bit more today to achieve significantly bigger savings in the long run.


Cities invest in Bikeep because it is about 20-25 times cheaper than shared bike systems. Also, people take care of personal bikes differently than they do with shared bikes.


What are Bikeep's next big plans?
One of our big initiatives is to reach more cities through our partners. So that we would provide our technology and brand, and they would operate the systems.


Another significant initiative is taking the technological component out of our product and allowing other companies to use it to bring their products to the 21st century.


Let's take the example of bike lockers, which are common in big cities. According to a survey by Los Angeles Metro, 86% of their bike lockers are empty daily. But the system for handing out locker keys is tremendously slow, which means they are handed out for a whole year. So the lockers are mostly empty, but at the same time there is a long queue for them, and the city has to build new ones, even though the land is super expensive.
With our electronics and software, local manufacturers could make their devices smart so that instead of a key, the user scans a QR code with their mobile phone. As a result, several people could use the same bike locker, and cities would need significantly fewer lockers.


Where do you see Bikeep in five years?
I think that in five years, we'll be able to cover around 25 cities with our network. This means that as a cyclist, you would no longer have to think if you have a bike lock with you or not – wherever you go, there would be a Bikeep station available for you.


We've also paid great attention to our brand's visibility in different markets. So, by that time, Bikeep could be the name of the solution requested by cities. So that even if they end up using an alternative service provider, that would be the terminology used.


Could one say that Bikeep spotted a nascent trend very early on?
In fact, we started before the trend emerged. The huge bike boom arrived only after the pandemic, and the cities are really starting to move in this direction in the current decade. In retrospect, we could have spent five years doing something else and launched Bikeep in 2020.
On the other hand, perhaps we would then have been ten steps behind now and unable to compete with the big players.



So I'd say the trend is just emerging. The movement toward pedestrian and bike-friendly cities is clearly accelerating. And none of the cities that have taken the route have turned back but only keep moving forward if we consider well-known examples such as the Netherlands or Denmark.


In your youth, you played in a band and did sports. Which prepared you more for entrepreneurship?
I'd say that playing sports, maybe because, in my case, playing in a band remained purely a hobby and fun. However, I was much more seriously involved in sports – I played handball for years, and our team even got to the World Junior Championships as the winner of the Baltic League. It prepared me considerably more for entrepreneurship, especially as a team player, by teaching me about team spirit, team play, discipline and pushing towards goals.
Articles you might also like: