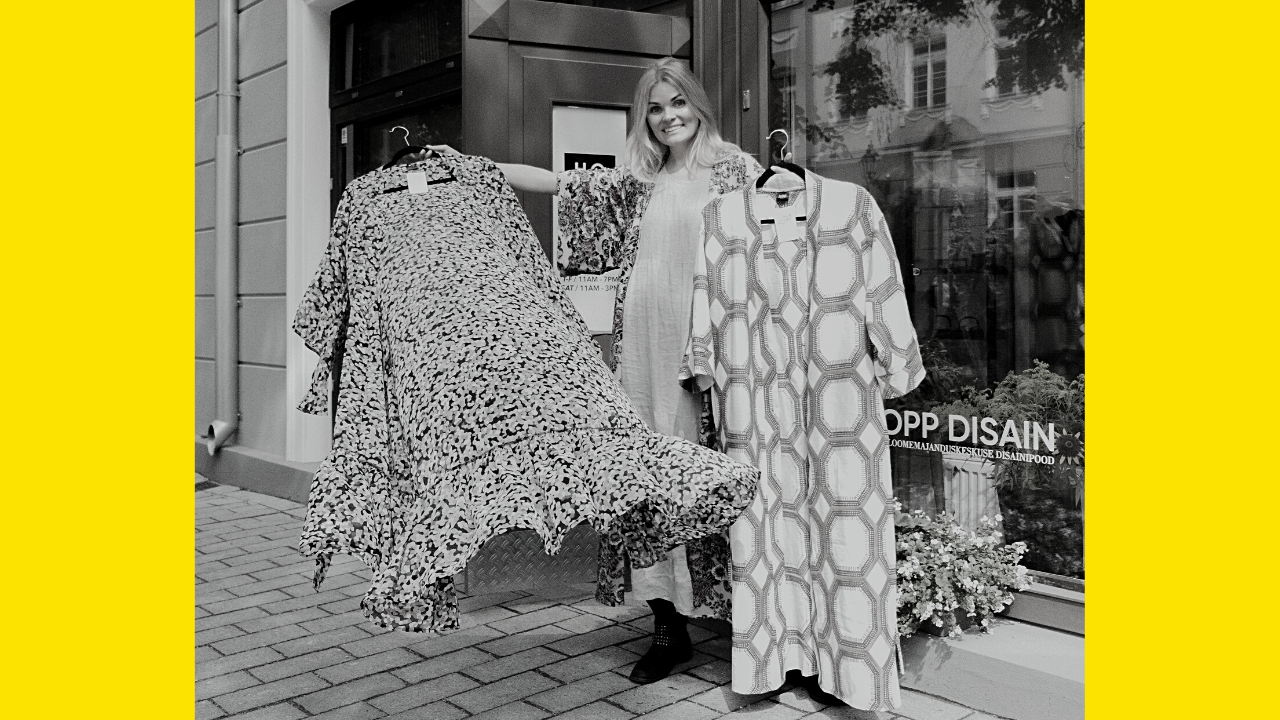 HOPP design store – your trusted guide into the unknown
Nestled at the heart of Tartu, HOPP is the design store of Tartu Centre for Creative Industries, launched very much in the startup spirit. The store has been operating for a year and embodies a bold and youthful style, bringing young entrepreneurs from the Tartu region out of their studios and e-shops.
This blog post was contributed by Tartu Centre for Creative Industries, a co-organizer of sTARTUp Day.
Thanks to its ever-changing inventory and interior design, HOPP has quickly won the hearts of locals and tourists. The shop is a unique gallery where you can enjoy the work of designers based in South Estonia. Often, the products on sale are unique pieces or test products by starting designers, allowing customers to acquire something unique and show support for local young designers with their purchase.


The store highlights several brands offering personalized corporate clothing in addition to ready-to-wear collections. For instance, you can see and buy the designs of Franz Raver, iLLIMOR and Bibzart, which all provide corporate clothes. Since they are also in the incubation program of the Tartu Centre for Creative Industries, you can conveniently order their corporatewear through our store. Franz Raver's unique, cool and comfortable uniforms adorn the wearer and flatter any body shape. iLLIMOR consciously balances environmental friendliness and comfort. Bibzart creates a personalized and youthful graphic design for the client that makes their corporatewear stand out among clothes with an ordinary logo.


In addition, you can order stylish leather accessories by Tiina Andron Design and digitally printed textiles by Nutidisain.


Thanks to easy access and proximity to the Town Hall Square, HOPP Design Store is poised to remain a favorite destination for locals and tourists in the upcoming European Capital of Culture Tartu 2024 title year.


The store also hosts pop-up sales, which have already showcased the following brands and creative groups: TARTU 2024 merchandise, student companies of Tartu Business Advisory Services, Alisa Vasina, Beatrice Fenice, Lummwear, Franz Raver, Pippin Stuudio, Roheline Vokk and Bibzart (Bibiana Aarma).


Soon, the following brands will be on sale and exhibition: titanium earrings by makaak Jewelry, merino wool knits by Me Knit, eco-friendly knitwear by NirgiWabrik and universal weatherproof jackets by Paul Berg.


Additionally, HOPP organizes workshops. We started with redesign and accessories workshops during Entrepreneurship Week 2022, with stylistics workshops by Katrin Kirsipuu being particularly popular.


The Entrepreneurship Week 2023 this autumn will feature meetings with various designers. Everyone is welcome to join the events (pre-registration is required). For more info, follow our FB page.


Our clients are bold, original and innovative. They know where the items they buy were made and which designer they support with their purchase. Drop by and become one of them!


We hope to see you at the HOPP Design Store on Küüni Street at the heart of Tartu – and in the Tartu Centre for Creative Industries booth at sTARTUp Day 2024!
⚡️ ⚡️ ⚡️
Did you know that fashion and brand identity will also be explored in the sTARTUp Day 2024 program? Sign up for our newsletter & be the first to receive festival news and offers.
Articles you might also like: