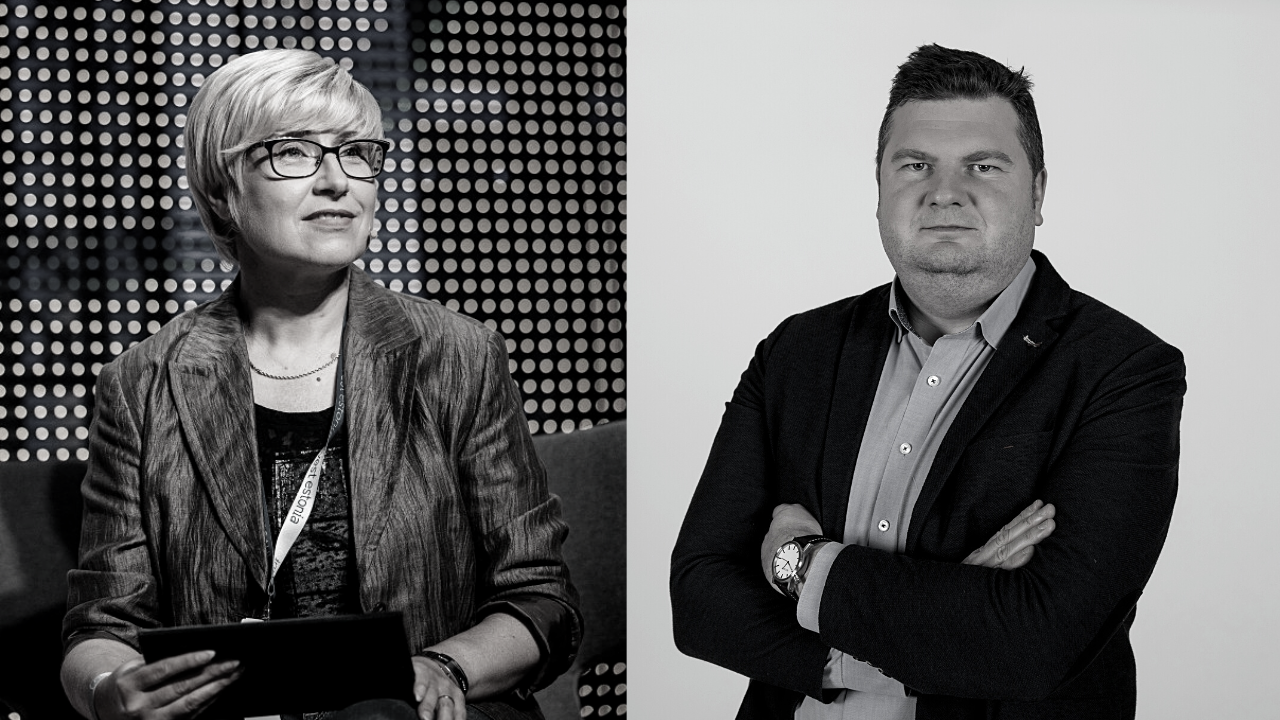 Let's Meet Heidi Kakko and Martin Goroško – EstBAN Syndicate Lead Investors at sTARTUp Pitching
One of the tea
ms at sTARTUp Pitching 2022 will
collect up to €200k early stage funding for their startup from an
Estonian Business Angels Network
(EstBAN) led syndicate. We asked the lead investors Heidi Kakko and Martin Goroško about their investor careers and lessons – as well as how to nail one's pitch and get the most out of pitching competitions as a startup.
Heidi Kakko managed EstBAN as the CEO in 2014-2017 and is the founder of EstBAN syndicates leading the first two of them. She is an experienced early and growth stage investor and mentor of startups and scaleups. In recent years Heidi has been active in advising the largest deep-tech VC fund in Europe and kicking off UniTartu Ventures.
Martin Goroško is Head of Business Development at Tallinn Science Park Tehnopol. Martin has 15+ years of experience in working together with early-stage startup companies but also with scaling tech ventures. He has screened more than 700 startup/scaleup companies over the years and has a good eye for selecting winning prospects.
You are the lead investors of the EstBAN syndicate at
sTARTUp Pitching 2022
. What should startups know about you?
Heidi: I was the lead investor for the first EstBAN syndicates of GuestJoy and Fractory. These first syndicates were set up in a pretty startup-mode – we just tested the market and tried to get the value proposition right for both startups and participating investors. It proved to work – as today EstBAN is announcing its 15th syndicate and I will be again a lead investor to support Martin in that role this time. Fractory has been growing nicely within those years by attracting new rounds of funding and increasing the value for both founders and investors. GuestJoy has been extremely resilient in the conditions that were very tough for any company operating in the field of hospitality – but they have survived and reached a new level of value offering. That shows the strength and perseverance of the founders that we look for to invest into and support on their journey. As an early-stage investor, I have built the portfolios of venture capital investment funds and as an angel investor of my own. Investing is always more about relationships and less about money.
Martin: I consider myself more of a hands-on mentor for startups. The financial investments usually happen if there's a good connection between me and the founder(s) established through mentorship. Most of the times I want to participate in the very first investment round the company is raising. I have been around in the startup and tech ecosystem for quite a long time already. For the past 15 years, I have been supporting hundreds of tech companies as a mentor or investor. I love helping companies to establish scalable business models, develop smart sales and marketing strategies and prepare the company for investment. I guess this is something that should be considered as an extra value by the winner of the sTARTUp Pitching competition as well. Besides the money, I'll do my best to support the company as much as I can.


What is your one piece of advice for founders taking part in this year's sTARTUp Pitching?
Heidi: Besides investing I help startups with mentoring to become investor-ready and training them to pitch. There may be two options – sometimes the presentation is very strong, but the business case is still rather weak, but in the worst scenario the lousy standup will ruin the interest towards an appealing business case as investors just don't understand it due to insufficient presentation. Don't let it happen!
95% of the presentation is actually done before the standup on the stage – by building your business case and preparing to explain it in a clear and simple way.
Martin: My advice would be a rather practical one – try to present a good business case during the application phase and when pitching on the stage. There are going to be hundreds of very good products competing for funding. Very often, the business plan and expansion strategy around the product is rather shallow or not described at all. I strongly suggest painting a clear picture of what is going to happen with the company if the investment is there and proving the point with solid traction numbers. Investors are in the exit business. Keep that in mind.
Many startups take part in pitching competitions, but there are usually only a few winners. How can other teams maximize the benefit from participation?
Heidi: You can look at it in two ways – first, in order to win a lottery, you have to buy a ticket e.g. participate in the pitching competition; second – startups have to be in a constant pitching mode. A pitching competition should not be something you will prepare specifically, but you have to be pitching-ready whenever there is a chance – whether on the large stage or explaining one-to-one while queuing for a beer. Participating in the pitching competitions will give you feedback – how strong and outstanding your idea/case is if compared to the others. Very often you will get very honest feedback – to like it or not. In the course of the application process, you will be screened by several evaluators/investors, and you will be noticed if you are able to outline your magic/uniqueness clearly enough.
Martin: Mostly, it's all about visibility. Founders can introduce their company to hundreds or thousands of people instantly, just within a 3-minutes pitch. It saves you a lot of one-on-one meetings and brings you together only with the people who are interested in you or your company.
This is a big win because no matter how good of a networker you are, there's never enough time to hunt down all the great people you would like to meet.
Prizes are important as well. Pitching competitions mostly bring the best out of the best to the stage and even though only one of them gets the prize or investment, the runner-ups have an equally good opportunity to secure funding from the investors sitting in the room.
To maximize your benefits, I would suggest three simple things: 1) always come in fully prepared and ready to present the best pitch on planet Earth because you need to maximize the attention of the audience; 2) always present your "ask" and let everybody know what you want to get from the audience (funding, new employees, partners, contacts for expansion etc.); 3) always follow up if somebody approaches you after your stage time. Then, only good things can happen to you.
Could you share some lessons or insights that you have learned over your investor career?
Heidi: Investors also make mistakes and they also fail. Every investor has a "wall of shame" – the list of the startups and founders they missed or did not invest into because they did not recognize their potential before it was already too late.
Investors have to build the portfolios and focus on supporting the teams of their companies minimum to the next round, but often more. And be ready that everything that has been presented by the founders and agreed on in the projections may take twice longer and be two times more expensive.
Martin: For me, there is such a thing as a gut feeling. In some cases, you get this immediate positive feeling without any logical rationale. You may go all mathematical and stuff if you screen the startups, but by the end of the day, I think the mathematical and logical side of the equation is as important as the initial feeling you get when you hear the pitch, go over the one-pager or meet the founders. You cannot underestimate it.
Apply to sTARTUp Pitching 2022 with a prize pool of over €350k until 31 July 2022.
Articles you might also like: