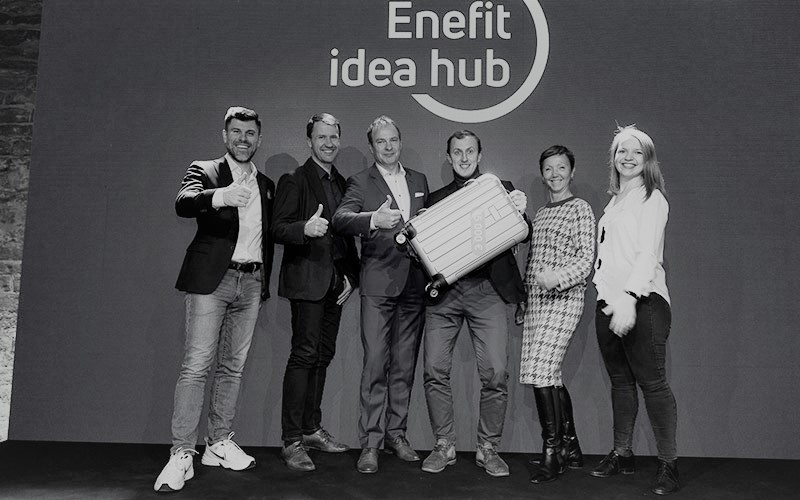 State-owned energy company Eesti Energia is collaborating with startups
Eesti Energia
is one of the partners of sTARTUp Day and is represented at the festival both in the demo area and seminars. They conduct two seminars - "The New Energy Game - Opportunities that the energy sector is creating for tech start-ups!" and "Join the New Energy Game: an energy system, where customer makes the rules". But why is a state-owned company interested in working with startups and how does that cooperation look like? sTARTUp Day interviewed Eesti Energia's Head of Partner Relations, Kadi Steinberg.
The cooperation between state-owned enterprises and startups is a relatively new concept in the Estonian business landscape. How did you come up with the idea of collaborating with startups? Why is it important for you?
Eesti Energia puts more emphasis on innovation than ever before. We focus on innovation based on new business models and competencies to take a qualitative leap, not just pick the low-hanging fruit.


We aim to bring the best energy solutions to our customers, both private and business, that are comfortable and useful. To achieve this, we have to make complicated things simple. This means that while behind every service there's an entire high-tech world, every new service must be as easy to use as turning on a lamp or charging your phone.


Today's energetics is by no means only power plants, high-voltage lines, and substations. In the future, due to renewable energy, energy storage devices, controllable household appliances, and other new technologies, the consumer will play an increasingly important role in the development of energy prices as well as ensuring the security of supply. That's why startups can be our partners in developing new services.


We see a great perspective in working with the startup world. Energetics is progressively moving towards technology, data and rapid changes. It is wise to work with fast and agile teams to find and develop new and convenient services and business models. Often top executives from very different fields meet in startup teams and we see that innovation, and even more, the transformation that is currently happening in the field of energy, can happen through collaboration between different fields.


You also organize an idea competition Enefit and run a business idea incubation program. Could you introduce this competition and program a bit?
This year, for the second time, Eesti Energia organized an idea competition Enefit Idea Hub – The Pitch. The goal is to show the behind-the-scenes action of the world of energetics, introduce new trends and opportunities of the near future and to increase the awareness of ordinary people that are more and more dependent on them. We are encouraging the brightest minds in the region to think about bolder steps to lead our traditional energy economy into a new and smarter era that is beneficial for everyone.


Eesti Energia operates in six countries – in the Baltics, Finland, Sweden, and Poland – a total of approximately 60 million people. For the participants, the greatest motivator is the opportunity to develop their idea with the help of our top experts into a service to be offered in all our home markets. We are development partners and door openers for startup companies in the perhaps somewhat conservative energy sector.


This year, we were looking for ideas in three areas: smart mobility, smart services, and smart city. In total, 222 ideas were submitted both from our home markets and also from outside of Eesti Energia's markets - from Canada to Sri Lanka. The top 30 defended their ideas in the semi-finals, the TOP 10 strongest ones continued to develop their ideas with the help of our mentors. The grand finale took place on January 21st.
What have been the most outstanding projects of this competition and where have they evolved by now?
The idea, which was declared the best by the jury last year, was to create a convenient subscription platform for customers of the network company Elektrilevi. By now, the connection service is already automated and accessible to customers. The idea ranked second – the multi-charger solution for electric cars that was designed primarily for apartment buildings – is now in the product development phase. The authors of the green meter, who came third, have found strong partners and are developing the idea further.


This year's winner was MultiFuse - a smart and remotely controlled main fuse that allows to sell more power and optimize network load.


What are the main difficulties in working with startups? And what makes it easy to work with them?
Difficulties arise especially when the goals, the form of cooperation and the motivation for cooperation are not very precisely agreed upon at the outset. If the destination and how to get there are understood by both sides, the cooperation is smooth.


Startups have many reasons to work with big companies: bigger budget, networking, and more. At the same time, there is the fear of excessive bureaucracy, giving away too much involvement, deviating from their vision. Are these fears justified? If not, how do you disprove them?
With each partnership, we want to start by determining why, how and where we are going, and explaining how we are operating. At Eesti Energia, we understand clearly that the ultimate beneficiary of our work is an Estonian resident, and as a normal company we are prepared to take risks, but they must be thoroughly analyzed. It may seem slow for a startup, but at the same time, cooperation with Eesti Energia has enabled many startups to improve their processes, level of analytics and business model faster than they would have done on their own. On the other hand, we expect our partner to have the same maturity and understanding that they are expecting from us. Fears are usually set in ignorance, but if one's expectations are clear, there should be no place for fear.


How do you work with startups? Let's say you meet a startup in the energy industry at sTARTUp Day. What happens next? What are the opportunities for cooperation?
Eesti Energia is a unique company in the region and its cooperation possibilities are essentially limitless. We provide services to over 600,000 customers in six countries, develop smart electromobility and flexibility services, develop renewable energy, and refine the most important mineral resource of Estonia – oil shale – more effectively and cleaner than ever before.

Firstly, there are more opportunities for cooperation with us than most can imagine.

Secondly, taking into account that we operate in a market of 60 million people in the Baltic and Nordic countries and in Poland, our potential market is huge.

Thirdly, I emphasize that size is our strength. We have a clear understanding of where and how we are moving, which will certainly make it easier for a potential partner to work together.
However, you should start by introducing yourself and your idea by writing to me or to our innovation lab at ideahub@enefit.com. Then we can explore the opportunities for cooperation together.


You have an entire area on sTARTUp Day. Are you already able to reveal some secrets and tell what is taking place there and which attendees should definitely visit you?
In our climate, we are all forced to consume energy in one way or another, and today it is difficult to imagine ourselves, both as an individual and as a company, without electricity or heat. However, as long as the room is warm and well-lit, no one will think about it. But somehow this energy is generated and somehow it reaches you. We aim to talk as openly and intelligible as possible about the energy system, its parts, and why we need to implement ever-wiser solutions so that we have reasonable electricity and heat bills and minimal environmental footprint in 10 or 50 years. And how important is the consumer in all of this? Eesti Energia is unique in Estonia because our group has the entire energy line - mining, manufacturing, power transmission, electricity and gas services. And increasingly, we are also developing critical areas for the future: green energy production, e-mobility, data-driven solutions. We want to show all of this on the spot, explain it and encourage people to think along and develop new solutions together. We are not afraid to change the world.

Articles you might also like: