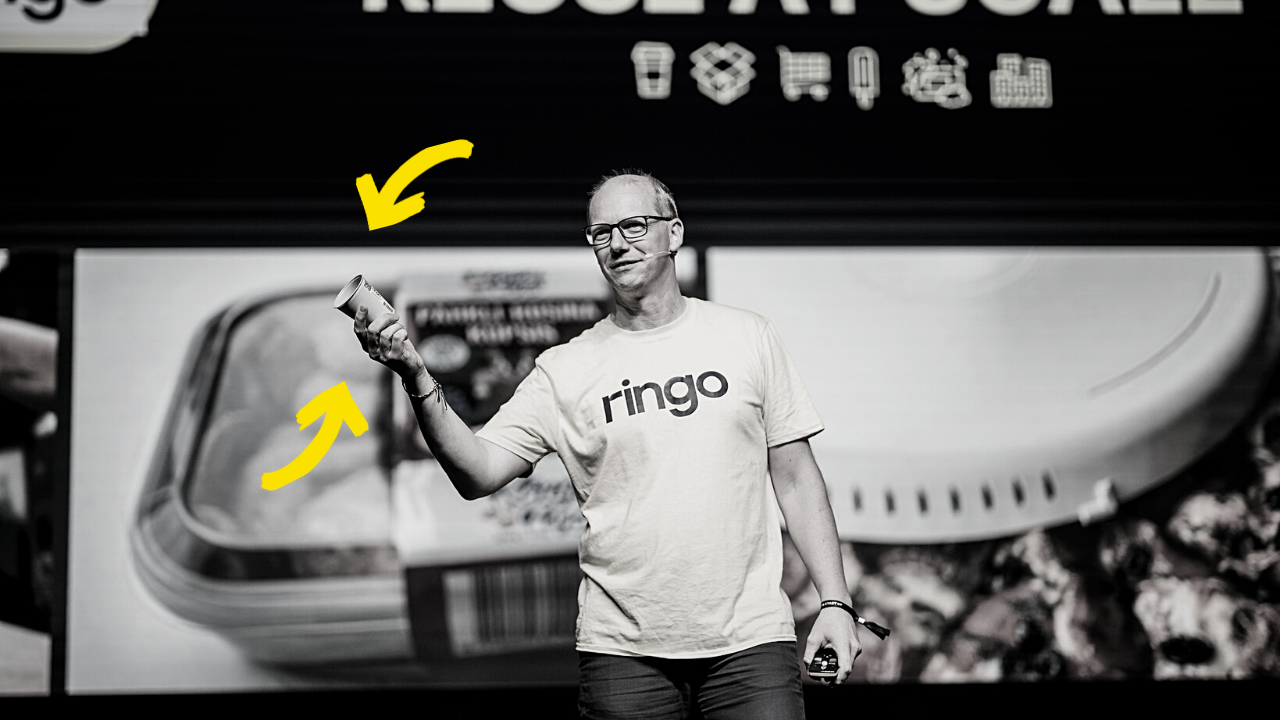 Ringo shows the way to the future without single-use packaging
For the second year, we use only Ringo reusable cups and dishes at the sTARTUp Day festival. The company was also one of the finalists of sTARTUp Pitching 2022. We talked to Ringo's CEO and Co-Founder, Janek Balõnski about the team's plans ahead, as well as how we can all contribute to eliminating disposable packaging waste.
The interview was written by Sanne Taveter, a member of the sTARTUp Day communications & marketing team.
An estimated 200,000 disposable cups are used every day in Estonia. To what extent can Ringo solve this problem?
We started by providing reusable packaging to customers who want to use our service and don't see disposable packaging as the only option. Today, events, business campuses, commercial buildings, and gradually retail chains and restaurants are most open to reusable packaging. We cannot solve any problems by force or make all Estonian gas stations switch to reusable cups overnight, although we are seeking together with them a way to make such a service available.


But if you ask me when the problem of 200,000 disposable cups a day will be solved, I think it will take another year or two because social processes take time. At Ringo, we come up with a business model for the change, then give time for society to get used to it.


Ringo launched slightly more than two years ago. How are things going for you at the moment?
We started with food packaging. Today, Ringo has expanded to more than a hundred restaurants and customers can return Ringo packages to nearly three hundred locations. The number of return bins is growing, as is the number of food providers.


At the start of this year, we launched a return network for e-commerce packaging in cooperation with Itella. We are replacing the disposable cardboard packaging that is today most commonly used for shipping goods ordered from online stores with reusable packaging. The first customers have already joined the platform.

We are building an open platform, which is quite unique in Europe. Most companies build closed systems, but we opted for an open system.
Retailers can come with their own packages, and other packaging providers can also join it. Ringo offers no packaging to online stores; only our partner companies are doing that – we are handling the logistics and deposits in this circulation.


We are working to build an open deposit system where our partners could implement different business models. Last year, our turnover was around 200k euros; this year, we are expecting to see significant growth.


What has been the feedback from online stores so far?
It is yet too early to tell. The first three merchants have started shipping out their merchandise using our system. I think we can expect the first conclusions by summer. A bigger wave of merchants will join the platform in Spring when online stores have upgraded their software.


Ringo grew out of your previous company Bepco, which offers reusable freight packaging to companies. What prompted you to start Ringo?
We were building Bepco with a three-man team. We felt that we knew the packaging sector and saw different approaches to solving its problems around the world. In many countries, the solutions are based on a very limited business model that cannot be applied everywhere.


We realized that there was a need for business model innovation and the service architecture had to be slightly different before it could become a part of our daily lives. In order for a system to achieve similar status to the current bottle deposit or waste systems, it must be cheap, open and accessible to every person. There is no other way.


We saw that our idea had potential and we had the prerequisite skills for implementing it. The topic was meaningful to us, and it was an exciting challenge. The circulation of reusable packaging is a completely new industry; noone knows yet when it will grow big.


What are Ringo's plans for this year?
In the coming months, return boxes for e-commerce packages under the Tango brand will be added to all 250 Smartpost parcel terminals. We certainly want to start with food packaging in Sweden and perhaps in one more country; preparations are underway for this. As to other ideas, then we have a lot of dreams and ambitions, but we'll see which ones will take off. We definitely want to expand out of Tartu and Tallinn to other Estonian cities. It is quite likely that we'll have some more big news this year.


What were the most notable milestones for Ringo in 2022?
It was very exciting to see the Ülemiste City business campus ban single-use packaging. This decision affected dozens of caterers and changed the daily lives of almost 12,000 people working on the campus. It was a very exciting project that is still evolving. Similarly, Tartu University Hospital started to seriously tackle the topic of packaging in their buildings.
We're thrilled to witness how step by step, various Estonian companies are banning single-use packaging. They are the ones initiating a real change in Estonia.

We also saw surprisingly many catering companies organize their summer events waste-free. This proved to us that there are many people who care about the environment and the reduction of waste without taxes or commands from above. Several sports events have also decided never to return to disposable packaging.


At sTARTUp Day, we use only Ringo dishes and cups throughout the festival. What is the general attitude of event organizers with regard to reusable packaging?
In general, the attitude is positive and there's a lot of interest in our reusable packaging. Of course, there are also some more difficult aspects; for example, it is crucial to nail the logistics. The service must be convenient for the end user; otherwise, you cannot organize an event. One must think through where customers take the dirty packages, how the packages are collected, and how to ensure that they don't run out. But these questions can be all sorted out, and we believe we'll see even more events and companies join the scheme this year.


How easy is it for ordinary people to give up disposable packaging? Is it realistic at all without the intervention and taxation by the state?
Today, when buying food from Selver, Maxima or any other retail chain, I am not offered the choice of reusable packaging. There is absolutely no reason to point the finger at individual consumers because they cannot solve the problem. This can only be done by the managers of retail chains, who must make a decision to give the consumer a choice between reusable packaging and single-use packaging.


However, we have big plans in this regard. The first food manufacturers will soon launch in Rimi pre-packaged food packaging, including biscuits and greens – a total of seven or eight products. This is just the beginning: we are testing how the model works and how it is received by the consumer. Before that, there is no reason to hope that anything will change on a large scale. However, we hope to make big progress in this direction in the near future.
How difficult is it to convince retail chains to adopt reusable packaging? What is their main argument against it?
We are always seeking common ground with our business partners. We listen to their wishes and, if possible, make the necessary additions to our services. But inevitably, retail chains need to make small adjustments to their checkout systems, scales and scanners. For example, if I scan a salad with a barcode scanner, the system could add the salad and the package to my cart at once instead of having to scan them separately. This would make purchasing a reusable package the same experience as purchasing a single-use package.


These kinds of changes need to be made, and today's retail chain software, unfortunately, is largely not yet prepared for this. Any change will take time. A state support measure or regulation would certainly help because retail chains are competing with each other, and if one does not make the change, the others don't dare to do it either. An initiative by the state is needed here in any case.


Several European countries have already introduced such regulations, such as Germany, France, England and, most recently, Sweden. Estonia has taken a few steps in this direction, but in general, we rank somewhere in the middle among European countries. I can't really call us a laggard, but we're certainly not at the top of the list. There's a lot of room for improvement.


What do you see as the main challenges in the field of sustainability? How could these be solved?
The packaging sector is much broader than just a coffee cup. That includes berry boxes that can be seen at almost every fair in the summer, ice cream containers that you see at the beach in the summer, ketchup and mayonnaise buckets that are used in many restaurants and other large packages. The list is endless.
The cosmetics industry also plays a huge role. If you break the packaging world into pieces, groups are clearly distinguishable, each screaming for a different solution. There is no one-size-fits-all solution because each area needs a different approach. In some cases, it is not even clear what this business model should be. But it's worth the effort.


What have been the biggest challenges for Ringo in recent years?
Our big hope years ago was that there would be stronger regulation regarding reusable packaging in Estonia. We had hoped that EU regulation would be transposed, but so far, this has not happened on a large scale. In the future, we will direct our main investments to those markets where regulation exists because we are welcomed there.
Many challenges can't be fixed quickly by force or with money. Rather, you must give society time to get used to the change.



We have changed our strategy in this regard, and instead of focusing on "growing big", we focus on our loyal customers and developing cooperation with them.


You ran a business during the last economic crisis. What did you learn from this period that helps you in the current crisis?
It is obvious that entrepreneurship must be seen as a marathon, not a sprint. It's important to be determined and moderately optimistic. You cannot give up and this attitude allows you to survive all crises. You also need supportive shareholders, as without them, managers can do nothing. You need to be flexible. Over the past year, Ringo and I have had to be very flexible with our partners in order to be able to grow and develop.


The European Union is committed to eliminating single-use packaging by 2030. Where do you see Ringo in five to seven years?
Certainly, there will not be a single reusable packaging system on the market because the amount of packages is very large. Not all people are going to eat from exactly the same box, and not all foods will fit in exactly the same box. So there will be plenty of choices. However, when it comes to how well reusable packaging can compete with single-use packaging, then I believe that reusable packaging will take up a 25% market share in the next five years.


A major shift in the packaging industry is awaiting us. There will be a need for huge automated laundries and extensive packaging collection networks. All this needs to be created step by step, laying the ground for bigger changes.
Are you attending sTARTUp Day this March (we sure hope you are!)? We use only Ringo dishes and cups at the festival area. Please don't throw them in garbage bins but return to the designated Ringo bins so that they could be reused. Thank you!
Articles you might also like: