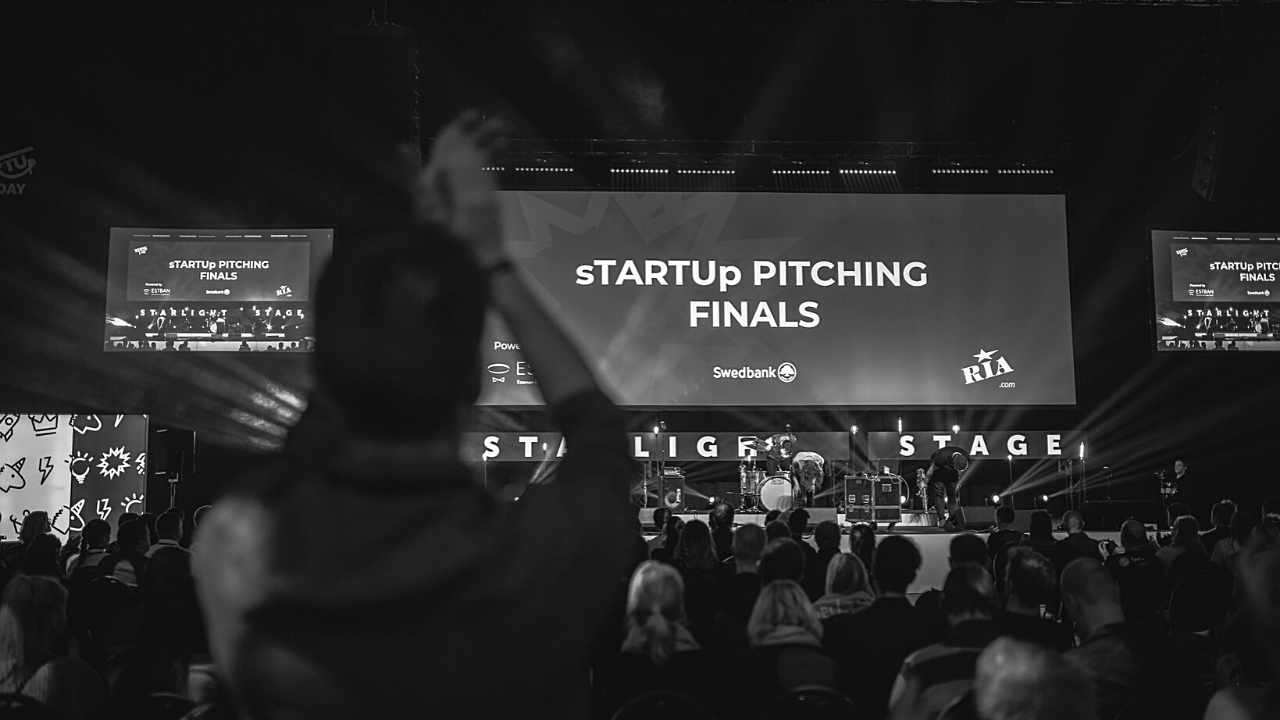 Nothing to lose, €200k to win!
Short sentences, one thought at a time, simple words and a lot of practice — this is what sTARTUp Pitching finalists suggest if you want to shine in front of 4000 attendees from all over the world. At sTARTUp Pitching, you have nothing to lose, but 200k to win.

"Even if your business model makes sense to you, it doesn't mean that all the others can catch your idea immediately. If an investor doesn't understand within 3 minutes what you are doing, they won't invest in you – it's as simple as that," acknowledges Jan Plaan, who reached the finals 3 years ago to finals with Frank.ai. "Only those who are courageous and have a clear and simple message will stand out."
Marti Soosaar, CEO of Stebby (former SportID) and a finalist of 2016 also suggests memorizing the pitch even if you usually feel confident when performing in front of the people. "Otherwise, you'll spend a lot of time on the first four slides and you'll have only 30 seconds left for the last six," he explains. The winner of sTARTUp Pitching 2020, CEO of Jeff App Toms Niparts points out the importance of practicing: "I think our pitch was attempted at least 50 times for the sTARTUp day event alone, not to mention hundreds of times in front of other people before."

Three steps to succeed:
Ϟ Think about the features and uniqueness of the product or service.
Ϟ Formulate a unique selling proposition that is understandable to everyone. You should still be interesting, confident and convincing.
Ϟ Practice makes perfect! Memorize sentence by sentence the message you want others to receive.
You can already apply to sTARTUp Pitching 2021 Powered by EstBAN! "What are your reasons for not doing this? At the very least, you'll challenge yourself to think about your business clearly once more, work on making your pitch more clear and understandable and meet at least a few new people that can open doors for you," says Toms Niparts. "This was most certainly a game-changer for us. In terms of cash, it gave us the luxury of moving faster by hiring more people and growing at a faster pace."

EstBAN is supporting start-ups for the fifth year at sTARTUp Day. For them, it is essential to offer investors and start-ups the opportunity to increase their network of contacts. "Our goal is to bring investors and companies together," says Anu Oks, CEO of EstBAN. "It is important that investors know how to make wise and considered decisions and that companies have the financial resources to flourish."

The broader goal for EstBAN is to introduce and contribute to the formation of investment syndicates. "Thanks to this support, teams and smaller start-ups get enough funding to give up their main work for a while and focus on implementing their idea," explains Anu Oks.

To succeed, he also suggests reaching out to some EstBAN members in advance to get feedback and advice. The main asset Jeff App received from the competition, was to get world-class investors from EstBAN, especially Ivo Remmelg, on their side at such an early stage of their business. "Having experienced people like him allows you to avoid a lot of mistakes and simply think bigger and clearer."
Inspirational prize fund
At the sTARTUp Day Pitching 2021 Powered by EstBAN, you'll have a great opportunity to stand up at the biggest business festival in the Baltics and win several awards:


Ϟ Up to €200k investment from EstBAN-led syndicate
Ϟ €10k equity-free cash from Swedbank
Ϟ Legal counseling worth €5k by Sorainen
Ϟ $10k AWS service credits from Cloudvisor
Ϟ Prize package worth over $30k from Founderly
Ϟ S2B workspace for 3 months
The application deadline is January 3, but we recommend applying early. You can always update your profile when any changes happen. The TOP10 teams will have the opportunity to pitch at sTARTUp Day 2021.
Bare in mind that no investor makes a decision based solely on a presentation or an idea. According to Anu Oks, the team plays a crucial role in making an investment decision – whether they can grow and expand outside Estonia. "A team with passion and a strong desire to actually change the world with their company will also make the investors' eyes spark. The team must fit together and be able to work and develop with the angels."

Good opportunity for everyone
Marti Soosaar says that although back then SportID didn't win the competition, and they didn't get a tangible prize, the role of the sTARTUp Pitching was symbolic in their future progress. "The fact that we were mentioned and invited on the stage for the finale definitely gave the team a positive charge and self-confidence, also performance experience to me. Experiences always come in handy," he admits.
Although Frank.ai is not in business anymore, Jan Plaan also sees that pitching competition is a rather good opportunity for startups. "It depends on the current situation, need and purpose of each startup. If there is no clear goal, there is no point in going on stage. However, if the goal is to get an investment from angels or a good pitching experience in front of a large number of people, you should definitely participate."
Articles you might also like: