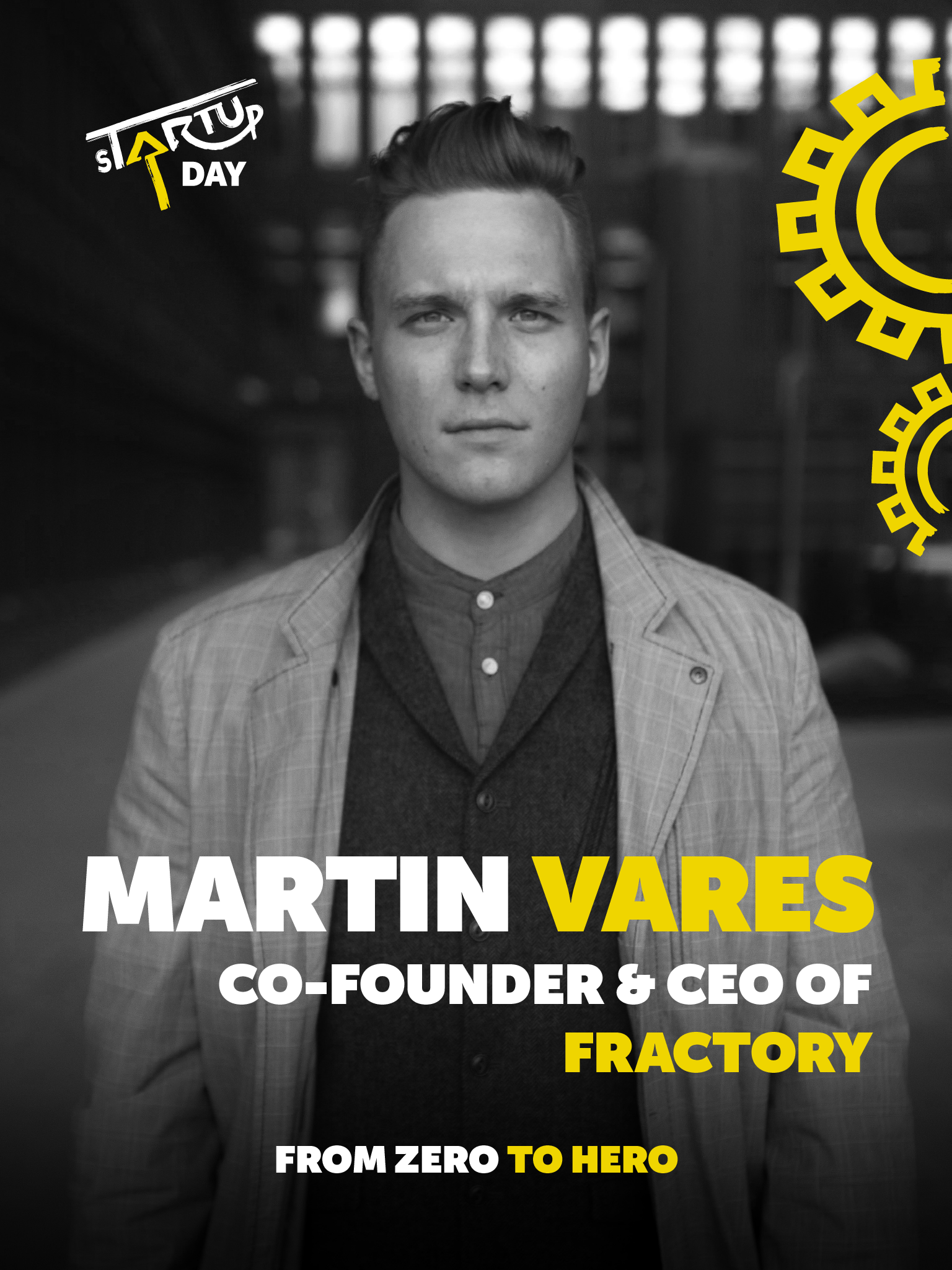 Martin Vares, Co-Founder & CEO of Fractory.co: "You Have to Celebrate Even the Smallest of Victories."
Martin Vares is the CEO & co-founder of an on-demand manufacturing platform
Fractory
.co, which has been an astoundingly successful startup – recently they brought home the best startup company title from the biggest sheet metal working exhibition EuroBLECH, which took place in Germany.
This spring they won Latitude59's pitching competition and a 170 000 euro investment from Nordic Angel Program. And – Fractory.co was founded barely a year ago in Tartu. We had a chat with Martin about the problem from which the startup was born, what's the key to success and this enormous growth and how to stay realistic during this crazy ride.


What is
Fractory
.co?
Fractory.co is an automated on-demand manufacturing platform, which helps to streamline the industrial outsourcing process and guarantees evenly high quality and service. The platform brings together engineers in need of production and machinery owners with free capacity. The goal of Fractory.co is to become one of the best-known names in the European manufacturing industry over the next five years.
How did you start with
Fractory
.co? Was it rather easy or difficult? What were the main obstacles?
Naturally, the beginning was difficult, and it actually still is. But together with my excellent co-founders, Joosep Merelaht and Rein Torm, whom I have known for over a decade, we have conquered all the difficulties and will continue to do so.


We set out to solve a problem, which I as a mechanical engineer experienced for years. I was fed up with endless number of emails, phone calls and waiting for answers to put down a production order. At the same time, I knew that both sides, customers and manufacturers, have the information that is needed to eliminate this senseless manual work.


I have to admit that the beginning was the hardest. If you get the ball rolling, then you just have to carry on. We all worked long days and Fractory's idea was not moving ahead. With a lot of effort, we made an exceptionally bad prototype, but thanks to that we got into Startup Wise Guys accelerator, where the real work began.
I have a need to constantly improve something, to learn something, to change something. Nothing is ever perfect.
Even after the first product was launched, we couldn't celebrate just yet. The manufacturing industry is a very traditional and demanding sector, where you have to put a lot of effort into proving yourself as a company, no matter how good the product is. Luckily, we are not doing this alone anymore. We have a strong team of 9 experts, whom I cannot praise enough and who have contributed so much to the development of our company.
What has helped you to get where you are today?
Stubbornness and equally stubborn companions. We are all guys who do not take "no" for an answer. We are not stupid either and together we can always find a solution. Since we are all from different fields and have different interests we improve each other constantly. For me personally, dissatisfaction is an excellent driving force.
I have a need to constantly improve something, to learn something, to change something. Nothing is ever perfect. But you have to approach this urge with a bit of caution to not get lost in it. You have to know how to celebrate the smallest of victories, so you can set out on another conquest.

What are your three truths?
If you want something, take action. Waiting leads nowhere. You got to grab the bull by its horns and tackle it.
Make a decision. Thinking, considering and researching are great, but they are not very useful if not followed by decisions. Of course, decisions have to be thought through, but I follow the principle that they have to be made as early as possible. Even wrong decisions are better than staying indecisive. The worst case scenario is that I learn why that decision was wrong and gain knowledge to make the right one.
Be positive. Not only with other people, but with everything else as well. I try to stay positive and rational in every situation. I have learned that even in the most unfavorable situation, the worst thing I can do is lose my temper. The best solution can arise only from a positive approach.
I am inspired by the wish to see what more are they capable of. When the people grow, the company grows.
How to maintain motivation and be happy when doing your job?
I haven't really given this much thought since I haven't noticed any lack of motivation. I'm happy when I see progress and if my team is happy with what and why they are doing. So far, I have been nothing but happy in Fractory. Again, it's useful to know how to celebrate small victories. No matter how big the problem seems, nothing is hopeless. You have to teach yourself to find good in every situation.


I am inspired by...
The future of our team. Every day I see how even the most experienced co-workers improve and grow. I am inspired by the wish to see what more are they capable of. When the people grow, the company grows.


What makes you excited about the future?
The answer is in the question.
Hero of the Week is a column focused on inspirational entrepreneurial people around us – their journeys, success stories and lessons learned from failures; goals, inspiration and everything in between. Get inspired and be the Hero of your own life!
Articles you might also like: