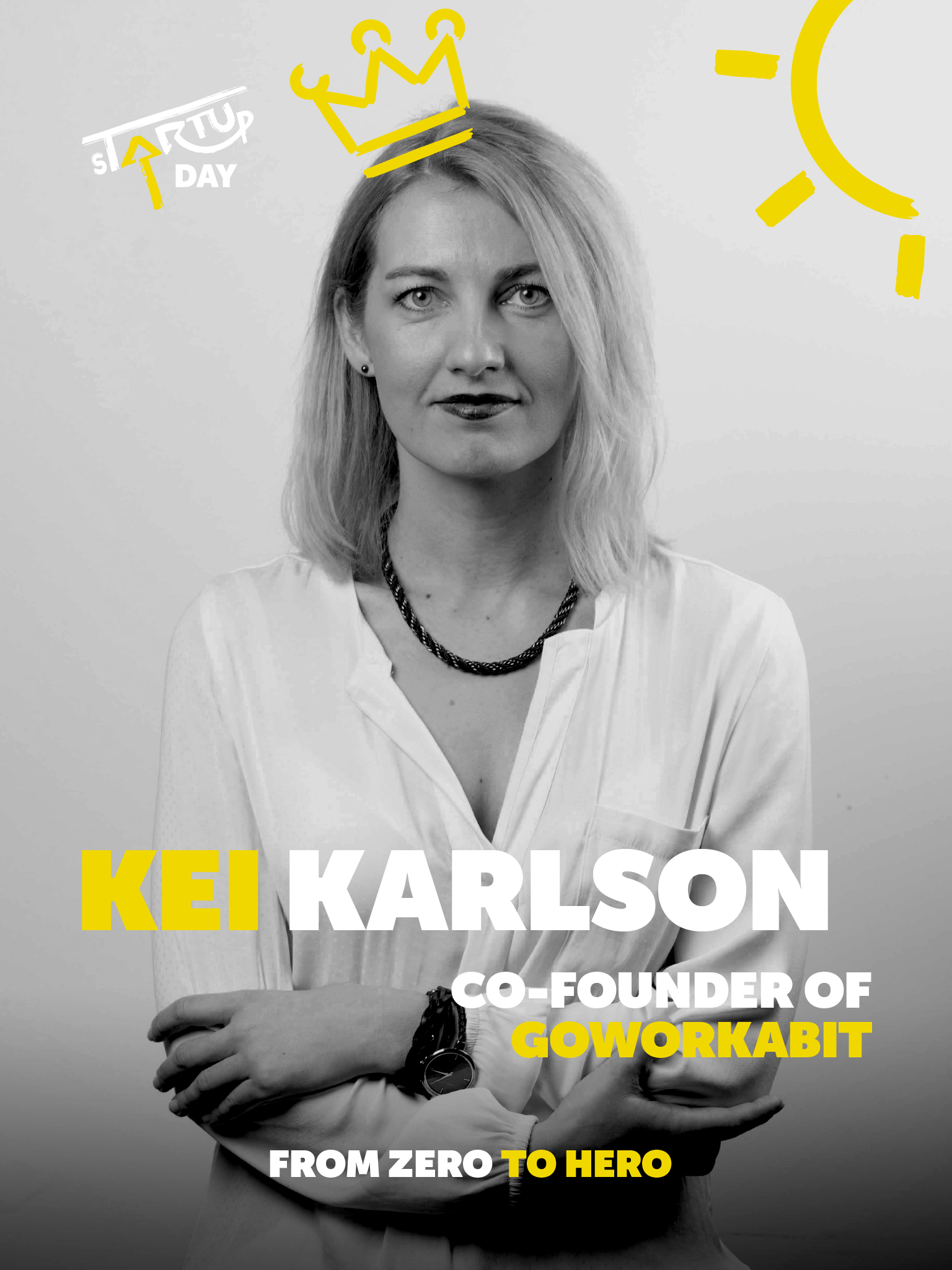 Hero of the Week: Kei Karlson, Co-Founder of GoWorkaBit Where Fun Factor is a Serious KPI
Year: 2013, location: the legendary Garage48 hackathon. An idea which would change the whole job market was born – it's called GoWorkaBit. The goal is to create temporary jobs – a possibility for people not to join a specific company and follow its rules. Instead of that, you can work there only for a day or a week.
"We are working on a daily basis at GoWorkaBit on the possibility that people can work in a completely new way which would fit better with their lifestyle and expectations," Kei explains the mission of GoWorkaBit. "In this way, everybody can manage their schedule better and combine their different jobs with other activities."

How did you start with your GoWorkaBit? Was it rather easy or difficult? What were the main obstacles?
GoWorkaBit was founded five years ago at the Garage48 hackathon. At that time I worked at the HR field and felt more and more how working is changing. At the beginning, of course, it was difficult and it still is sometimes, but this is what makes my work exciting.
Solving those difficult issues makes it easier if you can work with awesome and smart people. The main challenge is that even though companies feel that the job market is undergoing a very significant change, and this has actually been the last 10 years, changing the way of thinking and introducing new solutions is often difficult.

How to maintain motivation and be happy when doing your job?
I think the key is to find those activities and topics that are fully in compliance with what your soul truly needs. If you feel that you can be yourself at work and do the things you care about the most, then I think you don't have to make any additional efforts to be motivated. I'm happy to be a part of the change that makes the world a better place for all of us. And that I can do this with people with whom I can be my true self.

What is the most challenging thing of being the leader?
I think that the main role of a leader is to communicate their vision in an understandable way and to inspire people to make it happen together. However, I don't ever call myself a leader. Instead, I feel that my role is to ensure that working in our team would be cool and exciting for everyone. In fact, we even measure it in our company – Fun Factor is a very important KPI for us. Since we all had to give up on a lot of things at the beginning of our startup, we had to make sure that working in GoWorkaBit would be worth it. Useful experiences, super cool team and a daily joy to work are still the musts for us.

I'm happy to be a part of the change that makes the world a better place for all of us. And that I can do this with people with whom I can be my true self.
What is your motivating and inspirational working environment? How much does the external environment affect your productivity?
For me, the working environment is very important and this affects my productivity a lot. GoWorkaBit has always been a remote working team so we don't have an office and everybody can choose their own work environment.


I like working in cozy cafes and hubs. I can do more routine things behind my kitchen table, but when it comes to brainstorming creative solutions I need to be surrounded by people. My favourite cafes for working in Tartu are Cookbook and Krempel.

I am inspired by...
People and nature. The best source of inspiration is listening to a good audiobook about somebody interesting while walking in a beautiful park or in the woods. I also get a lot of energy from meeting different people. These meetings don't necessarily have to be planned with some gurus. Lately, I had a quick 5 minute chat with Taxify's driver who has previously worked as a city architect. While driving in Tallinn he told me stories about the houses we were passing. Wow, what an exciting person!

What makes you excited about the future?
Knowing that everything is possible. Knowing that there's so much more to learn and to experience. As time goes on I feel like I can understand myself better and I am able to recognise the right directions and things to do for myself. By acquiring that skill it's a lot easier to trust life and let it surprise me.


Hero of the Week is a column focused on inspirational entrepreneurial people around us – their journeys, success stories and lessons learned from failures; goals, inspiration and everything in between. Get inspired and be the Hero of your own life!
Articles you might also like: