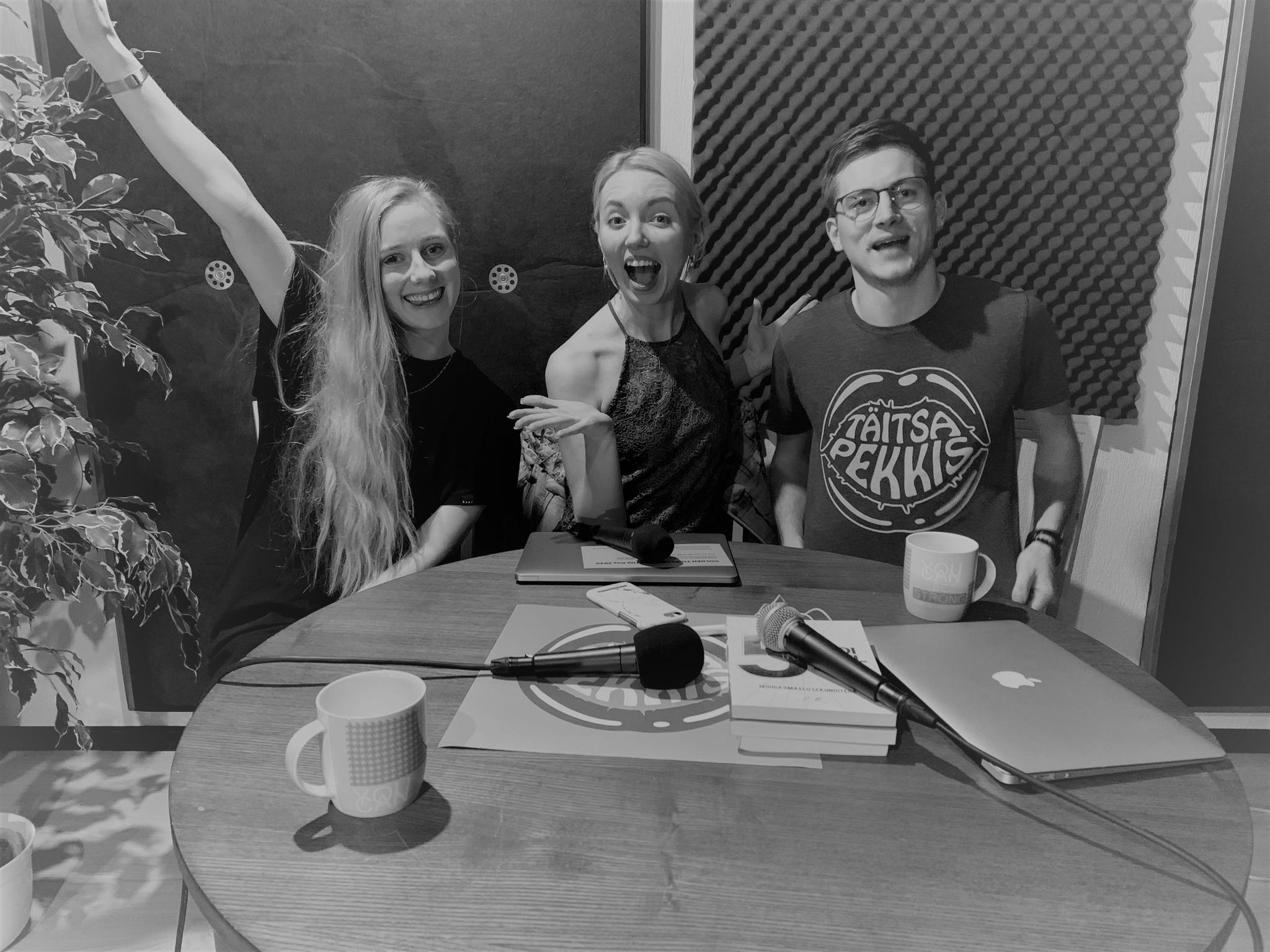 Head organizer of sTARTUp Day Marili Vihmann: "If I can't do it anymore, I keep on going!"
Katrin Hinrikus and Mihkel Vetemaa started the Täitsa Pekkis podcast in 2018. They bring you stories from awesome Estonian people, their lives, things they've messed up, how this happens and how to come out of it. At first, the plan was to make a TV show, but then they decided to go with a new trend in podcasts and reach the audience through that. Täitsa Pekkis podcast has interviewed people like Jaak Roosaare, Liisa-Maria Connor, Liis Velsker, Lauri Pedaja and the head organizer of sTARTUp Day – Marili Vihmann. You can listen to the full version of Marili's interview in Estonian for example in Soundcloud or Spotify.
Marili belongs in the category "crazy young Estonians". She is born in Sangaste in 1994, lives in Tartu and is a head organizer of sTARTUp Day 2020. sTARTUp Day is the biggest business festival in the Baltics, taking place in January for the 4th time. It's a very cool technology-entrepreneurship-startup festival, so go and enjoy it!
Yes! Everybody, join us on January 30-31! Come, for sure, it's really one of the coolest festivals in the Baltics that we organize in Tartu. Tartu is in the word sTARTUp and it's really gonna be awesome. We do outstanding things there that I guess is done nowhere else. So be there for sure!


Who is invited to sTARTUp Day, only the people doing startups?
No! If you're doing a startup or you just have an entrepreneurial mindset – everybody's invited. You just have to be venturesome, if you want to do something with your life it's already your festival. Of course, we're also inviting all the investors, people in leading positions, etc. It's a big business festival where everybody's invited, so don't be scared.
We have a youth program for high school students for the first time this year, so we can support teens from an early age, so they know they also have an opportunity to start their own company. We have a wide range of target groups.


The main thing I remembered about sTARTUp Day 2 years ago was the Tommy Cash concert! It was the craziest thing I've seen on stage in a long time.
It was a 270-degree projection so that people were in the middle of the video. Getting Tommy to the event was difficult and also the fact that you bring in a performer that you show to all the foreign guests. Later we saw how foreign guests were confused that what the hell it was and we were like "Best afterparty ever!"


But yes, meeting Tommy's requirements before the event was also a challenge. For example, he wanted some very exotic fruits behind the stage that we could not get from Estonia. We had to order them from Finland. He also wanted a framed picture of a random guy. Well random stuff, but Tommy Cash can do it!


How old are you?
25...and sTARTUp Day is run by young people. We have a really young team, lots of volunteers and if we do mess up something in sTARTUp Day, we think that it's okay because we try out crazy things on purpose.
Sometimes things we already know will fail. But we have this freedom to try new things and I believe that's the biggest value of this festival, that we don't have anyone saying we can't do something.
You just decide that "I'm gonna do this, let's see if it works". The same way we try new marketing areas in sTARTUp Day.
Why I've liked sTARTUp Day is the people that are doing it. It's organized by 9 organizations, it's crazy. Every Friday we sit around a table and actually discuss how to do this festival. And another thing is that it has our own face - we've shaped and built this.
How can a young woman get to be the head organizer of such an event? How did you even get into it? Did you study some kind of event planning or did you just like planning these yourself?
I studied Economics and I was in Marketing Club with Lauri Sokk, who was the first head organizer of sTARTUp Day. We organized all kinds of events for the faculty together. We had like the soul for organizing events. And then we did Christmas parties where we invited Siim Kallas, did USA-themed corporation parties, which were the coolest parties in Tartu.
When Lauri got into sTARTUp Day he just invited me to the team. And then I started as the manager of volunteers and I was also in the program team, where we had to bring speakers to the event. Since I got such a motivational boost, that it's a really awesome thing we do here in Tartu, I just stayed for the next year as well. I was just so curious about how it all works, I always asked questions from all the organizers - what they're doing, how things work, why are we doing it like this, etc. and I just kind of…ended up here.


What are some lessons you have learned by organizing different events?
It is very important to do market research and interview people in the industry before to see if they are interested and what they are missing. Maybe you start pushing for something that is not needed at all and people have no interest.


What was the first task you had to do for sTARTUp Day?
I was a volunteer manager and I had to start recruiting people for an event that had never happened before. We also needed around one hundred volunteers. That's a large number!
We said that if the event has never happened, it's like selling air.
You describe something that is about to happen, but you have no idea what it really looks like. We gathered the volunteers and told them what sTARTUp Day is, even though we had no idea what it was.


Was it an easy decision for you to take – to be the first woman doing it and at a very young age. Wasn't there any fears like is it right for sTARTUp Day to be organized by such a young person, is it okay to take such responsibility, maybe people will say negative things…?
Of course, the hardest thing about organizing an event is putting up with criticism and I'm the kind of person who takes it really into my heart. I don't know about how you take criticism, but it's a super important skill. I was really scared – it's a lot of responsibility and you have a lot of partners and you're responsible for an event and experience of 4000 people. You get to give them experience and value and just hope that people can get something from it. It's a huge responsibility.
Also, you have a big team, you have to lead that team, are you diligent enough to make the right decisions at the right time. But well – don't overthink, just do.

During the 3 years you were part of the team, what were the hardest moments?
The hardest moments were during the event I think because you start building it up a week ahead and I guess last year I made a record of staying up like 2 or 3 days I don't know. It was a lot of time and then you get those really hard moments when you feel you can't do this anymore.
What's your biggest WHY, why you're organizing sTARTUp Day or why do you like doing this?
Well, this is a lifechanging question. But why I'm doing sTARTUp Day is first to prove everyone who thinks that you can't do anything in a small town – yes you can! I somehow have this need for proving people that we're doing the biggest and coolest thing in a place that isn't the capital.


The second reason I'm doing this is a huge self-development.
I think you should never do anything in life you don't see improving you, but it's a huge challenge.
I have already lived through so much with sTARTUp Day and learned a lot. It's the best place to prove yourself and see what you can and can't do. Being the head organizer of sTARTUp Day is, I think, one of the most stressful jobs there is. I don't know if I could do it another year with such a level of stress. You have a constant fear and little panic for the whole year. This stress and pressure can sometimes be pretty destroying, it's not easy.


Approximately how many people are coming to the event this year and how many speakers or people involved will there be?
Realistically, 3500-4000 people. There are about 120 speakers, with the seminars. We have 4 stages, seminars and 2 days.


How many people are in your team?
It's really hard to define the main team. We have stage managers, demo managers, seminar managers and those 9 organizations who do the event, so the leaders from those. We have the University of Tartu, Tartu City, Swedbank, etc.


We're organizing this event together, which is very unique. The idea of sTARTUp Day actually sparked from a business-sauna, that actually was a sauna where all the most entrepreneurial men from Tartu got together. And there came the idea of doing one big event together instead of separate ones, so it would affect a lot more people. It started from there and at first, there were 8 organizations, now we have 9 with Swedbank.


But if you think about having 8 organizations or businesses, everybody having different interests, so how do we even do this together. So usually if they talk about cooperation, it's quite shallow, like getting together once a month. We actually sit behind one table every Friday and think about how to do this festival. It's a huge collaboration, really cool but very hard as well. It's the most unique thing – it's a community event because it really is put together by all of those organizations.


What are the biggest challenges of sTARTUp Day? Not your personal challenges but the event's?
I think that sTARTUp Day is in a teenage phase right now. We're such a young festival that we're still looking for our place. Should we be an event for everybody or should we be more field-specific? What we do right now is that we search and try out different topics and see if they're working or not and there are so many groups we get to the target. The challenge for sTARTUp Day is to find our place in the market – who we are and who is sTARTUp Day.


The next big challenge is a little bit stuck in our brand. We started as a sTARTUp Day, a one-day event, mostly for startups. Now we're basically doing a three-day event, which means it's not one day anymore, it's a festival. We have a startup festival already.

Third thing – sTARTUp Day – the first idea is that it's an event for startups. Actually it's such a wide spectrum, so much content for everybody, but if you can't look past the brand, you don't understand it.
Another thing is that people don't see TARTU in the name. Although it's the coolest thing ever that TARTU is perfectly in the word STARTUP. It's the most awesome thing but you have to visually show it. Since there are 3-4 more Startup Days in Europe, which means we don't differ with the brand. And so there's the question if we're gonna change the brand and do a sTARTUp Festival or select another name.


And the last big challenge with sTARTUp Day is if we are able to stay a community organized event so that we count on volunteers. Or are we gonna get a more professional team, which means you hire 6 people who do most of the work? Right now it's based on volunteers but it's very hard and I don't know how sustainable it is if we should change the structure.


What would you say to someone listening, who's thinking about organizing an event for a long time? What would be a couple of good ideas about where to start?
Being a volunteer makes a lot of sense. Try to get in, even if they're not looking for volunteers, just write to them personally. Trust me, there are 100 tasks to do for each event and I'm sure they'll find something.


Also, be active and ask questions. For me, people in your team that doesn't ask anything are really weird. Most important is to ask and try to understand how things work. Just ask-ask-ask and understand the processes and just try to be present. Be there, in the right place at the right time and don't stay passive but stay for the tough night hours, when the real work is actually done. This is super important - just hang on and be there.
-----
You can meet with Täitsa Pekkis podcast at the sTARTUp Day demo area where they will do a live podcast. Let them know who of the sTARTUp Day speakers should they interview!
Articles you might also like: