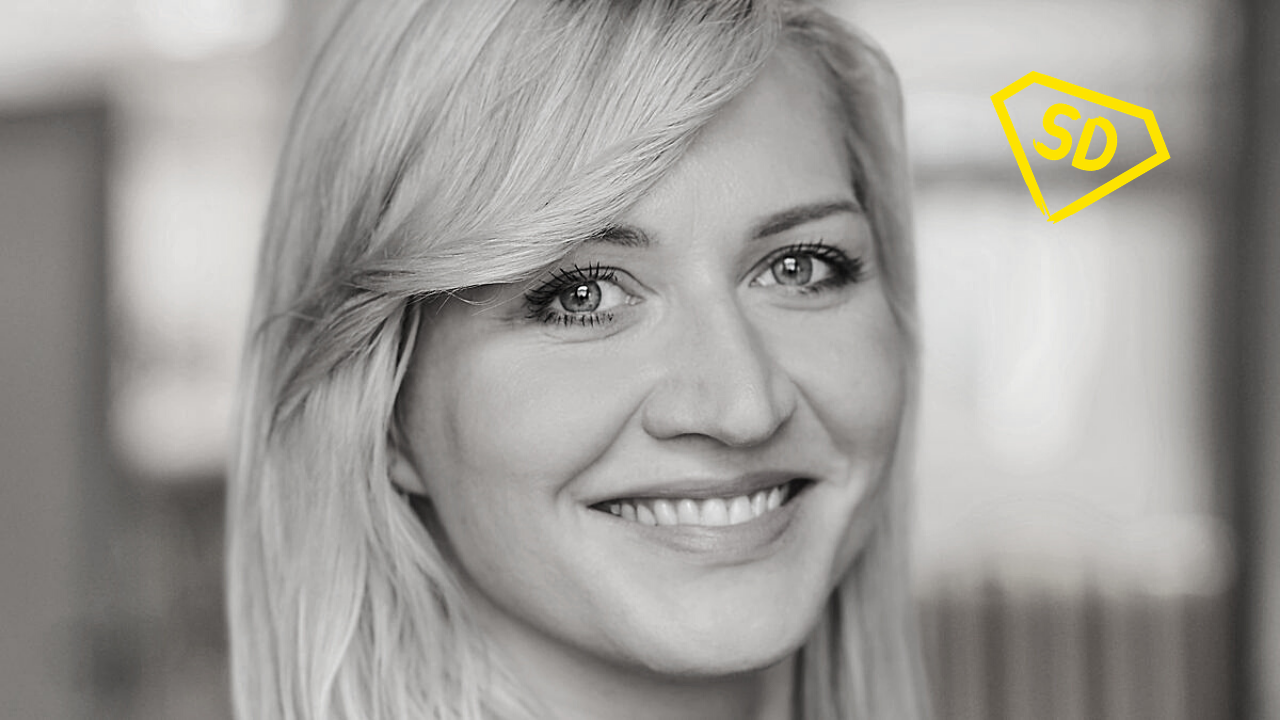 Eve Peeterson: "Allow yourself to make mistakes!"
Eve Peeterson is the Head of
Startup Estonia
. Startup Estonia is a governmental initiative aimed to boost the Estonian startup ecosystem in order to be the birthplace of many more startup success stories to come. Despite the crisis, the revenue of Estonian startups totaled 562 million euros in the third quarter of 2020, growing by 41% year-on-year.
This interview was written by Anette Tiitus, a member of the sTARTUp Day Marketing & PR team.

Explain to a child what a startup does.
If I were to explain this to my own child, I would say that this is the kind of job where mommy is away from home a lot, and at times you may not see her a lot. She arrives late in the evening and leaves early in the morning. She might walk around with a worried face and may not have much money for doing fun stuff together. At the same time, I would tell my child not to worry, because the world will become a better place as a result. Eventually, many people will be happier and their quality of life will be higher.
What are the questions to ask yourself to find out what you want to do in life?
Many career choices can and should be made in a lifetime. No one has to decide their one and only career at either elementary school, high school or university. New decisions can be made as you grow and change. However, the first career choices probably are made at school. A lot depends on what subjects you like as a child – if you are creative, skilled with numbers, a good communicator, active in extracurricular life, etc.
I recommend experimenting before making career choices. Although it is not so common in Estonia if possible take a year off after high school and travel around the world. In any way, explore different options to find those aspects of life that really appeal to you and that you want to pursue in the future.
I hope that parents notice what their child is good at and what they are interested in. Which I certainly don't want is for parents to impose outside or apparent societal expectations. Pushing a child into a situation in which they have no interest or talent will only lead to frustration. After all, strengths should be developed, not weaknesses. Otherwise, a person will never be their best at anything.
What do you think about mentors? Do you have any?
The latest Startup in Estonia
podcast
talked about mental health and it seriously caught my attention. For example, Pipedrive has a Personal Coach in place who deals with employees' mental health issues. Work and private life cannot be separated. Maybe it's been a taboo to bring your personal concerns to your workplace, but how can you leave the problems behind? At the end of the day, you are still the same person at work and home. Even if we pretend that everything is fine, it still affects work performance.
It is extremely important that employees have a mentor they can talk to about their worries.
A mentor is an unbiased listener who can give further professional recommendations, either tricks, training, or referral to the next specialist. I really like this example, because employees have a mentor who has no stakes in the organizational hierarchy as you would have with your direct superior. It is important that even if you don't have a dedicated Personal Coach in place, that there would still be some counseling available at a regular interval. I haven't had a coach or a mentor, but I'm seriously starting to think I need one!
How has a failure, or apparent failure, set you up for later success? Do you have a "favorite failure" of yours?
It seems to me that every failure makes us stronger. It sounds like a cliché, but failures should be accepted, and you must allow yourself to make mistakes. While accepting your mistakes, don't be too hard on yourself or the world. If you look at it without too many emotions, you will find that you can learn from every failure and move on as a better expert. You have to think about what really went wrong and be honest with yourself. Even if you don't admit the mistake publicly, at least admit it to yourself.
For a while, I over-trusted the people I considered to be the opinion leaders on my team and, for example, recruited some unfit people based on their recommendations. In retrospect, I should have been thinking critically and not ignoring my own judgment. All in all, it has given me more confidence to trust myself.
What have been the biggest victories along your journey?
I have a very good example from my previous job at Orangetime Event, where twice within five years we were the Agency of the Year in event marketing at the Golden Egg Festival. I think we made a big leap with a very strong team. This award is a prestigious and tangible recognition. The Golden Egg victories have been a frantic recognition for the whole team. As a leader, you can praise your team every day, but if the recognition comes from external judges, the value can be even greater.
In the last five years, what new belief, behavior, or habit has most improved your life?
It's actually a little older than five years. I believe that we shouldn't take ourselves too seriously. It is the consciousness that lies behind our thoughts and actions that is important, not the roles we assume on a daily basis as brother, mother, teacher, colleague, grocery shopper, football fan, etc. I believe that balance in everything is key to healthy living. Do not lose yourself in your roles or take them too seriously. Enjoy being alive, conscious, and in good relations with yourself. Only then can you be in good relations with others and the roles you perform.
What advice would you give to your 20-year-old self?
I would give the same advice as in the second question: go and be away from home somewhere for a year. Study or work abroad for a period, then come back being wiser and more mature.
What is your biggest fear as a leader? How do you cope with it?
I don't want to let down the people who depend on me. Both in terms of my team and the public expectation towards my role. That's why I usually don't make promises that I can't keep. Letting down people does not only mean deceiving them. For example, if I don't do my job well, I cannot create conditions in which team members can flourish and grow as individuals. They may end up unmotivated and joyless about their work, but being content should be everyone's primary goal. Since you spend at least a third of your time at work, it should also make you sincerely happy. I would consider it a let-down if I weren't able to create the conditions for a happy and fulfilled work life.
What apps do you have open right now?
I promise I didn't look at my open apps before, so this will be a surprise for me, too. Outlook, Messenger, Messages, Phone, LinkedIn, Slack, Instagram, Facebook, Safari, Clock, Argus, Spotify, MyFitness, Photos, Notes, WhatsApp, HOIA, Calendar, Calculator, Luminor, Bolt, CityBee, AppleMail, App Store, Coursera, Google, Settings, Weather, Youtube, LHV, Office, Vivino, MKool, Booking.com, Airbnb, Skype, Zoom, MinuTelia, Endomondo, Dropbox, RIA DigiDoc.
Where will Startup Estonia be in 5 years?
If we talk about the number of startups, we could have 2,000 registered startups in Estonia. I hope startups will be even more innovative, high value, and able to grow globally. The more successful startups we have, the more wisdom spillover to the next generations of founders and the whole community.
The goal is to allow even more scientific discoveries and create opportunities for entrepreneurship in this synergy.
This is the vision of where we have the most potential in the next 5–7 years. Science commercialization is where we have bottlenecks today, but our goal is to find more common ground between ecosystem players, take action and solve the problems together. So hopefully, in 5 years, we have many high-value startups that can be competitive globally, and their headquarters remain in Estonia thanks to our continually favorable business environment. Lastly, I believe that the startup sector will play a 3–4 times greater role in the economy than it currently does.
Startup Estonia who operates under Kredex is a gold partner of sTARTUp Day 2021. sTARTUp Day is financed by the European Regional Development Fund according to the program Startup Estonia (EU50651).
Hero of the Week is a column focused on inspirational entrepreneurial people around us – their journeys, success stories and lessons learned from failures, goals, inspiration and everything in between. Get inspired and be the Hero of your own life!

Articles you might also like: