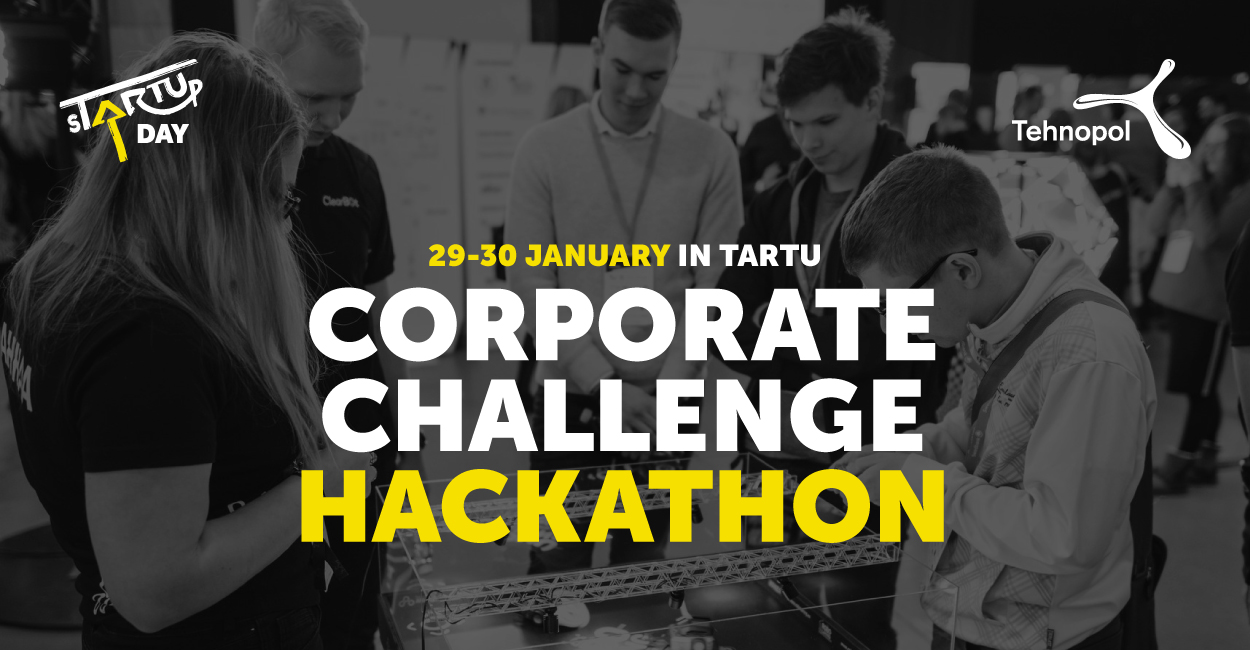 HACKATHON
Tehnopol Corporate Challenge Hackathon at sTARTUp Day

sTARTUp Day is joining forces with Tehnopol to create the Corporate Challenge Hackathon on 29–30 January! It's the place where corporates and let's-find-a-solution minded people meet to hack their brains and prototype their minds away.


A hackathon is your chance to innovate and solve real problems in a creative way. It doesn't matter if you have loads of experience or you're just really passionate about an idea – all you need is to find a team and start hacking! We're looking for people with diverse backgrounds, so business and marketing experts, designers, developers, engineers, and field enthusiasts are all welcome – passion for solving the challenge is what counts.
▶ We'll start revealing challenges at our Facebook event – keep your eye on that!
There's nothing like the feeling of working on something intensely for a limited time, giving all you have and accomplish incredible things! At the Corporate Challenge Hackathon, you will meet and work together with like-minded people to change the world.

The best teams will not only win awesome prizes but also can pitch on the main stage of sTARTUp Day 2020 in front of investors and entrepreneurs! After working intensely for two days, you'll have January 31 to enjoy the sTARTUp Day festival as it's at the same venue (UT Sports Hall, Ujula 4 in Tartu).
Attend as a participant if you are:
 Ϟ Passionate about solving some problems;

 Ϟ Ready to put your problem-solving skills to the test;
 Ϟ Yearning to build a real working prototype in only two days;
 Ϟ Willing to win awesome prizes from the companies and pitch on the stage;
 Ϟ Excited to experience the amazing energy during the event;
 Ϟ Waiting to accomplish incredible things within a very limited timeframe.

Reasons to register as a company with a challenge:

 Ϟ A fresh pair of eyes (or six!) may help you look at your challenge from a new angle.
 Ϟ Solving your challenge will be the centre of attention for the whole event;
 Ϟ You'll have the possibility to find the best employees or partners to join your vision;
 Ϟ By the end of the event, you will have a working prototype of your innovative solution;
 Ϟ Visibility for your company is guaranteed during the sTARTUp Day festival.

Here's the agenda of the hackathon:
| | |
| --- | --- |
| Wednesday, January 29 | Thursday, January 30 |
| | | | |
| --- | --- | --- | --- |
| 8:30 | Gathering and morning coffee | 8.30 | Gathering and morning coffee |
| 9:00 | Opening the hackathon | 9:00 | Introduction to the day |
| 9:30 | Pitching challenges | 9:10 | Teamwork continues |
| 10:30 | Forming teams | | |
| 11:00 | Workshop on MVP and teamwork | 11:00 | Mentor sessions |
| 12:30 | Lunch | 12:30 | Lunch |
| 13:30 | Teamwork continues | 13:30 | Pitching training (not mandatory) |
| | | 13:30 | Teamwork continues |
| 16:00 | Mentor sessions | 16:30 | Presenting the solutions |
| 19:00 | Dinner | 18:00 | Announcing the winners |
| 20:00 | Teamwork continues | | |
| | | | |
The hackathon takes place at UT Sports Hall (Ujula 4, Tartu). On January 29, the rooms will be open 24/7 for teams to continue work through the night.

Friday, January 31 is for enjoying the sTARTUp Day festival to the fullest.
▶ If you have any additional questions, feel free to contact Kätlin:
katlin@tehnopol.ee
sTARTUp Day is partnering up with Tehnopol – the biggest science park and startup incubator in the Baltics. Tehnopol is the home for tech companies and they have around 300 companies in the active portfolio, ranging from fast-growing startups to tech giants like Microsoft. They have 16 years of experience, organize over 100 events each year, have over 230 startup alumni and have a 6 times higher success rate than average.